For a while now, gold mining stocks have been punished because of the falling price of gold and the fear that on top of lower gold prices, the rising cost of energy will significantly cut into the profits and margins of the miners. The following two graphs of SPDR Gold Shares (NYSEARCA:GLD) and Market Vectors Gold Miners (NYSEARCA:GDX) collectively illustrate the fall of gold and the miners, respectively.
Like most things, a well defined market movement in either direction will attract buyers/sellers looking to make money on the rise/fall and in this case, the shorts have made a killing. Keeping track of this short interest is useful because a change in either direction could signal more negative sentiment or, for long-term investors, light at the end of the tunnel. To help with this, I have listed below the companies I screened and have in bold, the names of the companies with a significant change in the short interest reported by Nasdaq, from April 15 to the 30th.
Companies Screened:
Goldcorp (NYSE:GG)
Barrick Gold (NYSE:ABX)
Newmont Mining (NYSE:NEM)
Yamana Gold (NYSE:AUY)
AngloGold Ashanti (NYSE:AU)
Randgold Resources (NASDAQ:GOLD)
Kinross Gold (NYSE:KGC)
NovaGold Resources (NYSEMKT:NG)
Before analyzing the short interest of the companies in bold above, here is a look at each company's short interest as a percentage of the company's float: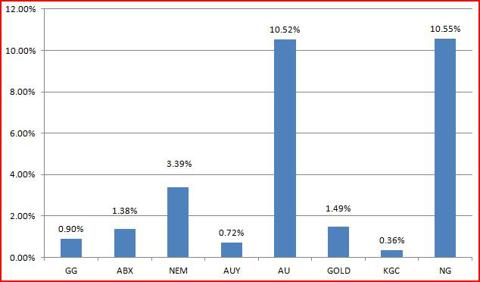 This is important to have in mind because a company with a larger percentage is more susceptible to a short squeeze.
And now for a look at the miners with the largest change in short interest:
Goldcorp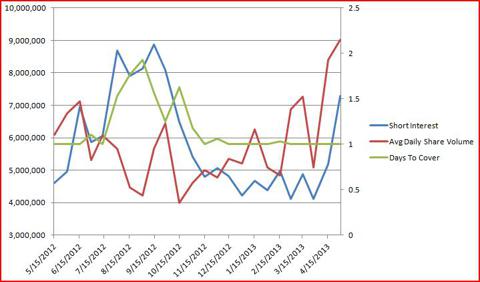 Short interest in Goldcorp went up 40% to 7.286 million shares over the last two weeks of April, days to cover at that time was only 1. This is a significant move for Goldcorp but still below the amount short in and around September when short interest was registered at up to 8.88 million shares. Since September, shares of Goldcorp have fallen 37.9% to where they trade today for $29.17 per share. Short interest in Goldcorp accounted for 0.9% of the company's float.
Barrick Gold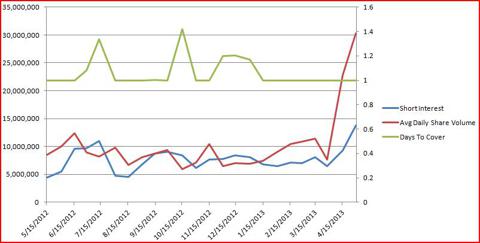 Traders were extremely busy with Barrick shares at the end of April. Both volume and short interest registered their highest points of the year at 30.315 million shares and 13.823 million shares respectively. Similar to Goldcorp, Barrick also trades near its 52-week low, at $20.30 per share, down 52.42% from its 52-week high of $42.67. Barrick's short interest at the end of April was equal to 1.38% of the company's float.
Yamana Gold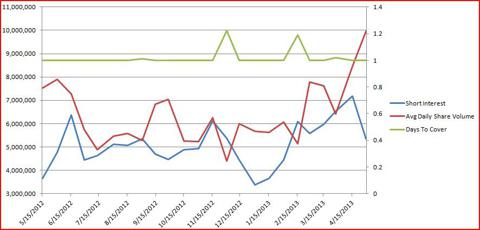 Unlike Barrick and Goldcorp, the short interest in Yamana Gold fell 25.4% from its highest point of the year (7.182 million shares, two weeks earlier on 4/15/13) to 5.357 million shares. Daily trading on the other hand was up to its highest point, coming in at 9.972 million shares. Yamana trades at its 52-week low of $11.66 per share.
Randgold Resources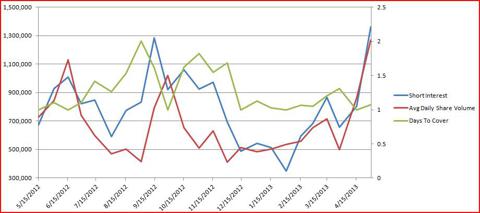 Back to the recurring theme, Randgold's short interest jumped up 69.15% to its highest point of the year, 1.362 million shares. This is equal to 1.49% of the company's float, average daily share volume was also at its yearly high of 1.269 million shares. Randgold trades for $76.61 per share, 39.42% below its 52-week high of $126.45.
Kinross Gold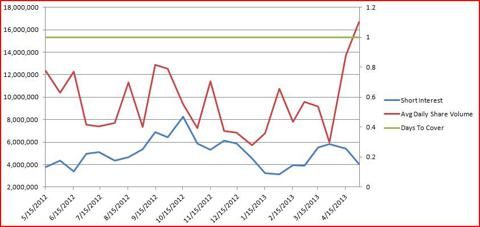 Short interest in Kinross fell 25.4% to 4.047 million shares. Short interest was at its highest in September when shares traded near their 52-week high of $11.09 per share. Today, shares trade down 51.93% from their yearly high at $5.33 per share.
Bottom line
It's always good to keep an eye on the other side of the coin and I find it interesting that of all the companies screened for this article, the ones with the highest percentage of short to float were the ones with an insignificant amount of movement in short interest during the last two weeks of April. Is this the turning point? Gold has been punished since September and fund managers from Klarman to Bass have all questioned the low valuation. I hope this article helps add to your own research, please let us know what you think!
Short Interest = number of shares sold short.
Days to Cover = number of shares sold short divided by the average daily trading volume.
An increase in the short interest and/or days to cover is a bearish indicator that may be caused by a fundamental business change, bad news, or a short seller's bad investment. This information is supplementary to a more thorough business analysis and should not be acted upon alone. This information is only provided and should only be viewed as a monitor for new events and trends. Rethinking and monitoring your investments is just as important as acquiring them!
This data was compiled from information Nasdaq releases twice a month, follow me for updates! If there are any other companies you would like added to this list, please let me know via message on SeekingAlpha.com.
Sources:
Number of shares float was found at YAHOO! Finance
Short interest information was found here.
Disclosure: I am long NG. I wrote this article myself, and it expresses my own opinions. I am not receiving compensation for it (other than from Seeking Alpha). I have no business relationship with any company whose stock is mentioned in this article.
Additional disclosure: I also have long calls on ABX