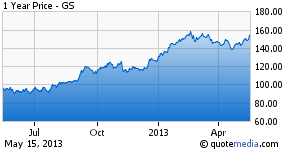 Goldman Sachs (NYSE:GS) is a leading global financial holding company, providing investment banking, securities and investment management services to various corporations, financial institutions, governments and high-net-worth individuals. After the financial crisis of 2008, capital markets began drying up, which led to various declines in M&A activity and trading, which put a strain on Goldman and other investment banking revenues.
Equity trading volumes were down in 2012, but with the rebounding global economy, the capital markets should be boosted by rising investor confidence. Despite the economic weakness in 2012, Goldman still managed to post solid growth across the board. In 2012, Goldman's revenues were up 19% year over year, reflecting a 5% increase in its institutional client services segment, a 13% in investment banking revenues, 175% in investing and lending, and 4% in investment management.
Goldman should be one of the big benefactors of a rebounding economy, which should beget higher M&A and trading activity. More importantly is the rise in trading activity, as Goldman's major segment is Institutional Client Services. This segment accounts for over 50% of revenues and consists of fixed income, currency and commodities, which include client execution activities related to making markets in credit products, interest rate products, mortgages, currencies and commodities. Equities include client execution activities related to making markets in equities, commissions and fees, and the company's securities services business.
According to Bloomberg, Goldman ranked in the second largest amount of fees among investment banks, after ranking first for 2011. Goldman did manage to lead Bloomberg's ranking for M&A fees in 2012, which it has led every year since the Bloomberg started tracking the info.
What's more is that investor confidence is on the upswing, which is a big positive for trading volumes and subsequent trading revenues. AAII showed that the bullish sentiment for investors was up to 40.8% earlier this month, which is above the long term bullish average of 39%.
Survey Results

Week ending 5/8/2013: Data represents what direction members feel the stock market will be in the next 6 months.

Bullish

40.8%
up 9.8

Neutral

31.8%
down 1.3

Bearish

27.4%
down 8.5

Note: Numbers may not add up to 100% because of rounding.

Change from last week:

Bullish: +9.8
Neutral: -1.3
Bearish: -8.5

Long-Term Average:

Bullish: 39.0%
Neutral: 30.5%
Bearish: 30.5%
Valuation
Goldman appears to be in line with peers, or possibly slightly richer, from a valuation standpoint. The stock is trading at 1.0 times book value, while Citigroup (NYSE:C) and Morgan Stanley (NYSE:MS) are at 0.8 times. However, from a returns and historical standpoint Goldman's valuation actually looks attractive.
With a return on equity that towers over some of its investment banking peers, we believe the premium valuation is warranted. Goldman has a ROE of 10.7%, compared to Citigroup's mere 4.6% and Morgan Stanley's 1.7%. As well, Goldman has a robust return on assets of 0.8%, with Citigroup at 0.5% and Morgan Stanley 0.1%.
From a historical standpoint, Goldman has traded within a price to book range of 0.7 to 1.9 over the past five years, where its current 1.0 P/B puts it near the low-end of its historical range. As well, Goldman trades at 9.7 times forward earnings, which is also below the low-end of its historical average (5-year P/E range of 4.7 to 32.1).
Bottom line
Assuming multiple expansion and analysts' consensus 2013 EPS estimates of $14.36, putting a 12.5 times P/E on 2013 EPS estimates shows that the potential upside is nearly 16.5%. Oh, and Goldman offers investors a 1.3% dividend yield. Couple the potential upside with its $0.50 quarterly dividend and the total implied expected return is 17.5% over the time period.
Disclosure: I have no positions in any stocks mentioned, and no plans to initiate any positions within the next 72 hours. I wrote this article myself, and it expresses my own opinions. I am not receiving compensation for it (other than from Seeking Alpha). I have no business relationship with any company whose stock is mentioned in this article.