Galena Biopharma (NASDAQ:GALE) plans to make its recently acquired Abstral sublingual tablets the market leader for the treatment of breakthrough cancer pain (BTcP) in the U.S., matching the product's performance in Europe.
"Abstral is the latest and best-in-class drug for this indication," president and CEO Mark Ahn says in an interview with BioTuesdays.com, noting that the company is on track for a fourth quarter launch.
Abstral was approved by the FDA in January 2011 for inadequately controlled BTcP in patients who are already receiving, and who are tolerant to, opioid therapy for their persistent baseline cancer pain. BTcP affects 40% to 80% of cancer patients, with reported episodes of four per day and a median duration of 30 minutes. Abstral delivers the analgesic power and increased bioavailability of micronized fentanyl in a sublingual tablet, which dissolves under the tongue within seconds, relieves pain in minutes and lasts for the entire 30-to-60-minute pain episode.
Galena acquired the U.S. rights to Abstral from Sweden's Orexo AB in mid-March for $10-million upfront and $5-million within the first 12 months of closing, plus low double-digit royalties and one-time milestone payments based on pre-specified net sales.
Abstral is the transmucosal immediate-release fentanyl (TIRF) market leader in Europe, where it achieved sales in 2012 of $54-million by Orexo's partner, ProStrakan/Kyowa Hakko Kirin. It is marketed in Canada by Paladin Labs and has been filed for approval in Japan by Kyowa Hakko Kirin. In 2012, the U.S. market for TIRFs was approximately $400-million.
"Abstral diversifies and strengthens our pipeline, gives us an FDA-approved product that will become a cornerstone of our commercial strategy and will generate revenues in 2014 to support the development of our pipeline," Dr. Ahn contends.
He says Abstral is a perfect fit with Galena, which is currently conducting a global Phase 3 clinical trial with its NeuVax vaccine for the prevention of breast cancer recurrence in early-stage, low-to-intermediate HER2 breast cancer patients. "Abstral will allow us to build a call-point with oncologists who will hopefully prescribe NeuVax in about three years' time."
Dr. Ahn explains that the majority of patients who use fentanyl tablets or lollipops for BTcP have solid tumors and that by far, the largest users are breast cancer patients who, with disease recurrence, suffer very painful bone pain.
"Of course, if we are able to prevent disease recurrence in breast cancer patients with NeuVax, that would be even better," he says. "But from a business perspective, Abstral is a straight line to the future customers of our entire pipeline."
Based on 2012 data, the market leaders in BTcP were Fentora, a fentanyl-buccal tablet, with sales of $161-million, or an approximately 40% market share, and Actiq, a fentanyl lollipop, with sales of $30-million, or an approximately 7.5% market share. Both products are sold by Cephalon/Teva Pharmaceutical Industries.
"With the first and only sublingual tablet, we know we have the best and most convenient product, as well as the best commercial team," Dr. Ahn says of Abstral.
He says the company has a commercialization management team in place and is currently deciding whether to contract a sales force, with an option to acquire the team, or build its own sales force to distribute Abstral.
Abstral's advantages include: rapid absorption into the oral mucosa; rapid onset of action compared with other TRIF's; the fact that the drug can be titrated quickly by physicians to meet the pain needs of patients; convenient administration under the tongue; and a favorable side-effect profile.
Joseph Pantginis, an analyst with Roth Capital Partners, raised his price target on Galena to $7 from $5 at the end of March, saying "we believe the acquisition [of Abstral] is encouraging as it could potentially mitigate Galena's burn rate in a significant way, as well as build early relationships with the cancer physicians who will ultimately prescribe NeuVax, if successful."
NeuVax is an immunotherapy that stimulates the immune system to actively seek out and selectively kill cancer cells. NeuVax directs "killer" T-cells to target and destroy cancer cells that express HER2/neu, a protein associated with epithelial tumors in breast, ovarian, pancreatic, colon, bladder and prostate cancers.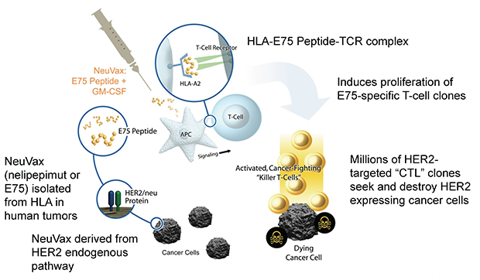 ASI)">
NeuVax Mechanism of Action: Active Specific Immunotherapy (NYSE:ASI)
When discussing NeuVax, the first breast cancer vaccine in Phase 3 clinical trials, Dr. Ahn frames the novel treatment into three numbers: 25, 0, and 6.
He says that 25% of node-positive breast cancer patients, who achieve remission after standard-of-care treatment, will have recurrence within 36 months. In Galena's Phase 2 trial, patients receiving NeuVax at the 36-month time point had a recurrence rate of 0%. And $6-billion is the current market size of Herceptin, the market leader for patients with HER2-positive breast cancer.
Herceptin is prescribed only to patients with an immunohistochemistry (NYSE:IHC) score of 3+, which indicates the highest expression of HER2 receptor protein on the surface of the cancer cells and represents 20% to 30% of the patient population. In addition to Roche/Genentech's Herceptin, Roche also markets Perjeta for HER2-positive breast cancer. GlaxoSmithKline also has a drug in the space called Tykerb.
Galena's NeuVax is targeting HER2 IHC 1+/2+ breast cancer patients, who are not eligible for Herceptin. "Low-to-intermediate HER2 expression is a significant unmet medical need and isn't addressed by current therapies," Dr. Ahn points out. "It's about double the size of the Herceptin market."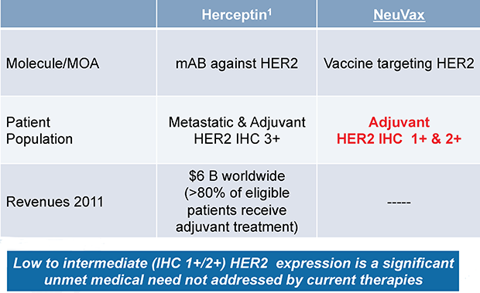 NeuVax v. Herceptin Target Therapy for HER2+ Breast Cancers
The annual addressable node-positive population for NeuVax would represent 30,000-to-40,000 patients in the U.S. and 50,000-to-80,000 in Europe, he adds.
Based on a successful Phase 2 trial which achieved its primary endpoint of disease-free survival, the FDA, in 2012, agreed that the design and planned analysis of the Phase 3 study adequately address the objectives necessary to support an acceptable regulatory submission for marketing approval.
The company's Phase 3 PRESENT trial with NeuVax, which has a special protocol assessment from the FDA, is enrolling 700 patients, who have successfully been treated with surgery, radiation and/or chemotherapy. There are over 100 hospitals participating in the study, of which about 45 are in North America and the remainder in Europe and Israel.
Dr. Ahn says the company hopes to complete enrollment at the end of 2013, with an interim analysis around the beginning of next year or at 70 events.
In addition to the PRESENT trial, Galena and Genentech/Roche are collaborating with the Henry Jackson Foundation on a Phase 2b study that is comparing NeuVax in combination with Herceptin against Herceptin alone. The trial is enrolling 300 node-positive breast cancer patients with HER2 1+ and 2+ expressing tumors, which are disease-free after standard-of-care therapy.
In an earlier study with 62 patients, Dr. Ahn says 32 patients on Herceptin alone had a 12.5% recurrence rate after 24 months, while 30 patients on NeuVax plus Herceptin had a recurrence rate of 0%.
Asked about its partnering plans, Dr. Ahn says the company is actively looking at distribution partnerships for NeuVax outside of North America. "But we plan to distribute NeuVax in North America on our own, which is why the Abstral acquisition was so important. Our intention is to build a valuable oncology company that makes a meaningful difference in advancing cancer care, and that's exactly what we're doing."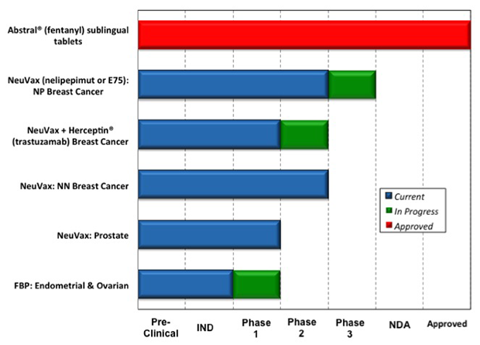 GALE Pipeline
c
Disclosure: I have no positions in any stocks mentioned, and no plans to initiate any positions within the next 72 hours. I wrote this article myself, and it expresses my own opinions. I am not receiving compensation for it. I have no business relationship with any company whose stock is mentioned in this article.