WIRED Disruptive by Design Conference: A Review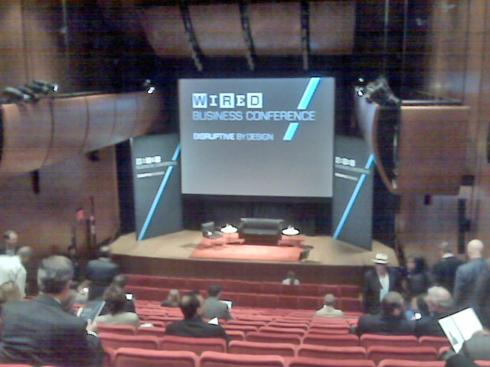 Monday, I had the privilege (compliments of SeekingAlpha) of attending the first WIRED Magazine Disruptive by Design conference, held at the wonderful Morgan Library and Museum in New York. The majority of conferences that I attend are usually research and/or application oriented, where most of the real value from attending comes from discussions at the poster sessions; speaker-only conferences more often than not do not live up to their expectations. But yesterday's event provided an exception. From the opening address by WIRED's Editor-in-Chief Chris Anderson to the final discussion with GE's CEO Jeffrey Immelt, every talk provided a healthy balance of challenge and opportunity, and from my perspective, at a small and growing technology company, the timing of the event was perfect. Others (including Tim O'Reilly) have done a great job in capturing many of the memorable moments of the day, and many of the videos are already available, so I will just offer a couple of notable points offered by a few of the day's speakers.
Nearly all of the talks contained some version of the 'now is the time to innovate' mantra. Anderson's opening talk was dead-on. He focused on the central argument in his new book, titled 'Free'. Using Jell-O to illustrate his point, he successfully demonstrated how a 19th century business model is just as, if not more, important in 2009. Judging from a few of the comments heard outside, some in the crowd might not have gotten the point of free (or near free) product distribution in order to gain an advantage via branding and loyalty, but for those in technology/product development, particularly at leaner organizations, the message was clear. There were three successive talks that I was looking forward to hearing (Elon Musk, Shai Agassi, and Vivek Kundra), and none of them disappointed. As I have been following from the periphery some of the things that Musk's companies have been doing in recent years, I was very interested in hearing his thoughts. Most interesting from his talk, and refreshing, was his emphatic stance that science/technology companies should be largely run by science/technology people. As I am

with a

company

where nearly all of the management has a technical background, it was nice to hear this. He actually stated his thoughts on what it takes to be a successful manager today more bluntly, which the video clip will attest to.
Whether or not you agree with Agassi's ideas (I happen to), listening to him talk about his vision of a world that is built around renewable energy was inspiring. What was better was how he was extremely well versed with facts to back up any criticisms of his idea; everything that was thrown at him from the session's moderator was tactfully answered with an answer that was so appropriate, it almost seemed staged. And his description of Detroit as a 'Man-Made Katrina' underscored reasons why something new is necessary. Finally, I honestly did not know much about the Federal Government's CIO Vivek Kundra before yesterday morning, but after seeing his vision for data.gov, I am putting him on my radar as well.
These were, in my view, the highlights of the conference. A short story could be written about Bezos' talk, which again was entertaining and enlightening. Skipping over the Kindle stuff, he emphasized his views on the importance of innovative R&D, and risk taking. Successful leaders always emphasize the need to encourage risk taking and failure, but Bezos went further by drilling home the point that that there is a misconception that failure is always expensive; this is far from true. This is the same as science in general. More knowledge is usually gleaned from failed experiments than those that reproduce prior results.
This article was written by
Michael Ferrari is a Senior Scientist and Director of Commodities at aWhere, where his research and technology transfer activities focus on improving their global agricultural/climate/life sciences data platform. He is also the founder and principal at Atlas Research Innovations, which provides applied research and bespoke services to clients in the private and public sector, government, and academia. Previously, he was the Director of Agricultural Commodity Research & Risk Management for The Coca-Cola Company, the Director of Informatics and a Principal Scientist at NASA for Computer Sciences Corporation, Vice President of Applied Technology and Commodities at WTI, and a Research Scientist and Commodity Trader at Mars. He spends much of his time building tools and models with sensors and data, creating algorithms, and directing commercial research activities towards the examination of the global food and climate complex from a systems perspective. Michael is a frequent speaker at scientific, commodity and data/technology conferences around the world, where his talks focus on the confluence of human-environmental-technology interaction and the broader relationship of these topics to societal issues including climate, food and energy security, and global change. Michael holds a PhD in Geophysical Fluid Dynamics and Environmental Biophysical Modeling from Rutgers; his doctoral work in numerical modeling was supported by the NASA Goddard Institute for Space Studies.