By Todd McDonald, Analyst
Overview
J.C. Penney (NYSE:JCP) is slated to report earnings after the close of trading on Thursday, May 16. Results are typically available at 4:30 p.m. EST. A conference call will follow at 5:00 p.m. EST. This quarter's earnings release is sure to garner extra attention due to heavy material news flow this quarter.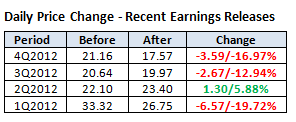 Outliers And Strategy
Non-GAAP Earnings Per Share:

J.C. Penney typically reports a value of Non-GAAP EPS that compares with consensus estimates. If there is no Non-GAAP figure present, look for Adjusted EPS. The current estimate is for a loss of $0.86 per share, with a range of -$1.27 to -$0.51. (Source: Yahoo Finance)

Revenues: The consensus estimate is for revenues of $2.71 BLN, with a range of $2.62 BLN to $3 BLN. The company gave preliminary guidance on May 7 for Q1 2013 revenues of $2.635 BLN.
Comparable Store Sales: According to Zack's Investment Research, analysts are expecting comparable store sales for 1Q2013 of -11.3%, with a range of -17% to -5%. On May 7,

J.C. Penney said it expects comparable store sales to be -16.6%.

Conference Call: Comments from the new CEO, Mike Ullman, will be crucial to the performance of the stock in the following days.
Implied Volatility: In the past eight quarters, shares have had an average move of 6.9%. Options premiums imply that traders are expecting an absolute move of approximately 8%. Short interest is currently approximately 25%.
Recent News
05/07:

J.C. Penney issued preliminary results

for selected financial performance results. For Q1 2013, the company expects revenues of $2.635 BLN and comparable store sales to decrease 16.6%. According to the press release, the decline is a function of construction activities and the old regime's pricing and marketing strategies -- which are currently being changed.
04/29: J.C. Penney secured a $1.75 BLN loan from Goldman Sachs, which should ease liquidity issues for the next few years, according to a post on StreetInsider.com. Piper Jaffray reiterated a Neutral rating with a $14 price target.
04/25: Soros Fund management filed a 13G, disclosing a 7.91% stake in

J.C. Penney. The initial reaction to this news was very positive, sending shares up approximately 11%

04/08:

J.C. Penney announced

that CEO Ron Johnson was replaced by his predecessor, Mike Ullman, III. Mr. Ullman states that he is prepared to reengage customers and work with the board of directors and management to capitalize on the firm's retailing legacy.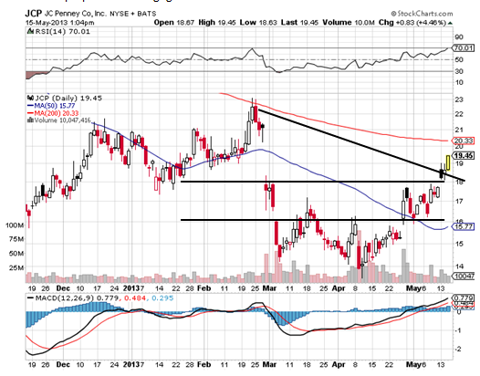 Technical Review
J.C. Penney shares have begun to rebound this quarter, climbing about 30% in the past month alone, while breaking a long-term downtrend. After a steep sell-off after earnings, shares found support at the $14 level and reclaimed the 50-day SMA. The RSI is at the overbought 70 level, signaling there may be limited upside in the near term. Should earnings surprise to the upside, look for resistance near $20, which corresponds with a gap-fill from last quarter, along with the 200-day SMA. Further resistance can be found near $22. If earnings disappoint, look for initial support at $18, followed by strong support at $16 (Chart courtesy of StockCharts.com).
Summary
After a sustained downtrend due to horrific financial results, J.C. Penney has finally caught a bid. Thanks in part to recent catalysts such as management changes, procurement of loans, and a publicly disclosed investment from George Soros, shares are now breaking out of a longer-term declining trend line. A high short interest could send shares even higher with a solid report. The pre-announcement on May 7 should be used in conjunction with consensus estimates to compare to the reported values. Also, be sure to listen to the conference call for comments made by the new CEO, Mike Ullman, III.
Disclaimer: By using this report, you acknowledge that Selerity, Inc. is in no way liable for losses or gains arising out of commentary, analysis, and or data in this report. Your investment decisions and recommendations are made entirely at your discretion. Selerity does not own securities in companies that they write about, is not an investment adviser, and the content contained herein is not an endorsement to buy or sell any securities. No content published as part of this report constitutes a recommendation that any particular investment, security, portfolio of securities, transaction or investment strategy is suitable for any specific person.
Disclosure: I have no positions in any stocks mentioned, and no plans to initiate any positions within the next 72 hours. I wrote this article myself, and it expresses my own opinions. I am not receiving compensation for it (other than from Seeking Alpha). I have no business relationship with any company whose stock is mentioned in this article.