Penn West Exploration (PWE) has definitely seen better days. The stock has been hammered due to concerns about the safety of its dividend and lower realized energy prices. YTD, Penn West is down about 15% and down 70% from its 2008 highs. Penn West offers a $0.27 per share quarterly dividend and at current prices yields about 11.50%.
(click to enlarge)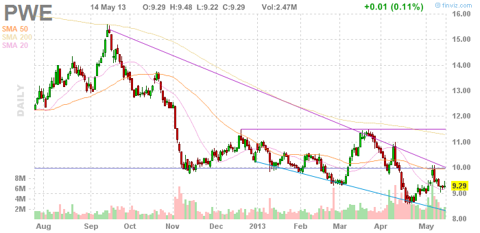 On May 2, Penn West reported its Q1 2013 results. For the quarter, Penn West saw average production of 142,804 BOE/D, in line with its prior guidance of between 135,000 to 145,000 BOE/D, but down 15% from the 167,420 BOE/D reported for Q1 2012. About 51% of the production was light oil and NGLs, 11% heavy oil, and 38% natural gas.
During the quarter, Penn West drilled 119 net new wells, of which 118 were oil wells and only 1 was natural gas. Penn West is focusing most of its capital on fewer light oil rich core areas in order to reduce drilling and completion costs. This has led Penn West to achieve cost saving in these areas. In the Cardium, Penn West lowered its costs by about 35%, 25% in the Slave Point in northern Alberta, and 15% in the Spearfish and at Swan Hills.
For the quarter, the average realized price for light oil and NGLs was $80.23 per BBL, down 5% from Q1 2012. The average realized price for heavy oil was $50.78 per BBL, down 30% from Q1 2012. The average realized price for natural gas was $3.18 per MCF, up 40% from Q1 2012. The net sale price per BOE was $54.53, down 3% from Q1 2012. The net sale price benefited from hedges to a tune of $0.60 per BOE, compared with a loss of $1.24 per BOE in Q1 2012. When adjusting for royalties, operating expenses, and transportation costs, the operating netbacks per BOE were $27.76, up 2% from Q1 2012.
During the quarter, Penn West saw revenue of $704M, down 19% from the $870M in revenue for Q1 2012. Funds flow from operations, or FFO, came in at $267M, or $0.55 per share. This is a 21% decrease from the $337M, or $0.71 per share, reported in Q1 2012. Dividends paid rose to $129M, up 2% from $127M for Q1 2012. Capital expenditures were $427M, down 35% from $660M in Q1 2012. Penn West's FFO was not able to cover its capital expenditures plus dividends. Combined, they would total $556M, $289M more than the $267M in FFO generated in the quarter.
Like Pengrowth Energy (NYSE:PGH), Penn West trades for far less than the value of its reserves. As of December 31, 2012, Penn West's proved plus probable reserves had a $9.1B net asset value -- well above the current market cap of $4.50B.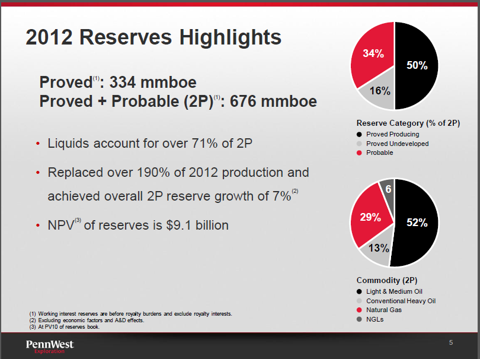 Penn West has been attempting to unlock the inherent value of its assets. The company has recently named Mr. Jack Schanck the new Chairman of the Board effective May 1. In addition, on May 2, Penn West replaced two other members of the Board of Directors. These new hires replace longtime Penn West employees with other experienced energy sector veterans. This is a continuation of a trend started late last year. Penn West was once a junior oil producer and is now one of Canada's leading energy producers. It is only natural that some of Penn West's 'old guard' may not have been up to the level required to manage the company.
Conclusion
During the quarter, Penn West's capital expenditures and dividend payments well exceeded its FFO. Indeed, FFO in Q1 was not even able to cover capital expenditures. Do note, however, that Penn West spent about 47% of its FY 2013 capital budget of $900M. Penn West clearly had to issue debt to cover the dividend and capital spending. However, Penn West has plans to lower its debt to cash flow ratio to less than 2.5X.
This does not bode well for the dividend, as was seen during the Q1 2013 conference call when Penn West's CFO Todd Takeyasu was asked about a possible dividend cut, he was very non-committal.
(click to enlarge)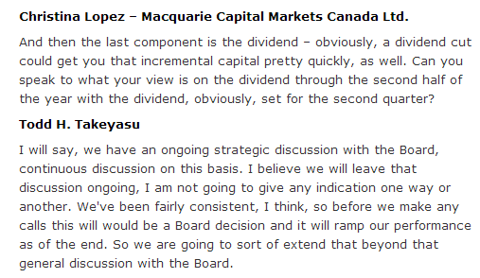 Unlike Pengrowth, which had already lowered its dividend in 2012 and has fiercely defended the new dividend rate since, Penn West's answer to a possible dividend cut left much to be desired. In my opinion, the company is clearly telegraphing a future dividend cut.
As I mentioned in my earlier article, Penn West is a high-risk, high-reward stock. It is cheap -- very cheap. However, I do not wish to own it with a possible dividend cut looming.
Disclaimer: The opinions in this article are for informational purposes only and should not be construed as a recommendation to buy or sell the stocks mentioned. Please do your own due diligence before making any investment decision.
Disclosure: I am long PGH. I wrote this article myself, and it expresses my own opinions. I am not receiving compensation for it (other than from Seeking Alpha). I have no business relationship with any company whose stock is mentioned in this article.