The share price of Schlumberger (NYSE:SLB) has returned 12% over the past 12 months. At $76.86, the stock is trading near its 52-week high of $82 achieved in February and offers a 1.6% dividend yield. I believe further upside for the share price remains substantial and investors should be buying at the current level due to the favorable risk-reward. My bullish view is supported by the following 5 reasons:
1. Schlumberger shares are priced reasonably relative to its comps. According to the table shown below, the company's consensus revenue, EBITDA, and EPS growth estimates are generally in line with the peer averages. On the profit side, Schlumberger demonstrates a superior performance as its various profitability and capital return metrics are considerably above par. In terms of leverage and liquidity, the firm carries a relative lower debt load as reflected by its below-average debt-to-EBITDA multiple. Its free cash flow margin is substantially above the comps average. Given the lower leverage, Schlumberger was able to maintain a healthy interest coverage ratio. Both the company's current and quick ratios are below par, though the difference is not large.

Schlumberger's current price multiple at 15.6x forward EPS (next 12 months) is 14% above the peer average at 13.8x. Given the company's in-line growth potential but robust profitability and free cash flow performance, I believe this modest valuation premium is competently warranted (see chart above).
2. Schlumberger's forward P/E multiple is currently trading at only a 3.9% premium over the same multiple of S&P 500 Index, which stands at 15.1x now (see chart below).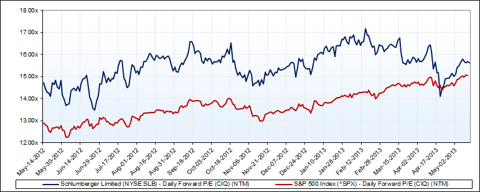 This relative valuation level presents a great buying opportunity as the market premium appears to be understated provided that 1) Schlumberger's market premium averaged at 13.4% in the past 12 months; 2) the company has significant international presence and its consensus 5-year earnings growth estimate at 17.9% is almost doubled the average estimate of just 8.2% for the S&P 500 companies; and 3) Schlumberger offers industry-leading profitability and free cash flow margins.
3. From a historical standpoint, the stock valuation also appears to be somewhat attractive. Schlumberger's trailing P/E multiple is now trading near its 3-year bottom level (see chart below).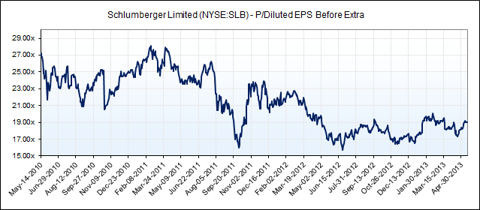 Nevertheless, the company has been able to maintain a somewhat steady profitability and capital return performance over the past 3 years. Further, although Schlumberger's revenue, EBITDA, and EPS growth rates has slowed down in the past 2 quarters, the consensus estimates are showing a modest recovery ahead (see charts below).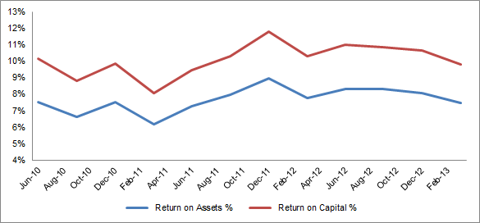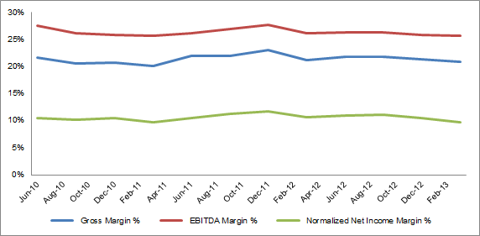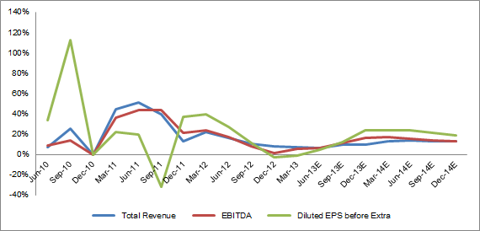 4. Analysts are very bullish on the stock. Of the total 34 stock ratings compiled by Thomson One, there are 13 strong buy and 14 buy ratings. Sell-side's average 1-year price target at $90.46 represents an 18% upside. Given that Schlumberger should command an approximately 10% cost of equity based on the capital asset pricing model (see chart below), the average price target implies that the current share price is modestly undervalued and the risk-reward seems favorable.

5. In a Cowen Securities research note released on April 22, James Crandell commented on the company's growth prospects which I tend to agree with (sourced from Thomson One, Equity Research):
"Schlumberger's technological strengths and solid market positions in fast-growing markets make the company notably well-positioned to take advantage of the expected multi-year ramp in international and deep-water E&P spending. We forecast international revenues will improve 13% in 2013 and 12% in 2014, driven by growth in China, Russia, the Middle East, Australia, and deep-water markets around the world. SLB's expansion in China should give the company significant advantages in what will potentially be a prolific unconventional resource play. Additionally, the company's joint venture with Cameron will increase SLB's exposure to the sub-sea secular growth story. Furthermore, Schlumberger's IPM and SPM platforms should allow the company to accelerate the introduction of high-end products across all of its geo-markets."
Bottom line, in the light of Schlumberger's promising growth prospects and attractive valuation, the stock is a strong buy from here.
All charts are created by the author and all financial data used in the article and the charts is sourced from S&P Capital IQ unless otherwise specified.
Disclosure: I am long SLB. I wrote this article myself, and it expresses my own opinions. I am not receiving compensation for it (other than from Seeking Alpha). I have no business relationship with any company whose stock is mentioned in this article.