Executive Summary
Based on a fundamental analysis of the company's projected cash flows, the fair value of TRW Automotive's (NYSE:TRW) stock price is within the range of $67.49 - $77.15 as compared to the current market price of $61.71.
Company Overview
TRW is one of the world's largest suppliers of active and passive safety related products primarily to Tier 1 original equipment manufacturers (OEMs). The company's sales are geographically diversified and are in Europe (43%), North America (36%), Asia (17%), ROW (4%).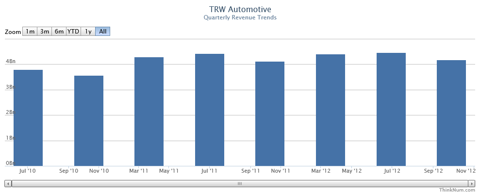 TRW Quarterly Revenue Trend (visualized using www.thinknum.com)
Financial Projections

• Strong projected performance: Based on conservative assumptions, TRW generates $1bn+ in after-capex cash flows.
• Strong credit metrics: Due to the company's deleveraging actions over the past two years, the company's credit metrics are solid. This is a competitive advantage for TRW as OEMs view their supplier's financial health as a key concern.
DCF Valuation Summary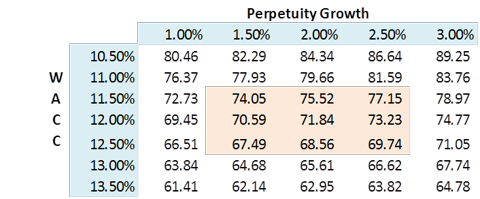 Residual Income Valuation
The Residual Income Model (RIM) utilizes analyst EPS and growth rate forecasts to arrive at an implied stock price. When the model's output is compared with the current price, one can get an indication as to how undervalued/overvalued a stock is relative to analyst expectations.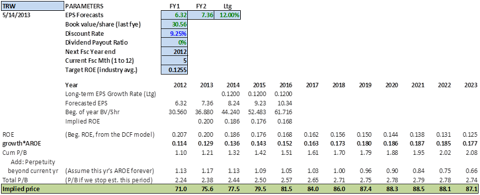 Valuation Commentary
• Output: Both DCF and RIM models yield mid-point valuations north of $70.
• Implications: TRW is underpriced based on a valuation of its future cash flows and relative to analyst earnings growth expectations.
Investment Merits
• Valuation: Current valuation assumes that the macroeconomic environment continues to remain weak.
• Business improvements: Any incremental improvements to the business realized will result in value appreciation
• International exposure: The company has a significant presence in the emerging markets (21% and growing). As growth in these economies continue to outpace Western economies, there is significant upside potential for TRW.
• Increasing safety content in vehicles: Safety content per vehicle in developing economies is approximately $180 vs. $350 in the U.S. As regulations tighten in developing markets, safety content per vehicle is expected to increase thus boosting the company's revenues.
Investment Concerns
• Margin Pressure: Continued pricing pressure from OEMs coupled with an inflationary commodity environment would pressure the company's margins.
• Performance linked to OEMs: OEMs constitute 80%+ of TRW's sales. As a result, their health (strongly correlated with the global economy) is of concern. Additionally, the migration towards lower-margin smaller, fuel-efficient vehicles results in margin compression for the OEMs.
Conclusion
Despite TRW's 15% stock appreciation year-to-date, we believe that the stock still has some upside left.
Disclosure: I have no positions in any stocks mentioned, and no plans to initiate any positions within the next 72 hours. I wrote this article myself, and it expresses my own opinions. I am not receiving compensation for it. I have no business relationship with any company whose stock is mentioned in this article.