By Jason Napodano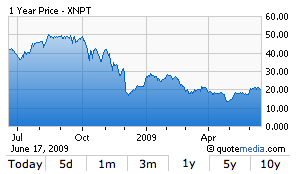 We consider XenoPort's (NASDAQ:XNPT) (Analyst Report) XP-13512 -- a gabapentin pro-drug, to be called Solzira in the U.S. -- to be a potential blockbuster opportunity with a full label to include restless leg syndrome (RLS), neuropathic pain (PHN / PDN), and migraine prophylaxis.

As for now we are holding off on modeling sales in neuropathic pain and migraine until we see more (or perhaps any positive) data. However, what we have seen so far in RLS looks highly encouraging, and we are pleased to see the new drug application (NDA) under FDA review. A decision should be out around November 9, 2009.

We believe that if XenoPort can see Solzira to commercialization, it will improve the future partnering plans for other compounds such as XP-19986 for gastroesophageal reflux disease (GERD), and allow management to move forward with other candidates such as XP-21279 for Parkinson's disease.

XenoPort's stock is down some 60% over the past twelve months due to a string of negative announcements. These include: the failure of XP-13512 by Astellas in PDN in Japan, the withdrawal and subsequent delay in approval of Solzira by Glaxo (NYSE:GSK) (Analyst Report) in the U.S., the recently failure of XP-19986 in a phase II GERD program, and most recently the failure of XP-13512 by Glaxo in PDN.
However, we consider all of the above hiccups only minor, with very little if any impact on the long-term future profitability of the company. Management seems to have found the correct dose and target population with XP-19986, so we actually see some development upside coming from that molecule in the next few quarters.
However, what management is really focusing on now are the Solzira NDA (currently under review) and the building of a 50 to 100 person sales force for co-promotion. Our current rating is Hold with a $23 target. We think the company can earn $0.25 in 2012 and potentially $2.25 in EPS in 2013.