By Jason Napodano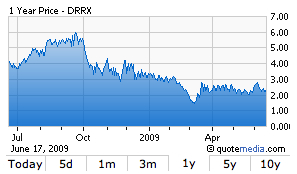 Durect (NASDAQ:DRRX) (Analyst Report) has had a rocky past six months. The immediate concern of biotech investors when they see a $2 stock is the cash position. Any stock trading at $2 must have significant cash burn concerns, right?

Well, like Lee Corso says, "Not so fast my friend!" Durect exited the first quarter with $47.0 million in cash on hand and virtually no debt. Burn for the first quarter was only $5.7 million, and we expect that to decline in the coming quarters based on the March 2009 headcount reductions. Plus, we see several potential non-dilutive cash-raising opportunities in 2009 and 2010.

Firstly, once Remoxy is finally approved, management will begin receiving payments from King Pharmaceuticals (KG) (Analyst Report). This will help reduce burn. However, management can sell the rights to these royalties for upfront cash if they choose.

Second, management is going to re-partner the TRANSDUR-Sufentanil patch at some point in 2009 or 2010. Partnership opportunities for the sufentanil patch include the U.S., the EU, Japan, or any combination of the above three. In a conversation we had with management recently, they noted that previous discussions they held with larger organizations who were only interested in worldwide rights to the drug are now back on the table. In the end, we think Endo Pharmaceuticals (NASDAQ:ENDP) (Snapshot Report) walking away from the deal may prove to be a significant benefit to Durect.

The other big partnership opportunity for management in 2009 is for Posidur. Opportunity exists to partner the drug in the U.S. and Japan (Nycomed already acquired EU rights in late 2006).

Hence, the current cash balance of $47.0 million is enough to fund operations into 2011. Despite the recent setback and future challenges, we like Durect's position and think the stock is worth $5. Better times are ahead; investors just need to be patient because we think the pipeline will eventually pay off.