Zynga (NASDAQ:ZNGA), as the world's leading provider of social game services, continues to expand into the mobile end. By launching Running With Friends on May 9, 2013, Zynga further expands it mobile portfolio. Similar to the previous launch of Draw Something 2 in April, Running With Friends is available on iPhone, iPad, and iPod touch. These new titles should contribute to Zynga's declining revenues in the coming quarters.
Draw Something 2 ranked No. 60 on the list of top grossing apps and No. 19 on top paid apps as of May 15, 2013. Draw Something 2 is estimated to generate $53,943 daily revenue, as seen from the data below.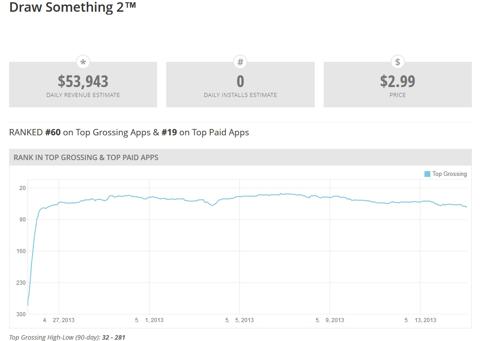 Source: Think Gaming
While this revenue estimate for Draw Something 2 may be limited by the publicly available data and Think Gaming's proprietary models, it indicates a solid start for Draw Something 2. There are two major positive catalysts for Zynga, including the growth on the mobile end and expansion into real-money games, whereas Zynga just launched its first ever real-money games in the UK in April.
Despite a mixed Q1 report, Zynga's fundamentals are actually improving as the management continues to strengthen its balance sheet. Below, Zynga will be reviewed from the perspectives of quarterly revenue, SG&A expense and net income, as well as Zynga's cash position, free cash flow, and its book value.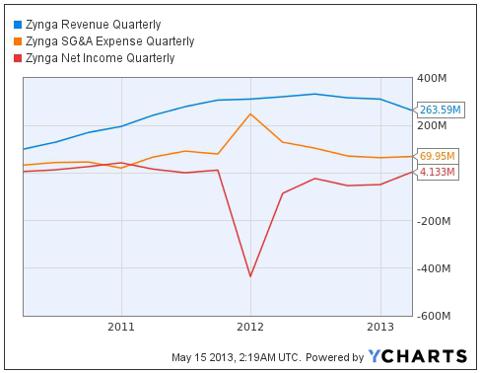 Source: YCharts.com
Despite the declining revenue since mid-2012, the management had done a great job reducing its SG&A expense. The overall net income has increased in early 2013 despite the falling revenue.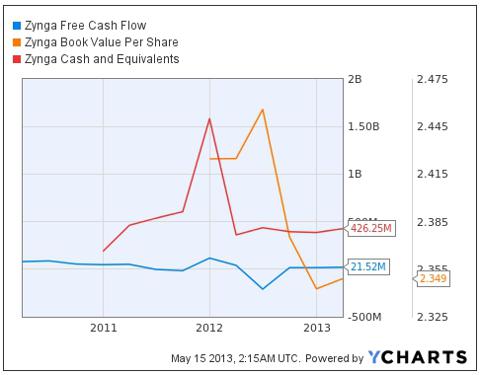 Source: YCharts.com
Zynga continues to generate positive free cash flow and its cash and equivalents increased slightly in early 2013. Zynga's book value per share has also started to rebound since early 2013.
Analysts are expecting Zynga to break even for its earnings in 2014 with the estimated revenue of $934.26 million.
Comparison
By comparing to other social internet companies, including LinkedIn (LNKD), Yelp (NYSE:YELP), and Facebook (NASDAQ:FB), Zynga has the lowest price/book value, as seen from the chart below.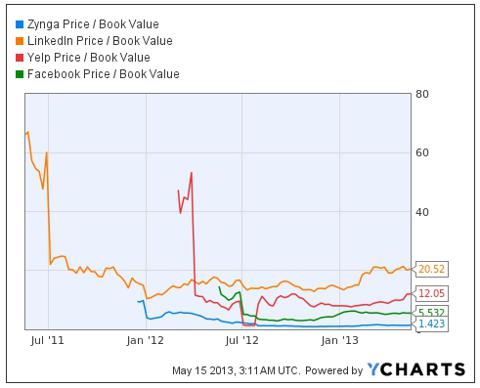 Source: YCharts.com
Similar to P/B ratio, Zynga also has the lowest price/sales ratio. Zynga's P/S ratio has picked up slightly in early 2013 while P/S ratio has increased significantly for LinkedIn and Yelp during the same period. On the other hand, Facebook's P/S remains relatively flat since early 2013.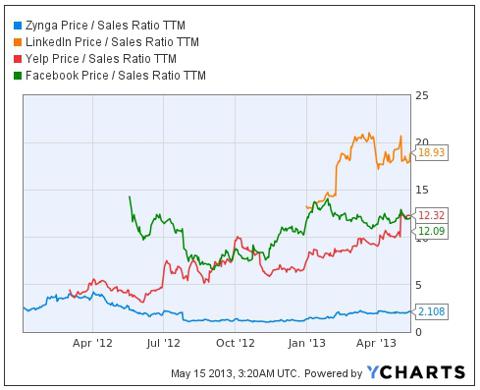 Source: YCharts.com
Bottom line
While the declining revenues remain a concern for Zynga, Zynga continues to progress toward the mobile end on the right track by launching Draw Something 2 and Running with Friends recently. By controlling its expense, Zynga has managed to increase its net income despite the falling revenue. Lastly, by strengthening its balance sheet and improving its free cash flow, Zynga's book value has started to increase since early 2013. While the top line growth remains a concern, Zynga's bottom line improvement has made it a safer bet now. However, until seeing real revenue growth and margin expansion, Zynga remains a speculative bet.
Note: Investors and traders are recommended to do their own due diligence and research before making any trading/investing decisions. ZNGA is not suitable for conservative investors.
Disclosure: I am long ZNGA, FB. I wrote this article myself, and it expresses my own opinions. I am not receiving compensation for it (other than from Seeking Alpha). I have no business relationship with any company whose stock is mentioned in this article.