We have gone from silly to farce in the space of an equity week, and it is now officially time to begin selling your flex money in earnest.
What's been behind the manic stage is self-begotten momentum, a liberal dash of carry trade unwind, and one rather tepid employment number that has completely bamboozled much of the media. The main virtues of the last item are that it's easier to understand, wasn't negative, beat consensus, and wasn't good enough to scare off the Fed. It wasn't large enough to keep up with the natural replacement rate, either, nor large enough to catch up the first four months of this year with last year.
Though none of the TV hype is true, that doesn't mean that the stock market can't squeeze higher. The last couple of days have seen some nasty short-squeezing as some throw in the kitchen sink in an effort to catch up. But if we look at real data, instead of dewy-eyed estimates about what the fourth quarter might bring if only Jim Cramer would decide to buy 500,000 new homes in October, one can see that
1) Employment is slowing down from a year ago.
Through the first four months of 2013, net additions to establishment payrolls (not seasonally adjusted) totaled 159,000 less than the first four months of 2012.
2) Industrial Production is slowing down from a year ago.
The markets may be partying like its 1999, but manufacturing is acting like it's 2008. The average year-on-year change through the first four months of 2013 is only 2.4% (unadjusted), half of 2012's 4.8%. There hasn't been a month yet this year with a year-on-year rate of over 3%, which is worse than even 2008. That was later called a recession.
The April/December change in total industrial production this year is (-0.12%), slightly worse than (-0.08%) a year ago. The New York Fed manufacturing survey just slipped into negative territory with its weakest April showing since 2009 - following its weakest March since 2009.
3) Retail Sales are slowing down from a year ago.
Total sales (unadjusted) for the first four months of 2013 rose 3.3% from the same period in 2012. That's less than half the rate of increase of 2012 over 2011, and is the weakest of the recovery.
Despite the hoopla over housing, building material sales for March-April combined (a cold March suppressed category sales, followed by a warm-weather rebound in April) were only 1.5% higher than the year-ago period.
4) Imports are slowing down from a year ago.
The year-over-year change in imports was negative for the second quarter in a row for the first quarter of 2013, a behavior normally only seen at the beginning of recessions. In this case, it really is different to some extent - oil imports are down significantly. But capital goods and auto imports were down in the first quarter too.
5) Business investment is slowing down from a year ago.
After the January fiscal cliff rebound, wholesale sales comparisons have been negative and the rolling 12-month change in business investment new orders has been negative four months in a row. Companies appear to be more interested in investing in stock buybacks than new equipment.
I don't think I need to convince you that government spending is down from a year ago.
However, the stock market is rising faster than a year ago! It wasn't through the end of March, but the last six weeks have led us to the fastest start since 1999. It's wonderfully comforting to see our brave traders throwing their wallets at the ramparts in the face of the fading US and global economy, chanting that they have no choice, or to see our brave newsreaders exclaiming that the economy is surely better, when they have absolutely no idea why beyond looking at the stock market and the lead sentence of Street strategist reports.
It's the second-half rebound, some claim, in the stock market's equivalent of Charlie Brown's Great Pumpkin (it was actually Linus). We wait for it patiently - confidently! - every year, and every year it's "wait 'til next year" (there was a time I'd have compared this to the Red Sox, but that albatross happily left).
The second-half rebound is a cover story. The myth - no, make that pathetic facade - of central bank accommodation is a cover story. The sudden lowering of target rates around the globe in the last few weeks - the EU, Poland, Australia, Vietnam, Israel, India, South Korea etc. - in the wake of the G-20 and G-7 meeting decisions to NOT call Japan's yen devaluation a yen devaluation is NOT some sudden global genuflection to the Fed's new growth model.
It's nothing less than the first official episode of a global currency battle. Historians are going to look back at this episode as a catalyst. Markets will wonder what hit them - eventually. But not yet. First we have to gloat and beat our chests. The hangover comes later.
The real dynamic is the thought by one group that there is some easy money to be had, and the fear of being left behind and looking stupid by a much larger one. The first group was hard at work this morning around 11 AM, when in the space of about five minutes they threw buckets of money around that included buying about $500 million of SPYders. Boom, boom, boom. That lifted the market out of negative territory and set prices on the path of virtue.
The other group is chasing fearfully behind, just like they did in the spring of 2007. That market cruised right through May and didn't stumble until the beginning of June: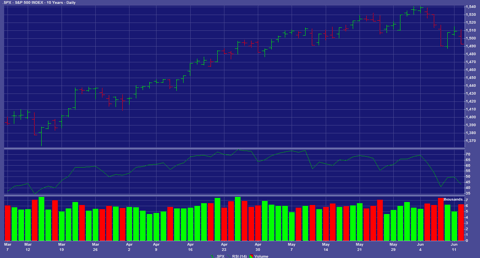 S&P 500, Spring 2007
But equities had a 5% February correction in February-March of that year, and thus were less extended in May.
This time we are much more extended, despite Dave Tepper's proclamation that "everyone" was going to "have to buy" another $400 billion in stock because of the difference in Fed buying and Treasury issuance. Very true of course, unless stocks start to go down. Then they'll put it somewhere else. It's very complicated stuff.
Right now the market is massively overbought and needs to come off a bit to avoid a really ugly June. Last week I wrote that the short-term indicators weren't at silly levels yet; now they are. I'm still looking for something on the order of 8%-12% sometime this spring. If you're an equities fan, you should be rooting for at least a five-percenter just to keep the threat of a crash at bay.
Short term, you're now risking ten percent to earn one or two. Yet I don't expect any really big unwind soon, not before the fall at the earliest. The market can ignore the real economy for a long time, especially in the late stages of the bull. It will instead prefer to do what it's doing now, which is to claim that stocks are right and the real economy is wrong. Quite simple, really. The latter must inevitably bow to the former.
I do worry deeply about the longer-term ramifications of what is going on now, or what might happen if we do find ourselves in another asset price crash with interest rates already at zero and the Fed still sitting on top of a couple of trillion dollars on the balance sheet.
But that's a story for another time, and like junk bonds below 5%, or the burgeoning currency war, is unlikely to bother the market at large until it's too obvious and too late.
Disclosure: I am long SPY. I wrote this article myself, and it expresses my own opinions. I am not receiving compensation for it (other than from Seeking Alpha). I have no business relationship with any company whose stock is mentioned in this article.