After the close on Wed, May 15, it was reported Berkshire Hathaway (NYSE:BRK.B) had made an initial investment in Chicago Bridge and Iron (NYSE:CBI). Using its 13-F filing with the SEC, BRK disclosed a 6.5 million-share investment during the first quarter 2013. Based on 108 million shares outstanding, BRK holdings represents a 6.1% ownership worth about $375 million as of the 5/15 close. The quarterly filing does not indicate which of the three portfolio managers made the decision - Warren Buffett, Ted Weschler, or Todd Combs. In addition, BRK increased its ownership of drilling rig manufacturer National Oilwell Varco (NYSE:NOV), to a total of 7.5 million shares, or a 1.75% stake.
Chicago Bridge and Iron is an interesting mid-cap firm specializing in E & C, engineering and construction, of oil and gas infrastructure. Mainly focused on refineries, oil terminals, and LNG export/import terminals, CBI has a long history of making water and oil storage tanks.
CBI serves several important energy infrastructure markets: natural gas processing, LNG export/import, petrochemicals, and refining. Its business can be described as follows:
Natural Gas Processing: CBI offers several construction services to this field. Its focus is on treating "raw" gas right off the wellhead to get it ready for transportation through the pipeline network. With new, virgin fields coming on stream, such as those in the Dakotas, the Utica, and Marcellus plays, not only are pipelines needed for transport, but also initial processing and cryogenic facilities need to be built. For example, CBI built a processing facility for Dominion Resources (NYSE:D) natural gas expansion in West Virginia.
LNG Terminals: As a major player in the international LNG terminal construction market, CBI has been awarded multiple contracts to help construct huge LNG export terminals in various ports around the world. As these export terminals are getting larger and more complex, the contracts are multi-billion in value and stretch out over several years.
Petrochemicals: CBI is a leader in the niche of ethylene steam cracking and catalyst market. As the US has become a larger player in the exporting of petrochemicals due to a cheap supply of ethane, the need for additional processing capacity is increasing. Weak gasoline refining utilizations are reducing supply of refining byproducts propylene and butadiene, two important feedstocks. CBI offers the technology of providing these feedstocks through non-refining processes.
Refining: CBI offers complete refinery construction services. The global trend has been moving away from smaller, local refiners to substantially larger facilities. The US experienced this trend in the 1980s and 1990s, and a similar consolidation will take hold in developing countries as well, driven by stricter regulations and economies of scale. In 1980, the US operated 250 refineries with an average production of 62 kb/d each. This year, there are less than 65 refineries in the US with an average capacity of 122 kb/d. Russia and Asia have yet to begin their consolidation phase. When this structural change takes hold globally, refinery projects should once again be an earnings driver for CBI. While a major opportunity for CBI, continued weakness in refinery construction should be expected over the next few years.
Shaw Group: In Feb this year, CBI completed the acquisition of competitor Shaw Group. Not only did this purchase increase the heft of its oil/gas business, but it also added exposure to nuclear power plant construction. CBI has a rich history of building some of the components of nuke plants and about 75% of all US active nuclear power facilities have a portion constructed by CBI. The acquisition of Shaw will extend CBI's reach in the power generation business and sets the stage for the company to benefit from any global resurgence in nuclear power plant construction.
While large nameplate projects get the bulk of media attention, smaller projects in the $100 million range and less usually go unnoticed. However, these relatively small projects are the staple for CBI. A few years ago, CBI accepted fix-rate contracts and was stuck with a huge operating loss from cost overruns on a project in England. Since then, the company has been moving to more cost-plus contracts where the risk for rising prices falls on the buyer. While this may reduce profit margins overall, it also transfer the risk to the buyer.
As with most E&C firms, new awards and project backlogs are an important matrix, especially with the multi-year completion aspects of most of CBI's business. New awards is the amount of new contracts brought in over a specific timeframe and is a precursor of future sales as the projects are completed. Backlog is the value of projects booked but not billed to clients. In 2012, CBI generated $7.3 billion in new awards, up 7.7% from 2011, and billed about $5.4 billion. At the end of 2012, the backlog stood at $10.9 billion, up 22% from the end of 2011.
Also as an E&C firm, CBI accepts large cash down payments at the time of contract awards and will usually maintain a large cash balance. This factor makes their usually conservative balance sheet appear more conservative than it is and investors should not get enamored with extremely high cash balances. A large percentage should be considered as clients funds waiting for offsetting billing. CBI's cash balance as of Dec 2012 was $1.4 billion, up over $1 billion in just two years.
In late March 2013 at its annual analyst meeting, CBI provided combined company guidance, projecting adjusted operating EPS of $4.00 to $4.35, before upwards of $0.70 of Shaw related acquisition costs. Management forecasts revenues of $10.7 billion to $11.2 billion, with $6.3 billion to $6.7 billion from CBI and the balance from Shaw. Combined new awards should be in the $13 billion to $16 billion range with $7 billion to $10 billion before Shaw's contribution. Backlog by the end of 2013 could grow to over $12 billion to $13 billion.
Management has estimated operating earnings in the $4.00 to $4.35 per share this year. Next year, analysts are expecting eps in $4.95 to $5.15 range and upwards of $5.65 in 2015.
What could Berkshire Hathaway see in CBI? Besides its earnings growth potential, CBI is a highly cyclical company, linked to the need for ever-expanding energy infrastructure worldwide. About 75% of CBI's business is outside the US, giving CBI shareholders great international exposure. As a cyclical company, CBI's PE ratios vary based on where in the cycle the company is. During mid-cycle valuations, the PE usually will range from 16 PE to 19 PE. During late-cycle valuations, PE ratios usually expand to the 18 to 22 range. CBI's 2013 operating PE is currently at 13. At mid-cycle valuations and $5.65 earnings for 2015, share prices could be in the $90 range and at late-cycle valuations, share prices could reach the mid-$120s. However, to reach these lofty heights, business has to keep getting stronger and margins remain at 2013 levels.
In addition, CBI has a high beta of 1.9. Reviewing its long-term price chart, CBI could have been purchased at under $6.00 a share at the depths of the recession and under $37 as recently as 12 months ago. I would expect a bit of a spike with the announcement of Berkshire Hathaway's new position and would recommend not chasing share prices. CBI is one that should be on all energy investor's radar screen. Buying on a pullback would seem prudent, especially after getting the seal of approval from the Oracle of Omaha.
10-year Price Only Chart CBI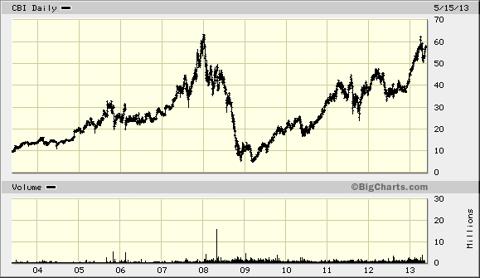 Author's Note: Please review important disclaimer in author's profile.
Disclosure: I am long CBI, BRK.B. I wrote this article myself, and it expresses my own opinions. I am not receiving compensation for it (other than from Seeking Alpha). I have no business relationship with any company whose stock is mentioned in this article.