In a world addicted on central bank liquidity, some things never cease to amaze. One of those things is how Amazon.com's (NASDAQ:AMZN) share price managed to survive two and a half years of sheer earnings disappointment.
Sure, back in late 2010 the "we are investing" thesis could have been lapped up. Or in 2011. But we are in 2013, anything Amazon.com was investing back in 2010 would be more than at cruise speed by now. Yet there seems to be precious little introspection on why such excuses "continue to sell".
My very first Seeking Alpha article on Amazon.com was titled "Amazon Will Be Showing Losses As Soon As Q1 2012". In it I explained why, contrary to consensus which saw only growing profits as far as the eye could see, Amazon.com was about to actually report losses. Amazon.com did so by Q3 2012. And more amazingly - even for me - it actually reported losses for the entirety of 2012 (I expected a quarter of losses, not an entire year). This article was out on October 31 2011.
So here we are, around one year and a half later. Since then Amazon.com has not only shown losses, but also shown an uncanny ability to, seemingly, guide down on every quarter. At first, Amazon.com guided down mostly on EPS. Now it regularly guides down on EPS and revenues.
The upcoming quarter
I will take the chance to illustrate what has been happening. Below, is a chart depicting the consensus estimates for Q2 2013, the present quarter, since late 2011. In red we have the consensus EPS estimate, in blue the share price (Source: Bloomberg).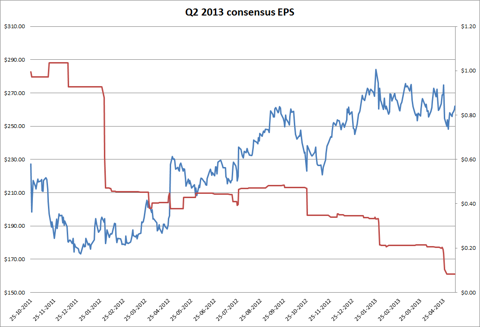 What we can see in this chart is amazing. In this quarter we are in, Amazon.com was supposed to already be making $1 per share back in late 2011. Right now, Amazon.com would be lucky to make $1 per share over the entire year.
The consensus EPS for this quarter has also shown a consistent downward trend even though at the start of 2012, it got "reset" heavily by getting slashed around 50% in a single bound. It's worthy to remember that at the start of 2012, this quarter was still almost 1.5 years in the future, when the slashing happened.
But most amazingly, what is really mind-boggling is how estimates managed to go for so much time on such a deep downtrend and yet, as we can see from the share price, Amazon.com still trades above where it stood in October 2011.
This has another deep implication. All of Amazon.com's share price performance since late 2011, and indeed since late 2010, has been multiple expansion - multiple expansion in light of deeply cut estimates.
Yet another conclusion
It's fashionable to say that Amazon.com has always traded expensively so today's huge multiples on deeply cut estimates are no surprise. This too is a myth.
Amazon.com earned $1.49 over 2008. In late 2008, Amazon.com traded south of $40. If we use $40 as a yardstick, Amazon.com was trading at 26.8 times earnings at this point. Hardly an otherworldly multiple like the one it supports right now (203 times 2013 consensus estimates), especially in light of the fact that Amazon.com back then was still seeing increased earnings and increased estimates - not the horrid plunge which I chronicled for the present quarter.
Disclosure: I am short AMZN. I wrote this article myself, and it expresses my own opinions. I am not receiving compensation for it (other than from Seeking Alpha). I have no business relationship with any company whose stock is mentioned in this article.