A stock that I have been adding to my portfolio recently is Uni-Pixel (NASDAQ:UNXL). The stock has been consolidating in the last 3 weeks, and the potential for this company remains huge. UNXL has a very exciting niche and I believe new highs are around the corner. This article explains why.
Latest earnings report
The last earnings report showed that the company can turn the corner and start producing big rewards to their investors. Revenues for the quarter totaled a record of $5.1m, this primarily being a result of an engineering payment.
The company has around $60m in cash and $0 debt as of March 31st, 2013.
Progress has been noted as well. The company has been engaged in qualifying their global touch module supply chain for OEMs and ODMs. The signing of the PC licensee was a big milestone.
The CEO gave a very good concise statement about the potential of their product. He stated:
"Advantages include higher touch response and sensitivity, superior touch distinction, better durability, lower power requirements and the ability to scale to many sizes and form factors. As an additive manufacturing process UniBoss is more efficient and sustainable promising lower production cost versus standard ITO-based touch technology and other subtractive ITO replacement technologies. It does this by way of lower materials costs, fewer steps in the manufacturing process and a more simplified supply chain. Our UniBoss roll-to-roll, flexible electronics technology and process is a disruptive entrant in a touch module market that Display Search expects to more than double to $32 billion by 2018."
Fundamental analysis
- Cash of around $60m
On April 23rd, 2013, the company announced a secondary offering of shares for a total proceeds of around $44m. This effectively increased the cash on hand from $15.7m to around $60m. The company has no debt which reduces any chances of secondary offerings in the future.
- $0 debt
- Float of around 9million shares after the secondary offering
- 4.1m shares are short, around 45% of the float, 2.8 days to cover. This % of short remains huge. I think bears are jumping the gun here. I expect a short squeeze to occur soon.
- Market cap of $352m.
- Revenues are expected to be around $157m next year. Estimates are jumping higher for 2014 as seen here.
- Insiders continue to accumulate shares. See here for the recent buys of insiders around $38. Insiders own 23% of the float whilst institutions own 36% of the float.
Technical analysis
The daily chart has been showing support around the $33 level. The trendline remains very constructive and I would keep an eye on it for future support. I expect new highs in the next 1-2 weeks.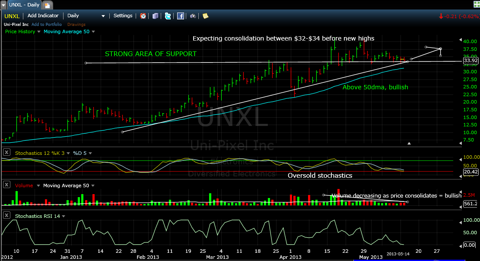 The weekly chart also remains bullish. Great volume consolidation and oversold stochastics.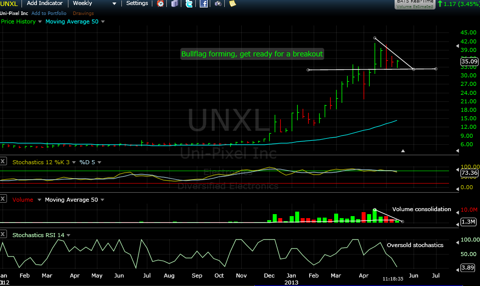 Conclusion
I continue to believe in the potential of UNXL going forward, both technically and fundamentally. Bears will come out and say the company is too expensive, but with the recent news, cash in hand, a very small float with a very high percentage of shorts, I believe new highs are around the corner.
Disclosure: I am long UNXL. I wrote this article myself, and it expresses my own opinions. I am not receiving compensation for it (other than from Seeking Alpha). I have no business relationship with any company whose stock is mentioned in this article.