Technology continues to perform strongly and with names such as Google and Yahoo setting highs and the rally taking place across a broad range of subsectors, we think that the market is signaling to us that this rally is the real deal and that 2013 will be one of those years when investors need to stay long for the entire year. Google broke through $900/share yesterday and gained strength as the session went on.
We are going through phases in this market and investors' attention seems to have shifted back towards tech for now.
Chart of the Day:
With initial claims having fallen below the 350k level our attention now turns to the continuing claims and whether that number can fall below 3000k. This week's number should not be below that milestone, but readers should watch for continuing improvement.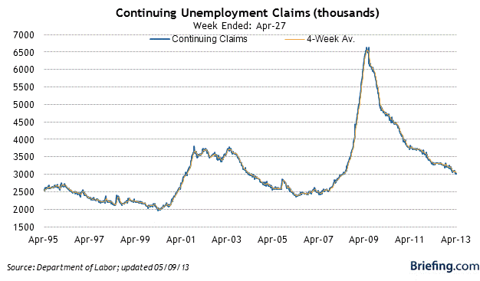 Chart courtesy of Briefing.com
We have economic news due out today, and it is as follows:
Initial Claims (8:30 a.m. ET): 330k
Continuing Claims (8:30 a.m. ET): 3005k
CPI (8:30 a.m. ET): -0.2%
Core CPI (8:30 a.m. ET): 0.2%
Housing Starts (8:30 a.m. ET): 970k
Building Permits (8:30 a.m. ET): 950k
Philadelphia Fed (10:00 a.m. ET): 2.5
Natural Gas Inventories (10:30 a.m. ET): N/A
Asian markets finished mixed today:
All Ordinaries -- down 0.56%
Shanghai Composite -- up 1.21%
Nikkei 225 -- down 0.39%
NZSE 50 -- down 0.22%
Seoul Composite -- up 0.79%
In Europe, markets are mixed this morning:
CAC 40 -- down 0.22%
DAX -- down 0.13%
FTSE 100 -- up 0.13%
OSE -- up 0.07%
Technology
These days one is left to wonder just how big of competitors Google (NASDAQ:GOOG) and Yahoo (YHOO) are. Google has essentially won the war in search while Yahoo has successfully focused on content and worked on drawing in as many eyeballs as possible. Both stocks are trading at highs, with Google at an all-time high and Yahoo at fresh 52-week highs. Interestingly enough the companies have begun to trade in tandem and develop a correlation as the following two year chart shows at the tail end. If this correlation holds, would one not be better off buying the new Yahoo and using its cheaper avenues for leverage or simply sticking with Google? Simply an interesting thought we came across this morning.
In life it is not about how you get from point A to point B so long as you get there at least around the same time as the competition...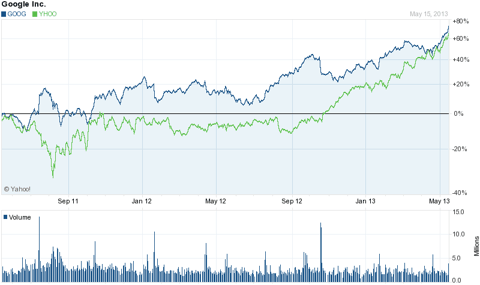 Chart courtesy of Yahoo Finance.
SiriusXM (NASDAQ:SIRI) has continued its strength since the most recent quarter and the revelation that they would be moving into new lines of business. Shares hit a fresh 52-week high of $3.53/share after rising $0.08 (2.32%) on volume of 112.6 million shares. As we said then we are bullish and believe that the company will not roll out just one new business line but shall roll out numerous ones over the next decade or so. When one has the capability to leverage their business assets for more, it generally happens and with John Malone now pulling the strings here we would expect to see SiriusXM aggressively pursue new growth initiatives.
Computer Sciences Corporation (CSC) saw shares fall $4.78 (9.66%) to close at $44.71/share yesterday on the back of weak quarterly results. This morning the shares have been downgraded by Deutsche Bank from a 'Buy' to a 'Hold' so one might expect to see some more selling pressure as analysts adjust their opinions on the shares and the market reacts. Looking at the results the company blew away the EPS numbers, however they missed on the top line as they reported $3.7 billion in revenue versus the $3.8 billion which was expected. The company is undergoing a transformation right now and we knew that revenue might suffer, so for those believing in this turnaround we could see this being a buying opportunity. Readers wanting to do a little due diligence should check out the earnings call transcript located here.
Pharmaceuticals
Bristol-Myers Squibb (NYSE:BMY) shares rose smartly in yesterday's session after announcing that a drug cocktail they have developed works better in early trials than either of the two drugs individually. This caused a lot of excitement as it marks what could be a big breakthrough in the immunotherapy field and yield a blockbuster drug for the company. The company will hold a conference call to discuss the highlights of the results they presented at the Annual Meeting of the American Society of Clinical Oncology (OTC:ASCO) in Chicago (see press release here). We like the story at Bristol-Myers and their pipeline. For investors looking for yield and searching for exposure to 'Big Pharma' we think that this is one of the better buys.
The stock has been doing very well since the turn of the year. There is still a solid yield here and good news flow.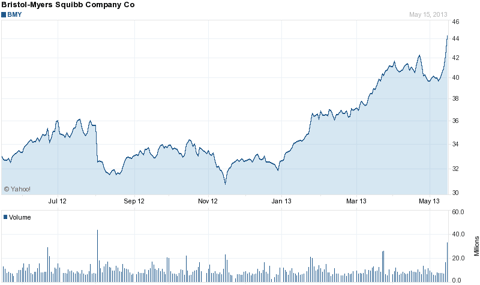 Chart courtesy of Yahoo Finance.
Disclosure: I have no positions in any stocks mentioned, and no plans to initiate any positions within the next 72 hours. I wrote this article myself, and it expresses my own opinions. I am not receiving compensation for it (other than from Seeking Alpha). I have no business relationship with any company whose stock is mentioned in this article.