The markets sure feel as if they are getting toppy and the economic data keeps coming in with conflicting data. The markets have shaken this off in the past and yesterday's action somewhat highlights this with a lot of strength in the market as 713 new 52-week highs were hit while there were only 35 new 52-week lows. The commodity stocks have taken a break from the rally as they consolidate their gains and populate the new 52-week lows list with the precious metals names.
Chart of the Day:
Talk about an ugly chart for the week. We have not seen an uptick from one day to the next where gold has retested levels set in the previous day's session. Certainly not bullish and certainly ugly.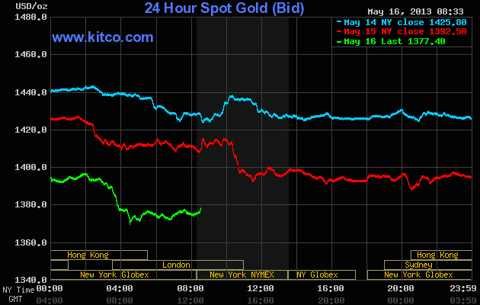 Chart courtesy of Kitco.com
Commodity prices this morning are as follows:
Gold: $1371.60/ounce, down by $24.60/ounce
Silver: $22.165/ounce, down by $0.493/ounce
Oil: $93.40/barrel, down by $0.90/barrel
RBOB Gas: $2.851/gallon, down by $0.016/gallon
Natural Gas: $4.084/MMbtu, up by $0.014/MMbtu
Oil & Natural Gas
It appears we hit the nail on the head yesterday in our comments yesterday regarding Hess (NYSE:HES) and their battle with activist hedge fund Eliott Management. Eliott will get 3 seats, which was our prediction but surprisingly enough Hess has agreed to replace some of their own names with new ones and it will result in a total of nine new board members out of fourteen. We would expect this to help push shares higher and get some ideas into the boardroom which will focus on boosting returns for shareholders and better allocating capital.
Precious Metals
Yamana Gold (NYSE:AUY) came under considerable pressure yesterday as gold took another hit. Shares closed at $11.09 after falling nearly 5.3% and finishing just above the 52-week lows. It has gotten very ugly in the precious metals sector and with gold falling below $1400/ounce and a second show appearing to have fallen this is a trade we are not liking right now. We hold some exposure to the junior exploration sector where huge amounts of money can be made via discoveries but with the current market conditions we would be hesitant to add exposure at this time unless one absolutely had to hold exposure.
It honestly seems as if we are in no man's land right now for the economy and how it relates to silver, which is not at all helping Silver Wheaton (SLW). Usually silver does well as the economy does well, but we are still awaiting that economic growth in the industrial sector to provide to demand boost and with investors rushing to assets which are experiencing inflationary pressure we have seen an outflow of funds from the silver market (along with gold) and into the equities markets. Eventually we will see investors move back should the Fed use their dual mandate to refrain from raising rates in order to stoke inflation, but at this time it is a big if and not at all guaranteed.
Manufacturing
Investors in Deere (NYSE:DE) have to be getting frustrated with the trend of good earnings reports followed by management talking down the guidance and outlook for future quarters. It has gotten to the point where it is ridiculous because although the company is beating the estimates they mute the good news with their negative comments on the company's outlook in certain geographical areas. Granted shares have risen since we recommended them but one has to wonder where we would be if management was just a little bit more shareholder friendly in their comments. In this case being conservative is costing big money.
Potash
While on the topic of farm stocks we want to comment on Potash Corporation of Saskatchewan (POT) which has been stuck in a very tight trading range for many months now. Shares are now approaching a level where if we can get a little bit of a pop we could see a breakout and some real movement higher. The $44-45/share level has been resistance and a breakthrough there could very well clear the way to the $50/share level and really clean up the chart and all of the past failed rallies. Watch this story, especially if food inflation picks up.
It sure seems that we broke out of a downtrend, but can some of this resistance be taken out? That is the real question now.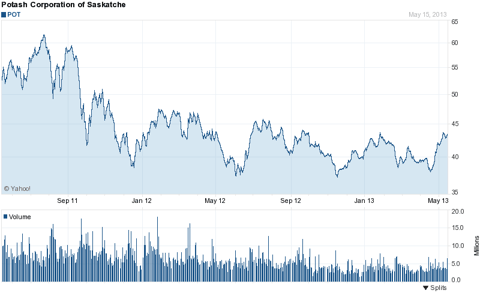 Chart courtesy of Yahoo Finance.
Disclosure: I have no positions in any stocks mentioned, and no plans to initiate any positions within the next 72 hours. I wrote this article myself, and it expresses my own opinions. I am not receiving compensation for it (other than from Seeking Alpha). I have no business relationship with any company whose stock is mentioned in this article.