The nation that brought us the famous moves of Mick Jagger, Mr. Bean, and the unforgettable Vicky Pollard, also happens to have some really great businesses. iShares MSCI United Kingdom ETF (NYSEARCA:EWU) is a great option if you want some exposure to the United Kingdom. I have a lot of nostalgia for England as at one time I used to live there. Let's have a look at this U.K. index fund.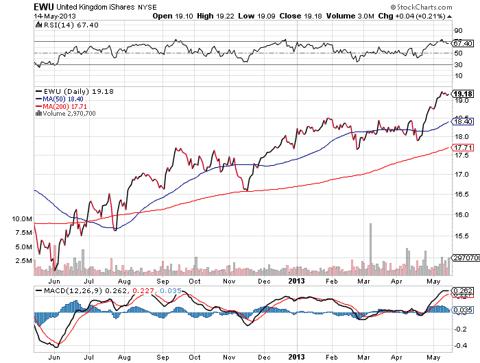 This ETF sports a nice 3.3% yield, a .51% expense ratio, and has a P/E of 19.4. It's had a great run in the past year and its not exactly undervalued right now, but it pays a nice overall yield and contains some really great companies. Another point to consider is that generally for Americans and Canadians U.K. companies do not take off any non-residents withholding tax. Depending on your situation that could make a sizable difference.
The sector breakdown is fairly typical of exchange traded funds. Depending on your personal tastes it might be slightly heavy on the financials but personally I'm ok with that.
Top 10 Holdings
HSBC Holdings (HBC). I almost bought this stock myself two years ago but opted for Bank of Montreal (NYSE:BMO) instead. I'm not saying I made the wrong choice but I would have done better with HBC. HBC is also a bank I deal with personally. If I were to buy a bank now individually it probably wouldn't be this one, as I think it's gotten a little pricey with a YP of over 15 now. But if I owned it I wouldn't be selling it either.
Vodafone (NASDAQ:VOD) One of the largest telecommunications companies in the world with operations in way too many countries to bother listing here. It makes up just over 5% of this ETF.
British Petroleum (NYSE:BP). I own this one personally and mentioned it in a previous article. It still hasn't completely recovered from the gulf oil disaster but has done a lot to turn itself around. It reinstated its dividend since the disaster, increased the dividend, and announced a share buy-back program. I still think it's a good buy at current levels.
Royal Dutch Shell (NYSE:RDS.B). Another company I like. It pays a nice dividend of 5%, and has a P/E of 8.5. I believe most portfolios should have some exposure to oil and I think the best way to do that is through the major players. They have more stability in case of an unexpected downturn and they pay dividends. Smaller oil companies or service companies I wouldn't buy for the long term.
GlaxoSmithKline (NYSE:GSK). I own this as well. This is a diversified global powerhouse with everything from medicine, to drinks, to toothpaste. It's had a nice run in the past few months after languishing over fears of patent expiration. It pays a 4.5% yield and has a P/E of 20.
British American Tobacco (NYSEMKT:BTI) I own other tobacco stocks but not this one. I would like to though. It has a huge global presence, pays a dividend of 3.7%, and has exposure to developing markets. I personally love sin stocks.
Diageo (NYSE:DEO) This is another that ranks up there in the list of stocks I wish I owned. Diageo has a huge global presence and is in a great position to capitalize on the developing world's increased thirst for spirits. I'm sure Mick Jagger has tasted many of its wares over the course of his illustrious career.
AstraZeneca (NYSE:AZN) I admit I had never heard of this company until I looked into the holdings of EWU. It's a pharmaceutical company with operations in over 100 countries. It has a P/E of 11.3 and has a 5.4% yield.
BHP Billiton (NYSE:BBL) This is a petroleum and mining behemoth. It's well off its highs for the past year due to weakness in metal pricing but that could mean it's a good time to get in.
There are 108 holdings in total. The complete list is here. Many of these are strong easily recognized names too. I will mention one more. Imperial Tobacco (NYSE:IMT) seems to be almost a forgotten tobacco stock. Unlike some other high-profile companies that had a slight earnings miss lately, when this one missed its stock actually went down. That's what should happen. This could provide a nice entry point. It pays a dividend of 4.7% with stated plans to have further increases down the road.
I like this ETF a lot. I can see myself taking a position in it within the next month or so when my next paycheck comes in. It would be great if it had a pullback first but I think it provides good market exposure to some very good companies. Perhaps you could buy it in chunks over the next few months to dollar cost average.
Disclosure: I am long BP, GSK. I wrote this article myself, and it expresses my own opinions. I am not receiving compensation for it (other than from Seeking Alpha). I have no business relationship with any company whose stock is mentioned in this article.