Does a company who consistently beats revenue estimates, income estimates, and guides higher quarter after quarter have a good business? I think they do. In fact, Landec (NASDAQ:LNDC) has beaten earnings for the last 9 quarters. This company knows how to invest and grow a business, and I have made a good profit on them this year. I also believe this company will keep rewarding me going forward.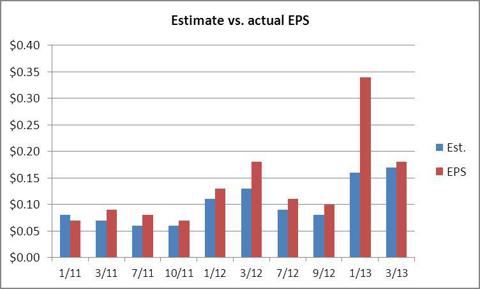 The chart above was created based on data gathered from streetinsider.com
My opinion on why Landec performed well and will continue to do so in the future:
Last year, Apio, a wholly owned subsidiary of Landec, put together the final piece of the puzzle with the acquisition of Greenline. Greenline is a leader in packaged food produce. From the third quarter conference call I have understood that business is performing exceptionally well; even with the recent weather problems, revenues still grew 42% and net income 43%. You can read the third quarter conference call transcript provided by SeekingAlpha.com here.
The latest product - Sweet Kale Salad - proved to be a major hit among customers. In the latest earnings conference call CEO Gary Steele emphasized that the demand for the product was so high that stores are quickly and easily selling through the product. Due to such strong demand, Greenline is having trouble keeping up and supplying these stores. Greenline's products are sold at many large retailers like Costco.
Since the Greenline acquisition in April 2012 the stock price has gained a whopping 120% and can be seen in the chart below.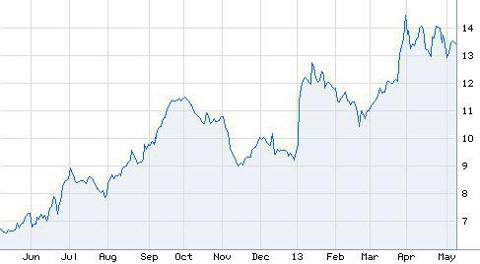 The chart above can be found on Fidelity.com
In 2011, Apio invested in Windset farms. This is basically a large indoor vegetable growing greenhouse. They grow vegetables without the worry of weather related issues. There's no need to go into detail, you get the picture. And if you would like more information please visit their website by clicking here.
Why do I like this investment? Well, to begin, Mother Nature can't interfere with revenues and income. Thus, no matter what the weather conditions are like outside, this place will continue to grow food. This reduces the chance of shortages and lost revenue. Currently, demand for the tomatoes grown at the Santa Maria farm has surpassed supply and thus the company is expanding its facility by 64 acres. When the expansion is complete it will be a total of 128 acres. Steven Newell Windset's CEO was quoted on thepacker.com stating that the company is planning on expanding the facility even further, to a total of 250 acres.
On the biomedical side of the business there is Lifecore, a high margin growth company. It is a leading supplier of fermented HA in ophthalmology and orthopedic markets. I was never a biology geek, so to avoid confusing you further here's a link to their website. They are a cash machine per the earnings reports. Revenues grew 20% year over year and net income grew 16%. Also, in FY12 Lifecore had gross margins of 52% and operating margins of 26%, as can be found on their website.
Some concerns going forward
The agriculture business as said earlier is largely affected by weather. Already in March there were freezes in Florida that reduced bean production. This will affect the net income for the current quarter. However, management has taken this into account in their guidance. Since Windset Farms only produces a small portion of Apio's food export business, it wouldn't be able to cover the loss incurred in the weather-ridden areas.
In the last earnings conference call Gary Steele mentioned that a couple of the larger grocery chains who are struggling financially have been pressing the company to lower prices for their products. Steele reaffirmed the company's willingness to part ways with these grocery chains and avoid dropping below their margin threshold. The possibility lies that if the unmentioned large grocery chains were to part ways, Apio's revenues could be negatively affected by 10%. The company believes in the superiority of its product, combined with overwhelming demand, and therefore does not think it needs to lower the prices to gain new customers.
I am satisfied knowing that it will not be difficult to find new grocery chains to place these products in.
Going forward
The company is not looking to acquire more businesses in the short term, but rather expand their current ones. Basically, due to the increase in demand for the food business they are planning to expand their facilities. Greenline will also introduce a new product in June. Sweet Kale Salad was a hit and this next product has the same potential.
In conclusion, Landec knows how to invest and can easily back it up with their 10 consecutive earnings beats. Landec has invested wisely in companies that make food (something we all need), good food (I assume we all want), and the preservation of food.
Weather and product quality will play a large role in the direction of this stock. Lastly, from the third quarter conference call it was made clear that Greenline's products were in hot demand.
How I am playing it
I owned this stock a couple of times this year and have taken my profits both times. The tale of the last few quarters has been similar: The earnings report is where most of the price movement occurs for this stock and slowly pulls back in between earnings. I will assume this pattern holds going forward or at least in the short term. I will purchase shares again if the stock drops in the low $13. For now, I see this stock price moving in the $1-2 range on or around its next earnings report.
Disclosure: I have no positions in any stocks mentioned, but may initiate a long position in LNDC over the next 72 hours. I wrote this article myself, and it expresses my own opinions. I am not receiving compensation for it. I have no business relationship with any company whose stock is mentioned in this article.