Late last week we were treated to another post-COMEX close hit on the gold (NYSEARCA:GLD) market. This time it was courtesy of The Wall St. Journal's well-known Fed mouthpiece, John Hilsenrath. Since falling more than $220 in 2 days in mid-April Gold had been, before Friday, trying to build a base between $1455 and $1485 per ounce. The Hilsenrath rumor and subsequent article argued that The Fed would be ending quantitative easing earlier than anticipated due to improvements in the labor market. This has been a meme spread by The Fed since the announcement of the bond-buying program back in early December.
It created enough cover for the traders on the COMEX to whack the precious metals market, taking gold down to near $1420 before closing the week at $1446. Where gold goes so does silver (NYSEARCA:SLV) and again silver was unable to put in a close above $24 per ounce, sapping upside momentum. But if we look at the chart of total Fed credit since the beginning of QE III/IV we have to note that there has been no tapering off of fresh credit being created by The Fed. In fact, it is quite the opposite with a distinct four-week pattern in evidence (black arrow below).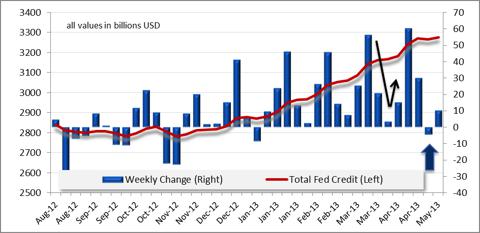 Since December net credit growth per month by the Fed has accelerated from $64.07 billion in December to $108.95 billion in April. Instead of tapering off, QE III/IV looks like it is accelerating.
So, if The Fed's bond buying and subsequent credit creation is accelerating month to month, then isn't it curious that bond yields are rising? Not really because in the past two weeks the amount of buying in the four-week pattern has been sharply lower (blue arrow above) than in previous months. A peak in credit created in the 3rd week of each month, which tapers off to a minimum to start the month and then begins rising again. Now look at the market's response to such behavior.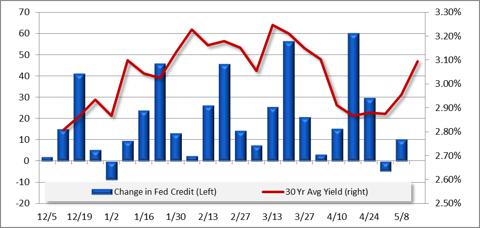 We had a huge sell-off in bonds on Friday and continued rise in equities, which is normal. So far this week, the follow through has been anemic. And, of course, none of this happens in a vacuum as the yen (NYSEARCA:FXY) finally pushed through ¥100 with authority creating havoc in these markets; helping to send the dollar higher and the euro (NYSEARCA:FXE) and gold lower. The question is, however, whether there is any room for The Fed to continue slowing down its bond-buying program?
I'd say absolutely not. Look at the above chart closely and you'll see that it took the Fed four months of concerted buying / credit creation to halt yields rising as a result of lower appetite for U.S. debt by foreign central banks and investors. April's nearly $109 billion was enough to finally soak up the supply and begin pushing yields lower again. Nearly all of those gains were wiped out in a couple of days this week on an article from the WSJ that was not corroborated by FOMC Chairman Ben Bernanke when he spoke to the media the same day. That does not instill confidence in the tapering thesis.
No, I suspect there was real selling and the question will be what will this week's change in Fed credit look like? If it's as large as the corresponding peaks from previous months then there was some serious selling in the overseas bond market this week in response to the underlying economic data. If it isn't and the Fed is testing the waters on scaling back QE then we've gotten our answer on how the market will react to that. The early lack of follow through means the Fed is likely intervening heavily.
Either way the Fed is trapped and is simply reduced to verbal intervention and its quislings doing its bidding front-running its moves. Last week's close of 3.096% on the 30-year bond puts that market in a high probability position to break April's high yield of 3.14%, which would be a very rare engulfing bar on the monthly chart, having already violated the April low.
Looking at the weekly data there is ~64% chance of that occurring this week. However, the monthly difference between closes is, on average, just 0.22% so odds are that we have already seen the big move for the month as the 30-year yield closed April at 2.88%. So, if the Fed is intervening, sellers may not have the guts to push it too far this week, but next week, given the pattern noted above, looks like an even better opportunity for a break.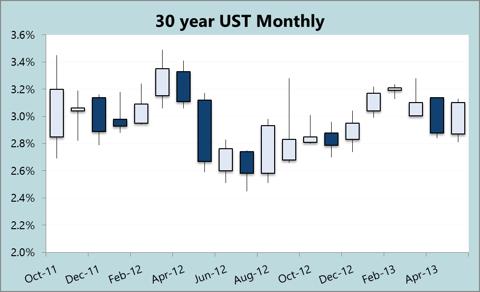 Given how quickly things are changing, however, these are anything but normal times no matter how placid they look on the surface. These current movements are bearish for gold and Treasuries while continuing to be bullish for equities.
Disclosure: I have no positions in any stocks mentioned, and no plans to initiate any positions within the next 72 hours. I wrote this article myself, and it expresses my own opinions. I am not receiving compensation for it (other than from Seeking Alpha). I have no business relationship with any company whose stock is mentioned in this article.