Most of us know Warren Buffett has the uncanny ability to see value where others don't, and over the last year, he recently said in an interview with CNBC, that he has been buying equities in Europe.
Before we get into that, another element that is extremely important in the success of Warren Buffett is the way he successfully recognizes the low range of a good entry point. I'm not talking about market timing here, but his understanding of the season of time companies are at bargain rates. In his view, Europe has been in that season of time, and many stocks there remain cheap.
The fact that Buffett has been investing in Europe tells us he sees this as the time to enter that market. That means he believes the fear factor is in play, suggesting most investors haven't been interested in Europe; the reason why prices are so low. Now that he has mentioned it, the period of time to look closely at Europe and act is now, as money will start flowing to certain stocks there, which will drive up the share prices.
Buffett, in one of his casual but enlightening remarks, noted that "Europe is going to be around" in the future, even though it faces enormous challenges in the present.
"Europe's economic problems present a buying opportunity," he said. "We've been buying some European stocks and companies in the past year."
Even though some stocks in Europe have risen during the last year, they are still a good value, providing, in some cases, better entry points than U.S. equities. In other words, Europe still has a lot of room to run.
Europe in the Second Half of 2013
Germany struggled during the latter part of 2012, contracting by 0.7 percent, after being downwardly revised from 0.6 percent. Year-over-year growth dropped by 0.2 percent. In the first quarter of 2013, Germany grew by 0.1 percent, failing to meet expectations.
For France, in the first quarter of 2013 it fell into a recession, contracting 0.4 percent year-over-year in the first quarter. Quarter-over-quarter, France declined by 0.2 percent. That followed a 0.2 percent drop in the last quarter of 2012.
The difference between the results of the two countries is, the performance of France was the result of a decline in business and ongoing record unemployment. That of course has lowered consumer confidence in the country. Germany on the other hand was the victim of hard winter weather, which affected a number of sectors. Expectations are Germany will do better for the rest of the year.
"For the second quarter I think we're going to see a much better number out of Germany and I think that number we could easily see annualized growth in the second half of 2013 of 1.5 percent," senior consultant at Credit Suisse, Bob Parker in a CNBC interview.
The jobless rate in the two countries also points to what may happen going forward. France stands at a record rate of 10.6 percent, while Germany's jobless rate is at a 30-year low of 6.9 percent for April. That means German Chancellor Angela Merkel probably has the upper hand in the direction the eurozone will go. With an election coming up, there can be no doubt austerity will continue to be the path Germany wants the region to go in.
French Pierre Moscovici said France and its people "refuse" austerity.
This uncertainty should be good for blue-chip European stocks, as it could keep the region out of favor with most investors.
How to Play Europe
One of the best ways to invest in Europe is via the SPDR Euro Stoxx 50 Fund (NYSEARCA:FEZ), which holds among the highest quality blue chips in Europe, most of which are multinational companies.
Below are the top 10 holdings in the fund, which account for almost 41 percent of its total assets.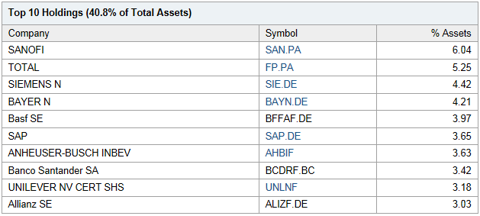 Euro Stoxx 50
The Euro Stoxx 50 Index (SX5E) has dropped from 1 percent to 2 percent in May.
Aurel BGC technical analyst Gerard Sagnier says the benchmark index could jump by 8 percent by September. The index represents equities in the eurozone.
Sagnier sees resistance coming at about 2,880 over the next couple of months, based upon linking the highs of September 2012, and January 2013. Over the last several weeks the Euro Stoxx 50 jumped 8.2 percent. In a little over a year, it has outperformed the S&P 500 with a 26 percent uptick. The S&P also did good, climbing 22 percent during that same period of time.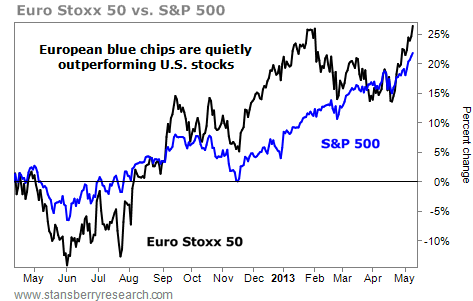 Concerning what the Euro Stoxx 50 trades at, it's only 12 times earnings in 2013. In comparison to the S&P 500, that's 20 percent cheaper.
Not only that, but in contrast to other key stock markets in the world, the Euro Stoxx 50 is also a better value as well.

The next chart shows the sector weightings of the blue chip companies held in the fund.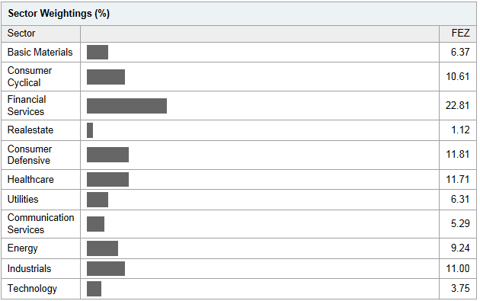 Top 10 Holdings
If you want to go with an individual stock in the top 10 holdings of the Euro Stoxx 50, every one of them can be traded in the U.S. Here are basic snapshots of the companies.
Sanofi (NYSE:SNY)
Healthcare giant Sanofi is the largest holding in the fund as of this writing, accounting for 6.04 percent of the total. You can see with the chart below the nice run it's had over the last year. The company has a forward P/E of 12.77. Its profit margin is 11.83 percent with an operating margin of 20.46 percent.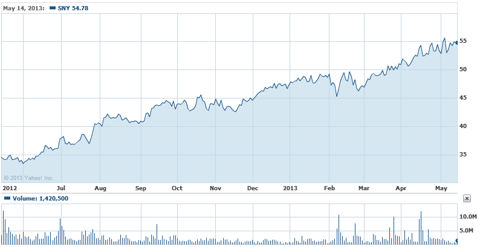 Total SA (NYSE:TOT)
The next biggest holding is energy giant Total SA. Total hasn't performed as well as Sanofi, but it could be a sleeper after dropping off in the middle of 2012. The company has a forward P/E of 7.45. It has a profit margin of 4.77 percent, with an operating margin of 11.36 percent.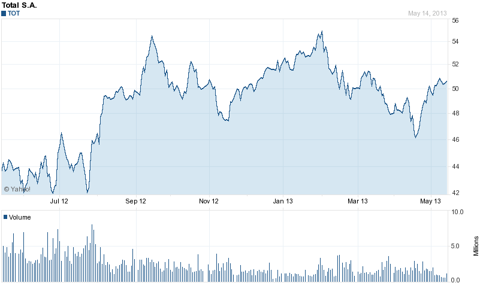 Siemens Aktiengesellschaft (SI)
Siemens has had a solid year, beginning a major move in the latter part of August 2012. It's been flat so far in 2013. The company has a forward P/E of 10.84 percent. Siemens has a profit margin of 5.69 percent and an operating margin of 8.23 percent. Return on equity is 17.18 percent.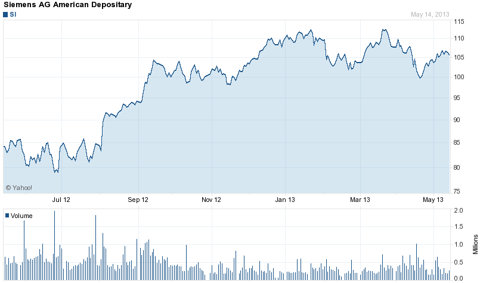 Bayer AG (OTCPK:BAYRY)
Bayer enjoyed an awesome year, moving from about $60 a share early in the year to close to $110. It has a forward P/E of 15.05. The company had a profit margin of 6.42 percent and an operating margin of 13.51 percent. Return on equity is 13.14 percent.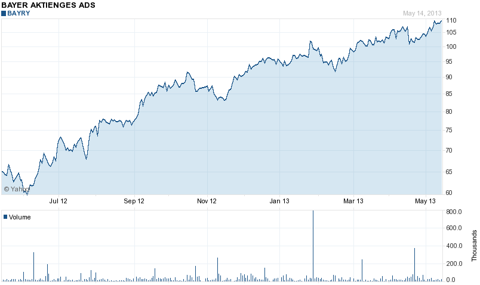 BASF SE (OTCQX:BASFY)
Chemical behemoth BASF SE has performed similar to Siemens, moving up nicely until hitting 2013. The company has also traded flat since then. It has a profit margin of 5.81 percent and an operating margin of 11.94 percent. Return on equity is 18.31 percent.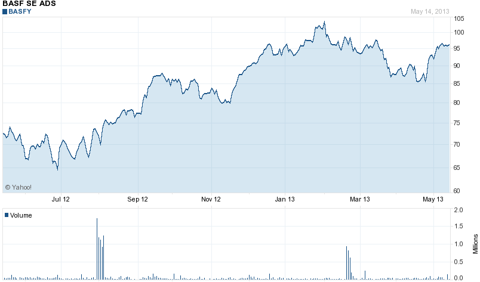 SAP AG (NYSE:SAP)
Also level so far in 2013 has been SAP AG, which had a great move since last summer. Its forward P/E is a little higher than some of the other companies listed, standing at $21.20. The profit margin at the company is 17.60 percent with an operating margin of 28.35 percent. Return on equity is 20.71 percent.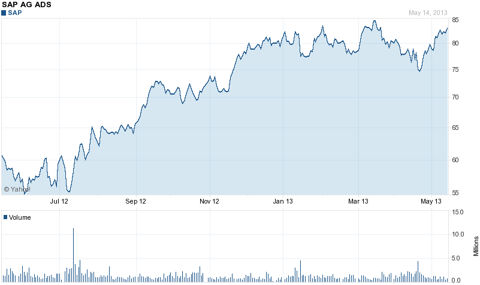 Anheuser-Busch InBev SA/NV (NYSE:BUD)
Popular Anheuser-Busch is another great company, with a consistent upward move over the last 12 months. Its forward P/E is $17.52. The company's profit margin is 19.27 percent with an operating margin of 31.66 percent.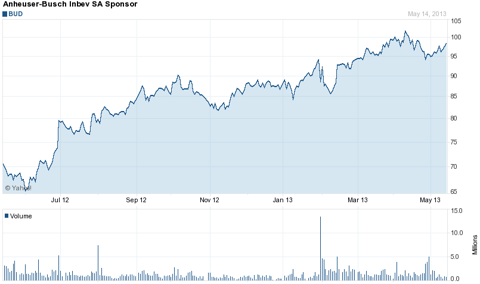 Banco Santander, S.A. (NYSE:SAN)
Banco Santander, S.A. has done little since the middle of September, as concerns over the fate of the banking sector in Spain weighed on the stock. Nonetheless, it's still a good company, and could have some nice upside to it going forward. It has a forward P/E of $10.31. The bank has a profit margin of 6.83 percent and an operating margin of 23.33 percent. Return on equity is 3.14 percent. It pays out a dividend of $0.61, which as of this writing is 8.60 percent.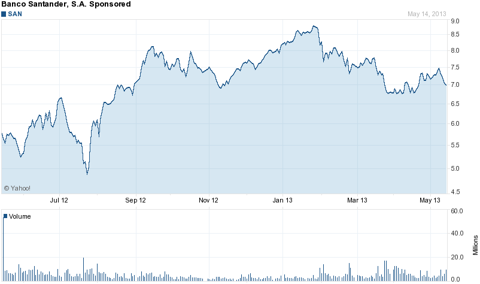 UNILEVER NV CERT SHS (OTCPK:UNLNF)
UNILEVER NV CERT SHS accounts for 3.18 percent of the holdings in the fund. The company operates globally in nutrition, hygiene, and personal care consumer goods market.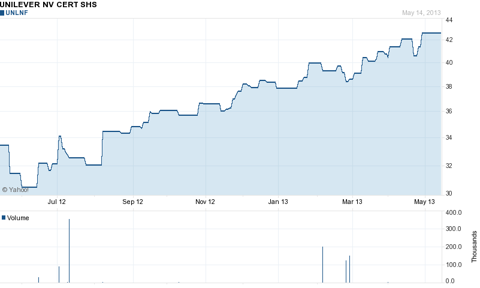 Allianz SE (OTCPK:AZSEY)
Insurance giant Allianz SE has had an amazing year, although concerns over lower rates pressuring earnings could weigh on the company. It has a profit margin of 5.22 percent and an operating margin of 10.61 percent. Return on equity is 10.61 percent.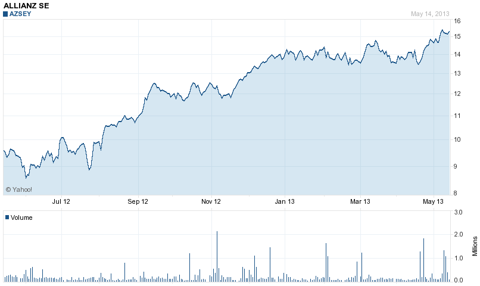 Conclusion
European stocks continue to be out of favor, even though the blue chips shown here have been making nice moves over the last year. The more negative news the better from Europe, as these types of stocks, over time, will continue to move up.
Like their competitive counterparts, these stocks aren't going anywhere, and years from now will continue to grow. Their resiliency in extremely difficult conditions show how solid they are.
Even after a good year, these companies overall are still cheaper than American stocks, and warrant a good look for a contrarian play.
In the end, if Warren Buffett is buying European stocks, he is seeing something there. The stocks listed here, as well as others, confirm he has been right. It's not too late to get in.
Disclosure: I have no positions in any stocks mentioned, and no plans to initiate any positions within the next 72 hours. I wrote this article myself, and it expresses my own opinions. I am not receiving compensation for it (other than from Seeking Alpha). I have no business relationship with any company whose stock is mentioned in this article.