The usual suspects made quite a stink back in February about how insiders were selling up a storm, and how that boded ill for the market rally. We countered in the February 8th issue of our InsiderInsights newsletter that "these stories are based on dollar-value ratios of insiders buying and selling, and there is the possibility they could turn out to be prescient. More likely, however, is that going to cash right now because of these stories will be a mistake."
After a thousand or so words backing up that assertion, and referring to our own proprietary insider market ratios, our tactical stance was to "remain fully invested instead of in 'Chicken Little' mode."
While we have raised cash a bit on and off since then, we are in just 5% cash now. Yes, we remain wary of the top-down macro issues that could yet cause hurt for the indices. But most of the insider-inspired stocks we own are trading well, and the new stock-specific signals insiders have been sending on the long side are much more compelling than those on the short side.
Insiders know mo'
That is useful insider intelligence that has saved our macro view of the market from getting too bearish too early. It also identifies a tactical path to play the momentum. With so many stocks well off their lows at this point, it can be challenging to find new ideas that aren't overpriced and overextended. Why not hop on those stocks that are trading well, that also have insiders still behaving bullishly?
Insiders are often pigeon-holed as boring ol' value investors, but that doesn't give them nearly enough credit. Limiting the insider approach to only finding value plays relays a lack of imagination from an investor-or at least a limitation of their insider-based research tools.
When momentum is working in the market, I've found it profitable to use our insider screening tool to find stocks participating in the rally that insiders continue to like. We've even set up a canned insider momentum screen for this purpose.
This screen finds stocks where insiders are buying into strength, and, usually, averaging up the cost basis of their holdings. That's a particularly bullish signal that at least the execs and/or large investors at a firm don't think their stock's run is done yet. Think about what it would take for you to buy more of a winning stock you own at a higher price than you previously did. You'd have to be pretty confident about an investment to do that. Well, insiders are people too, with the same sort of behavioral fear and greed that we all have.
In defining our insider momentum screen, we weren't interested in stocks that have been tanking for months, only to mount a technical bounce off long-term supports during this current rally (we have a separate "insider rebound" screen for that). This screen searches for stocks with sustainable momentum: ones that were already trading decently for months, and are continuing to do so now.
The specific momentum metrics we chose were stocks with positive returns for 4-week, 13-week, and 26-week periods. (Reasonable minds can differ on how to set these metrics. Our screening tool gives such minds the flexibility to do so, and back test their tailored settings.) We then enhanced the quality of this screen's results further, by overlaying an advanced filter to only include stocks that also have significantly bullish activity according to our InsiderInsights Company Ratings.
Short & long-term ideas
The results of this momentum screen are below, and run on stocks with bullish insider transactions made during the months of March and April. This was an actual screen presented in the May 3rd issue of our newsletter. Though a few weeks old, we're using it in this article to both illustrate the screen's utility, as well as to feed ideas for you currently.
On the "proof of concept" side of the ledger, entries like Theravance (THRX), Akamai (NASDAQ:AKAM), and Vistaprint (VPRT) have arguably already played out. Each of these stocks has also had their II Company Rating demoted from being significantly bullish in the past week due to subsequent (and understandable) insider sales. Though each of these recent winners came to our attention on other of our insider screens a month or more before they popped, their appearance on this momentum screen a few weeks ago was still absolutely actionable. We are longer-term investors at heart and in practice--as most individuals should be. But this momentum screen is one that can be very useful to shorter-term traders.
For longer-term investors of varying risk tolerances, entries like Accuride (NYSE:ACW) and Mitek Sys (NASDAQ:MITK) hardly seem played out. Shares of Ballantyne Strong (NYSEMKT:BTN) have also just had a serious hiccup in their momentum after the firm's latest earnings release. They are worth investigating to see if you believe this is another good entry point for this stock. And keep an eye on Agco (NYSE:AGCO). Though its shares have moved higher in recent weeks, AGCO has the look of a stock that may consolidate its recent move to also offer a decent entry point.
We'll also finally add that our insider momentum screen run today has entries that include Western Gas LP (NYSE:WES), Digital River (NASDAQ:DRIV-OLD), and Wells Fargo (NYSE:WFC), among over 30 other interesting names.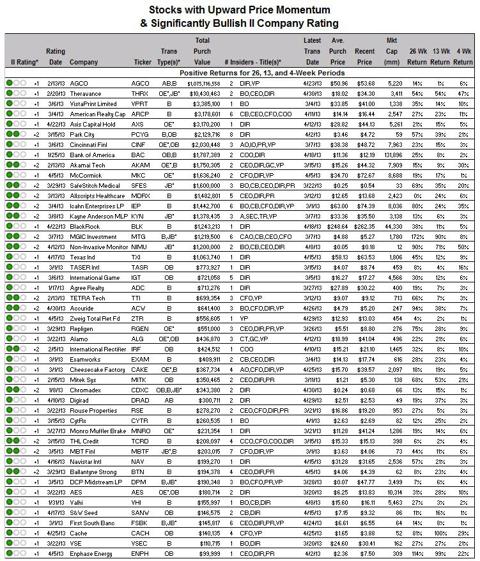 Source: www.InsiderInsights.com
Key to II Company Ratings
Key to Transaction Types
(Author's Note: Follow InsiderInsights to be notified about our daily "Top Insider Trades" Instablog Post.)
Disclosure: I am long BTN, MITK. I wrote this article myself, and it expresses my own opinions. I am not receiving compensation for it (other than from Seeking Alpha). I have no business relationship with any company whose stock is mentioned in this article.