Mr. Warren Buffett needs no introduction, so I will go straight to introducing his recently reported portfolio, as of 3/31/13. Keeping track of the holdings of the world's most famous investors is a great way to screen for investing ideas as well as a free way to learn more about portfolio strategy and allocation. In addition to this information, you can also find the letters Buffett has written to Berkshire (NYSE:BRK.A)(NYSE:BRK.B) investors over the years for free here.
Portfolio Value
Increased from $75.3 billion at the end of the year to $85.0 billion (12.88% increase) as of 3/31/13.
Visual
I usually put this at the bottom, but you are probably eager to see the portfolio changes, and I share your sentiment. Here is a visual look at the portfolio's holdings and changes (from largest to smallest holding).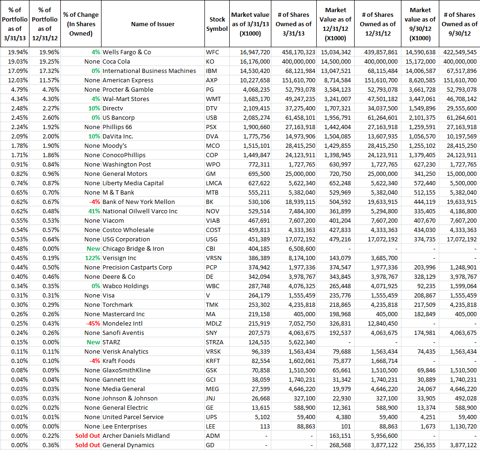 New Holdings
In the first quarter of 2013, Berkshire added two new holdings and the largest, Chicago Bridge & Iron (NYSE:CBI), was worth $404 million at the end of March (0.48% of the portfolio).
The other new addition was a $124.5 million holding in STARZ (NASDAQ:STRZA), good for 0.15% of the portfolio.
Other Purchases
Sellouts
Other Sells
4% of Berkshire's previously reported share count in Bank of New York Mellon (NYSE:BK) was sold. Even with this, the value of the remaining shares increased to $530 million (from $504.5 million at the end of 2012).
Berkshire also sold 45% of its stake in Mondelez (NASDAQ:MDLZ). This position was worth 215.9 million at the end of March.
The only other sale came in the form of a 4% cut from Berkshire's investment in Kraft (KRFT), remaining investment was worth $82.5 million at the end of the first quarter.
Rest of the top 10
Only four of the top ten largest investments for Berkshire were left alone in the first quarter, and they were Coca-Cola (NYSE:KO), American Express (NYSE:AXP), Procter & Gamble (NYSE:PG) and Phillips 66 (NYSE:PSX). These positions were the 2nd, 4th, 5th and 9th largest holdings at the end of March.
Other Holdings With No Activity
In order of largest to smallest position, the following investments remained the same from when last reported on 12/31/12: Moody's (NYSE:MCO), ConocoPhillips (NYSE:COP), Washington Post (WPO) General Motors (NYSE:GM), Liberty Media Capital (LMCA), M&T Bank (NYSE:MTB), Viacom (NASDAQ:VIAB), Costco (NASDAQ:COST), USG Corp. (NYSE:USG), Precision Castparts (NYSE:PCP), Deere & Co. (NYSE:DE), Visa (NYSE:V), Torchmark (NYSE:TMK), Mastercard (NYSE:MA), Sanofi Aventis (NYSE:SNY), Verisk Analytics (NASDAQ:VRSK), GlaxoSmithKline (NYSE:GSK), Gannett (NYSE:GCI), Media General (NYSE:MEG), Johnson & Johnson (NYSE:JNJ), GE (NYSE:GE), United Parcel Service (NYSE:UPS) and Lee Enterprise (NYSE:LEE).
So, what do you think? Which of these have you bought/sold recently?
Disclosure: I am long AXP, WFC, BRK.B. I wrote this article myself, and it expresses my own opinions. I am not receiving compensation for it (other than from Seeking Alpha). I have no business relationship with any company whose stock is mentioned in this article.