Weight Watchers (NYSE:WTW) is the leading, global-branded consumer company and provider of weight management services. It operates globally through a network of Company-owned and franchise operations. With five decades of weight management experience, expertise and know-how, it has established Weight Watchers as one of the most recognized and trusted brand names among weight-conscious consumers. In my opinion, the company is worth more then it is currently trading at because of their strong brand.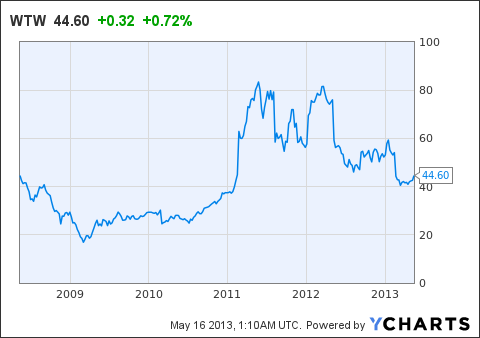 Consumers buy $5 billion+ of Weight Watchers-branded products each year, and every week, approximately more than 1 million people go to Weight Watchers meetings globally. The company encourages healthy weight loss through (science-based) exercise, nutrition, and portion control. Weight Watchers also offers Internet and magazine-based weight-management products.
1. Obesity is Widespread
According to the Centers for Disease Control and Prevention, 70% of the adult population of the United States is overweight, with 35% considered obese. Worldwide, nearly 1.6 billion people are considered overweight or obese. Increasingly inactive lifestyles and the prevalence of unhealthy food are often blamed for the growth of the number of overweight people. Weight Watcher's market is expanding.
2. Products Answer Persistent Demand
The consumer demand for weight loss products is not going away. There are both fundamental reasons, like personal health driving the demand, but also a strong built-in cultural driven demand. In this day and age, everyone wants to look good, all the time. There is an increased consciousness about the health benefits of being fit.
3. Strong Infrastructure
No competitor - Like Life Time Fitness Inc or NutriSystem, Inc (NASDAQ:NTRI) - has a Weight Watchers like support infrastructure with 12,000 leaders who hold more than 45,000 weekly meetings in which members discuss weight-loss challenges, set goals, and monitor how they are progressing. It has to be said that increasingly consumers are moving to the internet channel, yet right now this is still a strong channel.
4. Weight Watchers Brand
The Weight Watchers brand is trusted to such extent that large food companies and restaurants are starting to license the brand to advertise their products. A trusted brand is an extremely valuable asset in a fragmented market. It can also be leveraged very easily when the opportunity arises. Weight Watchers licenses its brand to consumer products firms like Kraft (KRFT) and General Mills (NYSE:GIS) and restaurants like Applebee's (NYSE:DIN)
5. Capital Light
Weight Watchers' has a very capital-light business model, which is very attractive because it protects them in downturns and allows them to grow fast, if the circumstances are right. They profit from licensing, franchising, royalties, meeting fees, internet fees and product sales.
| | | | | | |
| --- | --- | --- | --- | --- | --- |
| Weight Watchers | TTM | 2012 | 2011 | 2010 | 2009 |
| Revenue | 1810 | 1827 | 1819 | 1452 | 1399 |
| Cost of Revenue | 736 | 744 | 772 | 661 | 671 |
6. Takeover Possibility
There is no news or even a rumor about a weight watchers takeover as far as I can find. However at its current valuation (4.73B Enterprise value, EV/Ebitda 8.88) and with customers increasingly moving to healthy foods and corporate cash piles at record levels, I feel it's safe to say, a bid on Weight Watchers is a real (though small) possibility. There is a poison pill and staggered board in place but the importance of a poisoned pill must not be overstated as it was reported in 2001 that since 1997, for every company with a poison pill which successfully resisted a hostile takeover, there were 20 companies with poison pills that accepted takeover offers.
Risks
There are also specific risks associated with an investment in Weight Watchers. I'll treat what I think are the three most important ones here, but I recommend reading the recent bearish article by fellow Seeking Alpha contributor ZF Research as well.
1. Obesity Drugs
Weight Watchers' greatest direct threat is medical weight-management breakthroughs. Recently a few obesity fighting drugs have come to market in the US. Most likely the drugs called Belviq and Qsymia. It wouldn't surprise me if the launch of these pharmaceuticals is what is depressing the share price of weight watchers.
These drugs have only been approved in the USA, and in my opinion, consumers will prefer to make a serious attempt fighting obesity with treatment before trying drugs. I'm speculating here, but I think physicians will prefer their patients to get on a science proven diet over relying on drugs as well. Last but not least, insurance coverage of these (expensive) drugs appears to be limited at this time.
2. Debt Levels
Weight Watchers does have some debt (2.2B) but it's at a relatively safe level. The Altman Z-score indicates safe levels of debt and EBIT is at around 5x interest payments. Cash flow should easily cover expenses.
3. Internet and Mobile Channels
The internet/mobile channel is both a boon to Weight Watchers because it allows them to sell their material and products at higher margins, yet there are no barriers to entry for competitors. At the same time, it is because of this no-barrier market that their brand is so valuable in my opinion.
Among the countless choices of dieting materials (many fraudulent or rip-offs) Weight Watchers offers a premium riskless choice. They may not be the cheapest, but the consumer is sure that he isn't wasting his time following a program that doesn't work, just like all the others.
Conclusion
Weight Watchers is a buy in my opinion at the current price of $ 44.59. This represents a P/E of 10 and for a company with this debt level, historic solid return on assets and a strong brand, that's cheap. In addition, the company pays a quarterly dividend.
Disclosure: I have no positions in any stocks mentioned, and no plans to initiate any positions within the next 72 hours. I wrote this article myself, and it expresses my own opinions. I am not receiving compensation for it (other than from Seeking Alpha). I have no business relationship with any company whose stock is mentioned in this article.