In the interest of full disclosure, let me start off by saying that I have never been in an Ulta Beauty (NASDAQ:ULTA) store. I have poured through its financial statements, read some articles, and gone through its 2012 Annual Report, but I have not partaken in any of its services or products. That's because I get my haircuts at the barber, I buy my deodorant at the supermarket, and I don't wear fragrance. But just because I'm not an Ulta client, that doesn't mean I don't think there's a very interesting story to tell about the company and the stock.
The most prolific companies are ones that have figured out something that no one else seems to have figured out, come up with a plan and strategy, and execute. Ulta fits this mold.
Ulta is the largest beauty retailer that provides one-stop shopping for prestige beauty products, mass beauty products and salon services in the U.S. It offers customers a selection of over 20,000 beauty products across the categories of cosmetics, fragrance, haircare, skincare, bath and body products and styling tools. The typical store is approximately 10,000-square feet, including around 950-square feet dedicated to a full-service salon. They are predominately located high-traffic locations such as power centers - that is, unenclosed shopping centers with three or more big box retailers and various smaller retailers. Ulta's stores are open seven days a week, 11 hours a day, Monday through Saturday, and seven hours on Sunday.
The idea that Ulta came up with and incorporated is the concept of one-stop shopping for beauty products and services. When Ulta was founded in 1990, consumers went to department stores for prestige beauty products, drug stores and mass merchandisers for mass products, and salons and authorized retail outlets for professional hair care products and services. Ulta combined all of these products and services under one roof.
Fiscal 2012
Ulta's fiscal year 2012 ended on Feb 2, 2013. Net sales came in at $2.22 billion, for a 25% increase over net sales of $1.78 billion in fiscal 2011. Sales increases were driven by the opening of 102 (101 net) new stores and an 8.8% increase in comparable-store sales.
Cost control measures resulted in margin improvements for fiscal 2012. Gross profits were up an impressive 27% ($784 million FY 2012 over $617 million FY 2011). Gross profit as a percentage of net sales increased 60 basis points to 35.3%. Selling, general and administrative sales as a percentage of net sales decreased 110 basis points to 22%.
So let's jump down to the bottom line. With increasing sales and increasing profit margins, you would expect a dramatic increase in income. You'd be right. Net income for fiscal 2012 was $172.5 million, compared with net income of $120.3 million for fiscal 2011, for an increase of 43.5%. Accordingly, diluted EPS increased 41% for the period, from $1.90 to $2.68.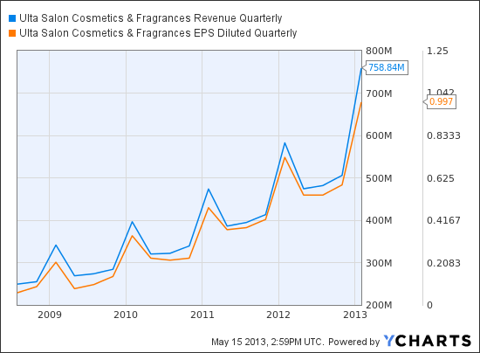 Growth
Ulta opened 102 new stores in 2012, increasing square footage by 23%. It ended the year with 550 locations, and is on track to open 125 new stores in 2013, representing another 22% increase in square footage growth. Its stated goal is to operate 1,200 stores in the U.S.
This aggressive growth strategy would be a concern with many companies, and in most industries. And it might be a concern with Ulta, if it weren't for a stellar cash flow and a very solid balance sheet.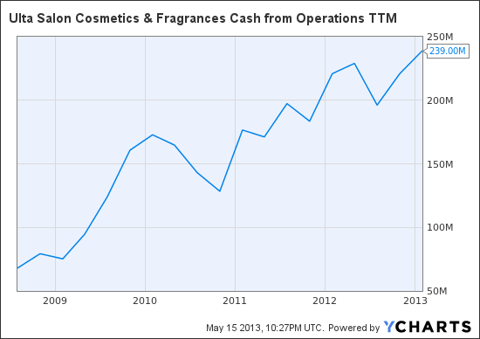 The company generated over $50 million in free cash flow in 2012, after investing $189 million in capital expenditures. At the end of the year, the debt-free balance sheet included $320 of cash and cash equivalents. This is an increase of 26% over a balance of $254 million at the end of fiscal 2011. This company is expanding and hoarding cash at the same time!
Valuation
Ulta trades at a P/E ratio of around 35. Let's compare that measure with a few of its competitors. This isn't easy, because in selling the products, Ulta competes with traditional department stores like Macy's (NYSE:M), specialty stores like Bath & Body Works, drug stores like Walgreen (WAG), and mass merchandisers like Wal-Mart (NYSE:WMT). On the salon services front, Ulta competes with Regis Corp. (NYSE:RGS), Sally Beauty (NYSE:SBH), J.C. Penny (NYSE:JCP) salons, and numerous independent salons.
But an imperfect comparison is better than no comparison, so here's a rough cross-section of the competition: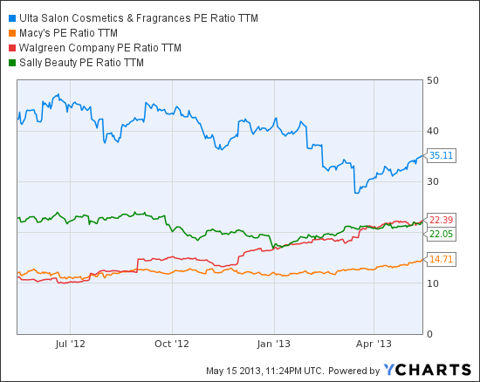 A look at the chart above may indicate that Ulta is a little pricey. But then you might consider that the other companies above are not really direct competitors. And that's a good point. Ulta doesn't have any real direct competitors. It has a unique formula, and that is why it is successful.
Here are two more data points: Ulta's forward P/E is a more modest 23, and its PEG is 1.2. So analysts are somewhat optimistic about the company's prospects for growth, and the relatively steep trailing P/E of 35 is reflective of that optimism for future results.
Summary
Ulta is a one-of-a-kind story. It offers customers a broad selection of merchandise across categories, price points and brands. While these products can be found in department stores, specialty stores, salons, drug stores and mass merchandisers, Ulta offers all of these products in one retail format. Its customers can find everything they want in one shopping trip. It offers over 500 brands, and appeals to a wide range of customers including women of all ages, demographics and lifestyles.
The only concern I would point out is that the company's impressive revenue gains are coming in large part from new stores. If the business model is truly taking hold, then why did comparable-store sales increase only 9% (FY 2012), while overall sales increased 25%? Just a thought.
I think this is a great stock with plenty of room to run. It's not cheap, but given its potential for growth, it's pretty reasonable. The stock price has been volatile over the last 12 months, fluctuating between $73 and $103. If you buy in, it will not always be a smooth ride - but it should be a good one.
Disclosure: I have no positions in any stocks mentioned, and no plans to initiate any positions within the next 72 hours. I wrote this article myself, and it expresses my own opinions. I am not receiving compensation for it (other than from Seeking Alpha). I have no business relationship with any company whose stock is mentioned in this article.