These days you hear so often that dividend paying stocks are overpriced. Low yields on the treasuries has pushed many fixed income seekers into the dividend market. For value investors the recent theme is to "go cash" while we wait for a significant pullback. I admit, this has been the strategy that I've employed as well; I can't help but think there will be better buying opportunities in the near future. However, because of this sentiment I've been standing on the sidelines for a while now as the market has continued its rise. I haven't sold any of my positions so my invested capital has grown with the market but I cringe when I think about the lost potential profits that I am incurring with my cash reserves sitting unused. I know that other investors find themselves in similar situations and are becoming impatient. If this is you, I believe I have several solutions for your impulse to buy.
Before I start, I should say that I've decided not to cover any financials in this list; these stocks seem to be priced at a discount to the market across the board. If one was simply interested in income and value I imagine that their portfolio would be over loaded with these financials right now. I am not willing to do this with my portfolio and I wouldn't recommend this strategy for yours. Looking outside of the financial sector I've pinpointed 7 companies that trade at low valuations compared to their dividend paying competitors. When scanning for value I used P/E and P/Book ratios to determine which stocks to cover. The average P/E for all stocks on David Fish's US Dividend Champion and Contenders list combined (a total of 307 stocks) is 19.31x. The Average MRQ P/Book for this same group is 4.18x. The average P/E ratio of the stocks covered below is 12.92x. The average P/Book is 2.07x. Beyond these two determining factors I choose the stocks that I believe to be the best in breed companies in their respective industries; industries, which I believe to be safe and defensible for when the time comes that a market correction occurs.
California Water Service Group (NYSE:CWT):
A water utility service can be very safe and a consistently profitable portion of a dividend investor's portfolio. Obviously, water is essential to life so I highly doubt that there will ever be a decline in demand for the product that a company like CWT provides. Due to consolidation in the industry there are only 11 investor-owned water utilities service providers in the US. California Water Service Group is the third largest of these. CWT services approximately 2 million people over 100 communities through its subsidiaries: California Water Service Company, Hawaii Water Service Company, New Mexico Water Service Company, Washington Water Service Company, CWS Utility Services, and HWS Utility Services. In 2012, the company posted impressive numbers in terms of profitability. Both net income and diluted EPS increased by nearly 30%: 29.5% and 29.1% respectively. Revenues were up 11.6% to 560 million. The company's 5-year average sales growth is 8.81%. The 5-year average EPS growth rate is 9.24%. Over the past 10 years, CWT has offered investors an annualized rate of return of 7.8%. With dividends reinvested, this figure grows to 8.6%, which slightly beats that of the S&P 500: 8.0%.
California Water Service Group recently increased its dividend by 2.4% to $0.63/share. The company has a long history of small dividend increases: its 10-year average dividend increase is 1.2%. While this dividend growth would be widely considered to be sub-par, the company has increased its dividend for 45 consecutive years, so it is dependable to say the least. The stock is currently trading at $20/share. CWT provides investors with a 3.22% annual yield at this price.
The company trades with a 17.7x P/E ratio, 1.7x P/Sales ratio, and 1.7x P/Tangible Book ratio. Each of these figures fall below CWT's peer and industry averages. CWT's 5-year sales and EPS growth numbers outpace its peer and industry averages. CTW's 5-year average sales growth is 8.81%, its peer average is 5.81%, and its industry average is 5.01%. CTW's 5-year EPS growth rate is 9.24% and the water utilities industry average is 8.15%.
Don't expect astronomical growth with this company. CWT offered investors slow and steady growth at a discounted price compared to its major competitors. This is a very defensible stock and CWT shares could fit in very well to an investor interested in a predictable income portfolio.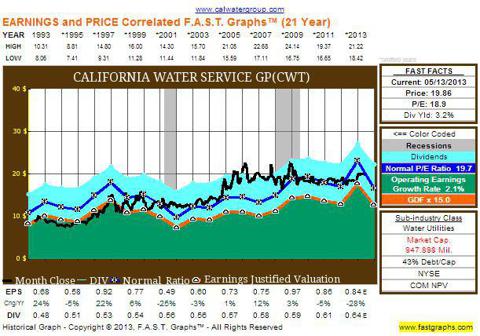 Oil and Gas:
I said that I would not focus on financials due to the industry's widespread low valuations. Another industry that is commonly viewed as undervalued (at least in comparison to the rest of the market) is oil and gas. The energy sector as a whole offers investors compelling buying opportunities right now. I will focus on both oil companies that can be found on the US Dividend Champions list and ConocoPhillips, which is on the Contenders list, but has offered investors very impressive dividend growth numbers over the last 10 years. Like water, I don't see any reliable alternative to widespread oil and gas use and I believe these companies will offer investors stable returns for years driven by global demand.
Chevron (NYSE:CVX):
P/E Ratio: 9.3
P/Sales: 1.0
P/Tangible Book: 1.8
P/Cash Flow: 6.0
ROA: 11.53%
ROE: 19.49%
ROI: 13.68%
5-Year Average Sales Growth Rate: 1.83%
5-Year Average EPS Growth Rate: 8.73%
1-Year EPS Growth Rate: -0.89%
10-Year Dividend Growth Rate: 9.6%
5-Year Dividend Growth Rate: 9.2%
1-Year Dividend Growth Rate: 13.6%
Dividend Yield: 3.26%
Consecutive Annual Dividend Increase Streak: 26 years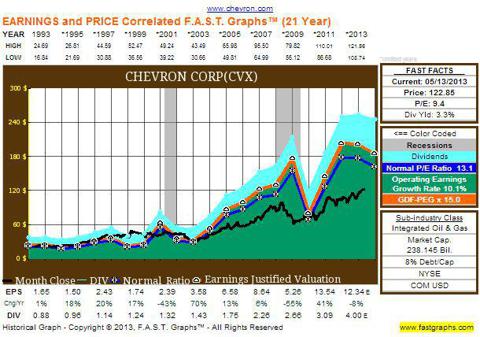 ConocoPhillips (NYSE:COP):
P/E Ratio: 10.6
P/Sales: 1.3
P/Tangible Book: 1.6
P/Cash Flow: 5.4
ROA: 5.22%
ROE: 12.59%
ROI: 6.51%
5-Year Average Sales Growth Rate: -20.44%
5-Year Average EPS Growth Rate: -3.92%
1-Year EPS Growth Rate: 15.19%
10-Year Dividend Growth Rate: 15.1
5-Year Dividend Growth Rate: 13.1
1-Year Dividend Growth Rate: 14.9
Dividend Yield: 4.26%
Consecutive Annual Dividend Increase Streak: 12 years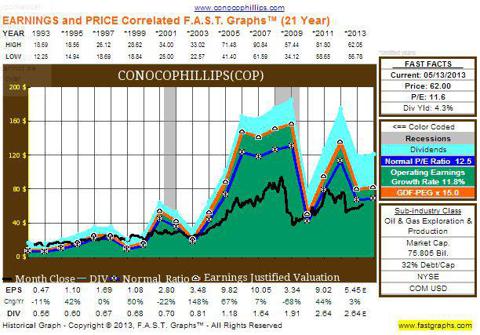 Exxon Mobil (NYSE:XOM):
P/E Ratio: 9.2
P/Sales: 0.9
P/Tangible Book: 2.4
P/Cash Flow: 6.3
ROA: 13.91%
ROE: 27.73%
ROI: 18.27%
5-Year Average Sales Growth Rate: 3.38%
5-Year Average EPS Growth Rate: 5.96%
1-Year EPS Growth Rate: 15.14%
10-Year Dividend Growth Rate: 9.0
5-Year Dividend Growth Rate: 9.7
1-Year Dividend Growth Rate: 17.8
Dividend Yield: 2.80%
Consecutive Annual Dividend Increase Streak: 31 years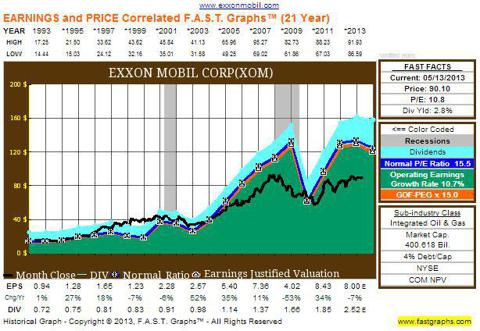 Historically, they have all given investors annualized rate of return numbers greater than that of the S&P 500. When looking at 10-year ROR numbers, CVX takes the cake, giving shareholders an average annual ROR of 17.1% with dividends reinvested. Since 2003, COP has offered investors a 12.8% annualized ROR with dividends reinvested. XOM rounds out the group with a 12.0% ROR. The S&P 500's figure of the same period of time is 8.0%.
I like all three of these companies. If I had to choose to invest in one, it would be XOM. Regardless of its ROR performance, I believe XOM to be best in breed as far as oil and gas companies go and I expect it to remain highly profitable for a very long time. I think that Exxon's management effectiveness numbers set it apart from Chevron. I also like the most recent EPS growth and dividend increase trends that XOM offers investors. I find COP appealing due to its higher yield and dividend growth; however, its long-term sales and EPS growth trends worry me (in comparison to XOM). Each of these companies give investors low pricing multiples, stable dividends, and strong dividend growth.
Target (NYSE:TGT):
Target has turned itself into a retail superpower. In 2012, the company's revenues were more than $73 billion. This figure represents 4.9% growth from 2011 numbers. TGT's 2012 EPS growth was 5.6%, which equates to $4.52/share. The company's 5-year EPS growth average is in line with this figure: 5.90%. The company has truly balanced its departments with each driving sales at nearly equal rates: 25% from health, beauty, and household essentials, 18% from hardlines, 19% from apparel and accessories, 20% from food and pet supplies, and 18% from home furnishings and décor. Its 5-year average sales growth is 2.96%.
In big news for investors, Target announced as a part of its 2012 annual report that it was going to begin international expansion in 2013, with plans to open 124 stores in Canada throughout the year. I expect this international expansion to, at the very least, allow the company to continue its positive sales and revenue growth trends. I think that with a solid international base, Target, with a market cap roughly 1/5 the size of its largest competitor, Wal-Mart (NYSE:WMT), could truly begin to battle for top dog honors in the department and discount retail sector.
Target currently trades with a 15.3x P/E ratio, a 0.6x P/Sales ratio, and a 2.7x P/Tangible Book ratio. These numbers are essentially identical to those of the aforementioned Wal-Mart: 15.6x, 0.6x, 4.6x respectively. Where TGT differs significantly is the much lower P/Book ratio that it offers.
What is most impressive about Target from an investor's point of view is its dividend growth numbers. The company's most recent dividend increase was 20.0% (WMT's was 11.4%). TGT's 5-year average dividend growth rate is 20.5%. The company's 10-year average dividend growth rate is 18.6%. Shares of Target are currently trading at $69.50/share and provide investors with a 2.07% yield.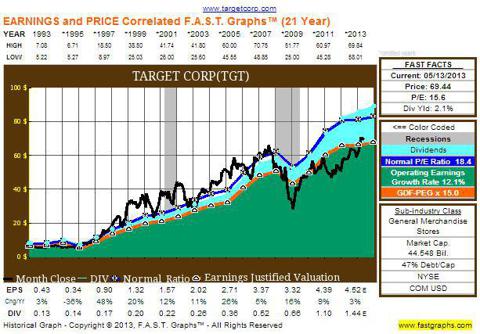 Norfolk Southern Corp. (NYSE:NSC):
NSC is one of the leading transportation providers in the US. The company operates on approximately 20,000 miles of track in 22 states and the District of Columbia. The company boasts that it serves every major container port in the Eastern US.
The fear with NSC, or for owning any railway company for that matter, is the fact that the coal industry's future is in question and the railways have been the traditional transporters of coal. NSC notes that its coal shipments were down 13% in 2012; however, the company's total traffic was nearly equal to the 2011 numbers. It should also be noted that 2011 was the company's best year ever as far as financials go. NSC nearly missed setting another revenues record in 2012 with over $11 billion for the second year in a row. Overall, NSC's annual results were slightly down compared to its tremendous 2011. This plays a part in its cheap valuation.
The transportation sector has had a wonderful year thus far. NSC's fundamentals lag behind those of its peers, giving it a low relative valuation. The company's P/E ratio is 14.1x compared to its peer average of 21.5x. NSC's P/Sales (2.2x), P/Tangible Book (2.4x), and P/Cash Flow (9.1x) are all much lower than its peers' averages: 3.6x, 3.7x, and 13.6x respectively.
NSC has had a run-up of late, gaining roughly 30% since the start of the year. I still think that the stock can go higher. My confidence is bolstered by the company's own confidence as shown by its $1.3 billion stock repurchase in 2012. Norfolk Southern has also returned cash to shareholders in a big way in the form of dividend increase. In 2012, the company increased its dividend by 16%. This has not been a one-year trend for the company. NSC's 5-year annual dividend growth rate is 15.1% and the company's 10-year dividend growth rate is 22.3%. Right now, the company's stock is trading in the $80/share range. At this price the stock provides investors with a 2.55% yield.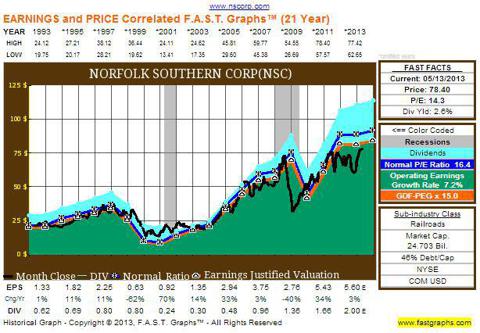 Illinois Tool Works Inc. (NYSE:ITW):
ITW, which celebrated its 100th anniversary as a company in 2012, is a multinational manufacturer of industrial products and equipment. ITW boasts nearly 12,000 patents across a wide range of business segments. The company operates in 58 countries; half of the company's revenues come from countries outside of the US. ITW follows an 80/20 business strategy, meaning that 80 percent of the company's revenues come from 20 percent of its customers. This allows for the company to focus on those key customers and ensure their happiness.
ITW trades at a P/E lower than its industry average: 12.8x for ITW compared to 17.4x for its peers and 14.6x for its industry. ITW's ROA (13.02%), ROE (24.35%), and ROI (15.74%) are all above its industry averages. ITW does have a much higher than average P/Tangible Book value: 11.4x, and a much lower than average 5-year average sales growth: 2.16%. However, the company truly shines in terms of its EPS growth figures with a 1-year EPS growth rate of 29.29% and a 5-year EPS growth average of 9.91%. This EPS growth is why the company has been able to increase its dividend at such a high rate for such a long time. ITW's 5-year dividend growth rate is 9.9%, the 10-year rate is 12.6%, and the 20-year average dividend growth rate is 15.3%. The stock currently trades at $69.38 and offers investors a 2.23% yield.
Over the last 20 years this company has offered investors a 12.3% annualized shareholder rate of return with dividends having been re-invested. This is opposed to the 8.6% ROR that the S&P 500 offered investors over the same period of time. ITW was up over 20% in 2012 and has made a strong showing thus far in 2013. Even with this price appreciation the stock's pricing multiples (with the exception of its P/Book) are still low which makes ITW one of the more bargain priced 2%+ yielding DGI stocks on the market.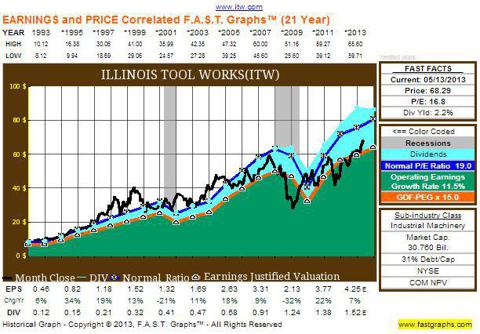 Disclosure: I have no positions in any stocks mentioned, and no plans to initiate any positions within the next 72 hours. I wrote this article myself, and it expresses my own opinions. I am not receiving compensation for it (other than from Seeking Alpha). I have no business relationship with any company whose stock is mentioned in this article.