On Thursday morning, Amazon (NASDAQ:AMZN) announced that it had added more content to its Prime Instant Video service. With this announcement, Prime Instant Video hit a new milestone, one that will make the streaming content wars even more interesting. Today, I'll breakdown the latest news, and discuss what it means for the rest of the players in this space. Should Netflix (NASDAQ:NFLX) and Redbox Instant, the partnership between Coinstar (NASDAQ:CSTR) and Verizon (NYSE:VZ), be worried?
The latest news:
Amazon announced a deal with NBC Universal to bring in a wide variety of new content to the Prime Instant Video service. The deal is for the following shows.
NBC dark fantasy "Grimm," as well as "Smash;" will also get psychological thriller "Hannibal" later this year.
USA Network spy thriller "Covert Affairs" and legal drama "Suits."
Syfy's new futuristic show "Defiance" (later this year) as well as fan favorite dramas "Eureka," "Warehouse 13," and "Alphas."
Children's shows "Curious George" and "Land Before Time."
Amazon states on its website that they will have exclusivity for four years for "Grimm," "Hannibal," "Suits," "Covert Affairs," and "Defiance." The other shows mentioned above may also have this exclusivity, but I cannot confirm this yet.
As a TV fan, this move would have been nice if I was a streaming subscriber (I don't subscribe to any service in all honesty). I was a big fan of "Eureka." When Syfy cancelled the show, there were many calling for someone else to pick it up. I almost thought that Netflix would pick up "Eureka," kind of like how they picked up "Arrested Development." Unfortunately, it didn't happen. Syfy chose to go in another direction, bringing back "Warehouse 13" with a much longer than usual season. I'm a big fan of "Warehouse 13" as well, and used to watch "Covert Affairs." As someone who watches a fair amount of television, I think this is a great grab for Amazon. This provides a nice balance of content, as you have science fiction, a spy thriller, and a nice variety of dramas.
For Amazon, this marked a milestone for Prime Instant Video. In this press release, Amazon stated that Prime Instant Video now offers more than 40,000 titles. The table below shows the fast growth of this content library. In just 27 months, Amazon has gone from 5,000 titles to more than 40,000. That's growth of more than 1,000 titles per month. Since June of 2012, Amazon has added roughly 22,000 new titles, almost 2,000 a month.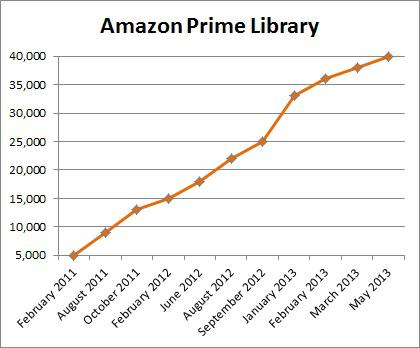 Amazon's take on original programming:
By now, you probably know about Netflix's strategy when it comes to original programming. Netflix is throwing a lot of money into a series, and when they debut it, all the episodes are available at once. They are pouring an estimated $100 million into "House of Cards" (over two seasons), which launched a few months ago. If you wanted to see the series, you had to either be a Netflix subscriber, or wait until the DVD/Blu-Ray is released. You can actually buy "House of Cards" on Amazon, and it is interesting to note that the DVD price is now under $34.00, as originally it was around $45.00.
For Netflix though, it is all in on a show. They launch an entire season, and with that comes the cost of an entire season. There is a bit of risk there, although it's hard to tell how successful a show on Netflix actually is. It can be hard to tell if a subscriber originally is signing up just for a particular show, or they are signing up for the entire Netflix package. It's not like a TV show, where you get weekly ratings and can see how a show is doing over time.
Amazon is doing things differently. Instead of ordering an expensive season upfront, they launched 14 pilots online, which anyone can see for free. Those who watch can then vote on which shows they like and which ones they don't. Amazon will then figure out which shows to order full seasons of. Originally, rumors were that Amazon was targeting shows that would cost about $1 million or so per episode, maybe $2 million per episode maximum. Netflix seems to be spending about $4 million per episode it seems with their originals.
Amazon's deal and what it means for the space:
This wasn't the first content deal Amazon has struck, and it certainly won't be the last. But what it does is give Amazon a piece of content, and for those deals that are exclusive, means that others do not get those titles. The overall point here is that bidders are becoming more active, and that pushes up content prices for all. Netflix referenced this on their latest conference call:
Reed Hastings - "I would say the only thing that's noticeably changed in the last 12 months is Hulu and Amazon bidding more aggressively, and that's made content owners much happier and has made the prices to us higher than they would otherwise be."

Reed - "But certainly all the sellers of content want to have many active bidders, so they are approaching everybody Redbox, Google, the cable networks to try to get bid to be competitive."
So it's not just Amazon and Netflix anymore. Redbox Instant has entered the fray, and they will soon start bidding on more content as well. This is why you are seeing more original series developed. Originals are a way to draw in viewers to your specific service, like Netflix hopes to do with "Arrested Development" fans. Amazon is looking to bring in "Zombieland" fans if that series is ordered. It also fills a gap for when a company tries to purchase content, and they don't get it.
Final Thoughts:
Amazon struck another key content deal on Thursday, upping the ante in the streaming video wars. With this content agreement, Prime Instant Video is now over 40,000 titles, impressive growth over the past year or so. Netflix has said that it will be more selective with its content purchases, especially as it looks to move towards more original content. Amazon is looking at cheaper original content, and have launched their pilots online.
Going forward, Amazon and Netflix will continue to battle, and new entrants like Redbox Instant will need to fight to gain ground. One thing is certain. Those who own the content will benefit the most, as content prices continue to be pushed higher. Thursday's move from Amazon was another shot across the Netflix bow.
Disclosure: I have no positions in any stocks mentioned, and no plans to initiate any positions within the next 72 hours. I wrote this article myself, and it expresses my own opinions. I am not receiving compensation for it (other than from Seeking Alpha). I have no business relationship with any company whose stock is mentioned in this article.
Additional disclosure: Investors are always reminded that before making any investment, you should do your own proper due diligence on any name directly or indirectly mentioned in this article. Investors should also consider seeking advice from a broker or financial adviser before making any investment decisions. Any material in this article should be considered general information, and not relied on as a formal investment recommendation.