Enerplus Corp. (NYSE:ERF) is a Canadian oil and natural gas producer with assets located both in Western Canada and the US. Enerplus has recently seen its stock price increase over 15% due to stronger than expected earnings and increases in realized energy prices. Enerplus currently offers a $0.09 per share monthly dividend and at current prices yields about 6.90%.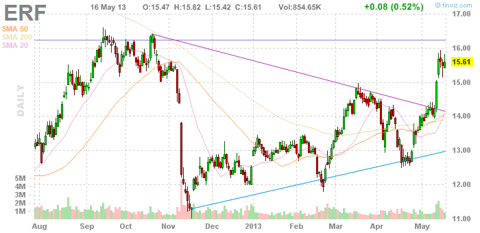 Enerplus has been shifting away from Canadian production of oil and gas. The company has newer assets and production located in the Bakken and Marcellus shale. This has balanced Enerplus' production portfolio, with a split of 60% in Canada and 40% in the US. The US assets offer Enerplus more liquids production than the Canadian assets and generally better pricing. The Bakken production in particular has a much higher concentration of light oil and has helped Enerplus stabilize its funds from operations ("FFO").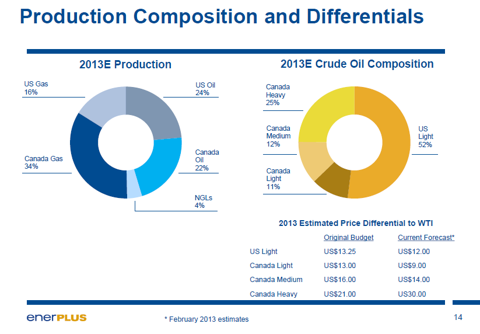 On May 10, Enerplus reported its Q1 2013 results. For the quarter, Enerplus' average production was 87,183 BOE/D, a 10% increase from the 79,190 BOE/D in Q1 2013. Crude oil production averaged 38,321 BBL/D, up 12% from 34,074 BBL/D in Q1 2012. Natural gas production also saw a 9% increase to 271,602 MCF/D. However, NGLs production did see a 10% drop to 3,595 BBL/D. During the quarter, Enerplus' production mix was similar to Q1 2012 at 48% liquids and 52% natural gas.
This production growth was driven by record production in the Marcellus and the Bakken assets. Enerplus saw its Marcellus production increase about 40%, to 79 MMCF/D, up from 57 MMCF/D in Q4 2012. Enerplus invested about $173M in capital spending during the quarter, which was approximately 25% of its total capital spending budget for the year. The majority of this capital is being deployed towards liquids rich projects in both Canada and the US, with nearly half (45%) directed towards the Fort Berthold development in the Bakken. Enerplus' FY average production guidance is for 82,000 to 85,000 BOE/D, with an exit rate of 84,000 to 88,000 BOE/D. Enerplus drilled a total of 25 net wells in the quarter, with 17 net wells brought on-stream.
Oil and gas sales were $46.67 per BOE in the quarter. This is down 1% from last year. The main cause of this decline was from lower realized crude oil prices, which fell 9% to $78.52 per BBL. However, this was mostly offset from higher realized natural gas prices, which increased 37% to $3.10 per MCF.
During the quarter, FFO was $173M, or $0.87 per share. This is a 6% increase from the $163M in Q1 2012. Enerplus benefited greatly from higher realized prices for natural gas in future quarters. Average NYMEX natural gas prices were about 20% higher while average AECO (which is Canadian benchmark) prices for natural gas were up about 25% from last year. As shown by the sensitivity table below, Enerplus will experience higher FFO if energy prices and production continue to rise.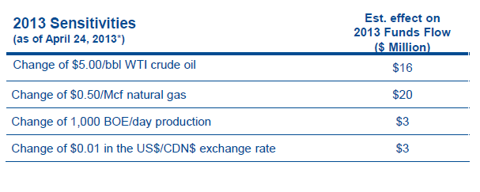 Enerplus also experienced an improvement in its adjusted dividend payout ratio during the quarter. Enerplus lowered its adjusted payout ratio to 126%, from 254% last year. This is due to lower capital spending, higher FFO and last year's reduction in the dividend.
Conclusion
Enerplus is no longer in the same boat as some of the other Western Canadian energy stocks. Approximately 40% of Enerplus' total production is now from its US assets. This has helped mitigate the impact of wider Canadian heavy crude oil differentials. The market has reacted positively to Enerplus' Q1 2013, as is seen from its gains. If the current prices for energy hold through Q2 2013, Enerplus may well exceed its Q1 2013 FFO level. Do note that Enerplus is still not generating enough FFO to cover both its capital spending and dividend payments needs.
Disclaimer: The opinions in this article are for informational purposes only and should not be construed as a recommendation to buy or sell the stocks mentioned. Please do your own due diligence before making any investment decision.
Disclosure: I am long PGH. I wrote this article myself, and it expresses my own opinions. I am not receiving compensation for it (other than from Seeking Alpha). I have no business relationship with any company whose stock is mentioned in this article.