By Sheraz Mian
With the expected spin-off of its mat-supported jackup fleet in the Gulf of Mexico in the next few months, Pride International (PDE) will become a pure-play deepwater driller. The company plans to complete the spin-off of Seahawk Drilling, the offspring's name, as a stock dividend to existing shareholders.

The spin-off will complete Pride's multi-year restructuring and asset repositioning program that has transformed it from a diversified oilfield service and equipment operator to a focused deepwater driller.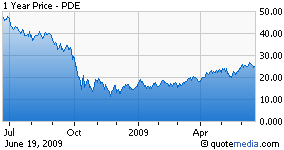 We believe that growing appreciation of Pride's emergence as a deepwater contractor will aid valuation by bringing its multiples inline with other deepwater operators, such as Transocean (RIG) and Diamond Offshore (NYSE:DO).

Pride's current fleet is comprised of 41 rigs, including 14 deepwater rigs (of which two are ultra-deepwater units) and 27 jackups. The company also has another four ultra-deepwater rigs currently under construction. Pride plans to package 20 of its jackup rigs into the Seahawk spin off, leaving it withnonly seven jackup rigs in its fleet.

As such, following the spin off, the Pride will have one of the most concentrated deepwater drilling exposures in the offshore drilling space, with roughly 90% of its backlog related to deepwater projects.

The mat-supported jackup market in the Gulf of Mexico (GoM) has been hit hard by the sharp drop-off in overall activity levels due to weak natural gas prices and tight credit market conditions. After experiencing very strong demand in the 2004-2007 period, utilization levels and dayrates have fallen steadily since and currently remain at depressed levels.

This cyclical pattern is not atypical for the GoM jackups due to the short lead times of the projects and strong exposure to U.S. natural gas prices. Given this unfavorable macro backdrop, Pride is expected to give Seahawk a strong financial start, with a decent amount of cash and very little or no debt.

The deepwater drilling market, on the other hand, is typically oil centric and enjoys long lead times. Given the high capital intensity and complexity of deepwater projects, typically only the major oil companies or national oil companies can sponsor them. The deepwater drilling market, as a result, has largely been an island of stability in the overall turbulent oilfield scene lately, calmly absorbing the sharp commodity-price and credit-market blows since late summer 2008.