While he is not on CNBC or at some other investment conference giving away valuable advice on sovereign debt and his most recent currency plays, Kyle Bass is down in Texas, managing Hayman Capital. Hayman recently reported its first-quarter holdings and I have outlined the fund's portfolio below. Following investors like Kyle Bass, and I should just say Kyle Bass because he is pretty unique (and I mean that in a good way), is increasingly valuable because he has a gift for spotting smaller stocks that have been left mostly alone and offer tremendous upside. I could go on but I know you want to get to the portfolio so, here it is:
Value
Total fund holdings were worth $164.9 million at the end of March, down from $171.5 million (down 3.8%) at the end of 2012.
Visual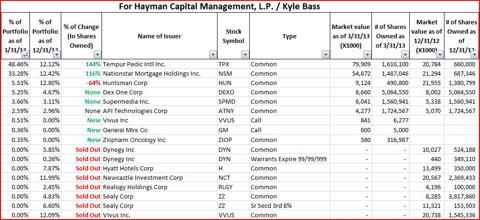 New Holdings
In the first-quarter of 2013 Hayman purchased 316,987 shares of Ziopharm Oncology (NASDAQ:ZIOP), this position was worth $580 thousand at the end of March.
Hayman also held Calls in Vivus Inc (NASDAQ:VVUS) worth $841 thousand. These replaced the $20.738 million in common that he held at the end of 2012, all of which he sold in the first quarter.
The only other new position was in General Motor Calls (NYSE:GM), worth $600 thousand at the end of March.
Other Purchases
Hayman increased its position in Tempur Pedic (NYSE:TPX) by 144%. Tempur Pedic is the fund's largest holding (48.46% of the portfolio, or $79.9 million).
The fund also raised its stake in Nationstar Mortgage (NYSE:NSM) by 116%. This is the fund's second-largest holding and it was worth $54.8 million at the end of the first quarter (33.28% of the portfolio).
No Changes
In the first quarter Hayman Capital made no changes to its positions in Dex One and Supermedia but, the real story is that these two recently came out of bankruptcy, merged, and are now trading as Dex Media (DXM). At the end of March, based on the conversion rate, these positions translate to approximately 1,697,538 shares of Dex Media (10% ownership).
Hayman also made no changes to its position in API Technologies (NASDAQ:ATNY), worth $4.277 million at the end of the first quarter.
Sold Out
Other Sales
The only partial sale Hayman made was a 64% cut in its holding of Huntsman Corp (NYSE:HUN). Even with this sale, Huntsman ended the first quarter as the funds third-largest position, worth $9.124 million.
So, what do you think? Have you traded any of these lately?
Disclosure: I am long DXM. I wrote this article myself, and it expresses my own opinions. I am not receiving compensation for it (other than from Seeking Alpha). I have no business relationship with any company whose stock is mentioned in this article.
Additional disclosure: I also have GM Warrants