The uranium plays are grabbing our attention with their solid moves higher and increasing interest (see the volume on some of these names). It is not just a story of those equities rising here in the US, but in Canada too and most importantly it seems that a risk-on trade is developing here as the juniors are screaming higher on a daily basis. We like it when we see risk return to junior names in the commodity space, but we just hope that this is not too soon.
Chart of the Day:
Why are commodities under pressure you ask? Maybe it has something to do with the US Dollar Index surging recently. Maybe it has to do with the weak world economic news. Or maybe the answer does not really matter because it is both and one of those reversing course would alter the other and we need not worry about cause and effect but simply the end result. Bottom line is the US $ needs to weaken and that will be done when the US economy is no longer leading the world higher (although that in and of itself will create some of its own problems).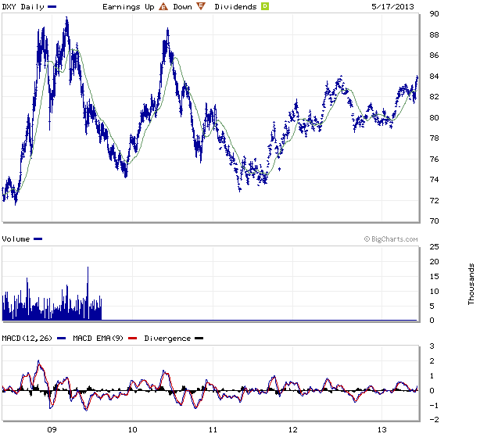 Chart courtesy of Marketwatch.com
Commodity prices this morning are as follows:
Gold: $1380.50/ounce, down by $6.40/ounce
Silver: $22.55/ounce, down by $0.109/ounce
Oil: $95.71/barrel, up by $0.55/barrel
RBOB Gas: $2.9099/gallon, up by $0.0277/gallon
Natural Gas: $3.931/MMbtu, down by $0.001/MMbtu
Oil & Natural Gas
We said that buying Diamondback Energy (NASDAQ:FANG) shares on the sell-off following the news of the secondary was the way to go and with the company's announcement of the pricing of shares at a very solid price (see new release here) and an upgrade by Wunderlich Securities, the shares took off yesterday. Wunderlich moved the shares to a 'Buy' from a 'Hold' while simultaneously raising their price target on the shares to $35/share from their previous $25/share. The cash raised from the share sale should allow the company to continue their brisk drilling pace and increase it if they deem necessary. This Permian play is the real deal and the fact that it hit a new all-time high shortly after announcing the secondary simply adds to the evidence.
Rosetta Resources (NASDAQ:ROSE) rose $1.42, or just over 3%, yesterday to close at $48.36/share - right around the high end of our sell range when we set up the trade. Full disclosure, we already sold our shares as indicated by an earlier article. The perception of Permian plays is getting better and the economics in various areas are being proven up, as the recent news flow at Diamondback Energy has indicated. As investors gain confidence in the name and their ability to successfully operate in the Permian watch for shares to rise further. With that said, we are sticking to our previously suggested range on the shares for the short-term trade and continue to believe in it long-term. It is a $60/share stock now that it has the Permian assets, in our opinion.
Shares are approaching the resistance levels we noted earlier.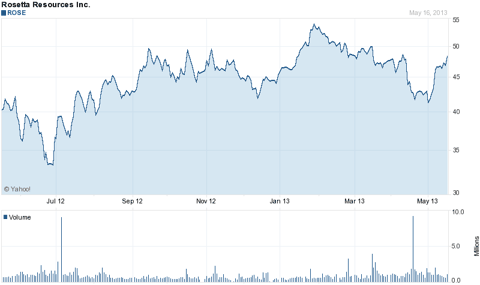 Chart courtesy of Yahoo Finance.
Diversified Miners
There are quite a few names in the mining sector trading near 52-week lows among the larger names which we find interesting but not altogether confusing. Take Vale (NYSE:VALE) for instance, which traded within $0.02 of a new 52-week low and even after rallying off of the lows managed to give up nearly all of the gains to finish within pennies of the lows of the day. So long as growth concerns permeate the market it is our opinion that Vale shares will languish here. Readers should remember that it is not just the world economy that is of concern here, but also Brazil's as its bourse has trailed the US. Even at these prices we are reluctant to move into a position.
Uranium
Our call regarding Cameco (NYSE:CCJ) has begun to pay off as investor interest in the uranium sector has picked up and pushed shares higher and above the $21/share level. This is the blue chip in the sector and one of the two proverbial 800 pound gorillas in the industry. With that said there has been a bit of a melt-up in the junior names and this has created some decent gains in names we have said beginning to set up positions in would be wise.
Notice the big rally over the past month or so. Hopefully it is indicative of things to come and our prediction for uranium is coming true, if so it will be a heck of a call.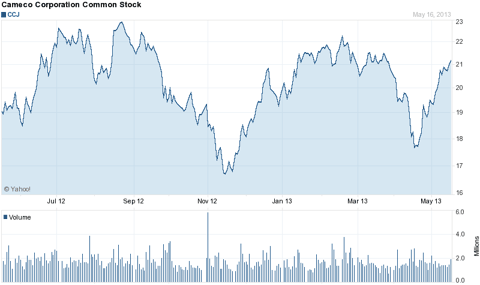 Chart courtesy of Yahoo Finance.
Speaking of these smaller names, Denison Mines, Ltd (NYSEMKT:DNN) caught our eye yesterday with their 6%+ move higher on volume of 1.2 million shares. The company is moving to be a consolidator in the next leg up and we think shall get rather aggressive based on the outstanding management team and top notch investors backing them. It will not be the best performer, but it shall be a solid performer. No longer is the company the key holder to mills in North America like they once were, but with their sale of US assets there is a renewed focus on Canada and the development of top notch assets. Continue to watch this name.
Disclosure: I have no positions in any stocks mentioned, and no plans to initiate any positions within the next 72 hours. I wrote this article myself, and it expresses my own opinions. I am not receiving compensation for it (other than from Seeking Alpha). I have no business relationship with any company whose stock is mentioned in this article.