Corning, Inc. (NYSE:GLW) shares have been enjoying a major rally ever since bottoming out just below $11 in November, and now trades for over $15. That is a significant percentage move in just a few months and this performance easily outpaces the gains seen in the broader market. Let's take a look at the chart below and go through some reasons why it could make sense to take profits in Corning now, and wait for better buying opportunities which could come at around $13 or less.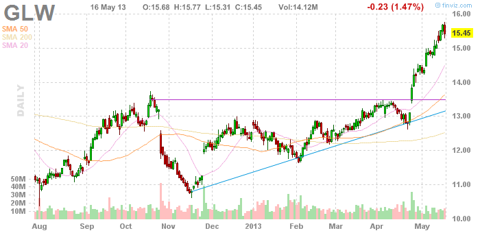 As the chart above shows, Corning shares have been slowly but surely trending higher through 2013, but in just the past three weeks or so, the stock has gone nearly parabolic with a surge from below $13 to well over $15. As indicated by the red trendline, Corning shares are extended past the 50-day moving average of $13.65 and the 200-day moving average of $12.54, which is indicated by the light brown trendline. These are key support levels and in a stock specific correction or a general market downturn, these are the levels where the stock could be heading. Obviously, this range of about $12.50 to $13.65 would be a much better entry point for investors. Investors who cash in now and patiently wait, just might get that more ideal buying opportunity.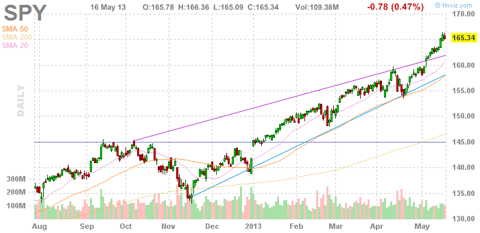 By taking a look at the broad market, it is easy to see how overbought and extended it has become. The S&P 500 Index (NYSEARCA:SPY) is also trading well beyond key support levels and after a seemingly endless rally, the market could be poised for a pullback and that could prompt Corning to retrace much of the recent rally. However, there are also company-specific reasons as to why Corning could be heading lower.
Corning manufactures specialty glass products which are used in flat screen televisions, and many popular tablets and smartphones. Its "Gorilla Glass" is a durable, scratch-resistant glass that is used for display and touch screens. The television business has been challenged in recent quarters although that weakness has been somewhat offset by the growth in tablets. Nonetheless, Corning still faces some serious challenges like the declining Japanese Yen as well as contract negotiations. These downside risks are detailed by a Morgan Stanley analyst in a recent Barron's article which states:
"We continue to believe that the secularly challenged Display business makes the stock difficult to invest in for the long term. We believe the stock could be pressured again as Corning needs to renegotiate its contracts with panel makers at the end of this year, while the Yen hedge rolls off at the end of 2014 forces numbers lower in 2015 and beyond. Our 2015 EPS estimate (based on Corning rehedging the Yen at 100) is $1.18, down $0.20 from $1.38 in 2014, but clearly could be lower if the Yen continues to depreciate."
That analyst clearly sees a decline in earnings per share in the next couple of years. The current consensus earnings estimates are $1.28 for 2013 and $1.39 for 2014. That is almost a no-growth situation and if the Yen continues to fall, these estimates could even be too high. Corning shares are very extended now and the business still faces significant challenges. There is a time to buy and a time to sell stocks. After a major rally in both the market and Corning, investors who take profits now, could be well positioned to buy when much better opportunities arise in the future.
Here are some key points for GLW:
Current share price: $15.45
The 52-week range is $10.62 to $15.77
Earnings estimates for 2013: $1.28 per share
Earnings estimates for 2014: $1.39 per share
Annual dividend: 40 cents per share which yields 2.6%
Data is sourced from Yahoo Finance. No guarantees or representations are made. Hawkinvest is not a registered investment advisor and does not provide specific investment advice. The information is for informational purposes only. You should always consult a financial advisor.
Disclosure: I have no positions in any stocks mentioned, and no plans to initiate any positions within the next 72 hours. I wrote this article myself, and it expresses my own opinions. I am not receiving compensation for it (other than from Seeking Alpha). I have no business relationship with any company whose stock is mentioned in this article.