Chris Hansen has a very tech-heavy portfolio that has profited wildly off the current bull market. I say wildly because, after reviewing the fund's worst performing holdings YTD, there were only two in the red. And, after looking at the fund's most recent portfolio update, it appears those profits were enticing enough for Hansen to become a net seller over the first quarter, slashing the portfolio's holdings by 11% to $894.5 million at the end of March. Keeping track of Valiant's portfolio is a great way to learn from one of the best managers in the world and also a perfect place to screen for investment ideas. With that said, here is the portfolio as of March 31, 2013:
Value
Big Sells
Sell Outs
New Positions
Other Buys
No Changes
So, Valiant was very active in the first quarter. What do you think? Was it smart to take profits and scale back the portfolio by 11%? And what about the Facebook sell-off -- have you done the same? Please let us know.
Here is a visual of the portfolio's holdings:
Click to enlarge image.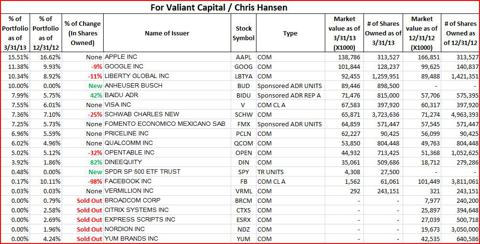 Disclosure: I am long AAPL. I wrote this article myself, and it expresses my own opinions. I am not receiving compensation for it (other than from Seeking Alpha). I have no business relationship with any company whose stock is mentioned in this article.