Flowers Foods (NYSE:FLO) is a national baked-goods operator with such brands as Nature's Own, Sunbeam and Holsum. The company generates sales of nearly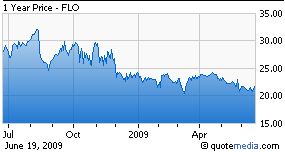 $2.5 billion a year and has been on a roll lately. It reported solid first quarter results generating a 19% sales gain, and a 5% increase in earnings. Although the company's gross margin dropped from 48.3% to 46.8% (partially due to the startup costs associated with its new Kentucky bakery operations) it was still able to pare its SG&A costs from 37.2% to 36.4%. Its dividend is sound and management has continued to raise it steadily (seven consecutive years). In fact, the company just boosted its payout by 17%, helping it produce a juicy yield of 3.2%. The company's meager debt of $272 million gives it a low 41% debt to equity ratio and at a forward earnings multiple of 15 times 2009 estimates of $1.43. Its value could be construed as compelling (its multiple falls below the average of its peer group).
Buyback in progress: The company initiated a stock repurchase program in 2002 of 16 million shares, raised it to 23 million in 2005 and finally to 30 million in 2008. It still has 8 million shares remaining for further purchases and when completed, will amount to 33% of its outstanding shares. The company is also rich in real estate holdings. Including its home offices, it owns all but one of the 39 production facilities it operates throughout the US.
FLO's share price is now more palatable after dropping almost 33% from its Aug 2008 all-time high of $32, and could be set to re-challenge that high before year end. FLO insiders seem to be taking a bullish stance themselves as officers Deese, Burke and Beverly have lately purchased shares in the open market. FLO's former CEO, Amos McMulian, and Barclay's Global Investors are also continuing their accumulation efforts and have been bestowed the honors of being FLO's two largest shareholders with a combined stake exceeding 13%.
Bottom line: The stock's recent correction allows new buyers the opportunity to take a position without chasing the shares. In addition, the company's gross profit margin should begin to improve as lower input costs and efficiencies of scale start to take hold. The fact that consumers are eating more often at home bodes well for the company's bread sales. Analysts are forecasting 12% earnings growth in 2010, which probably is too conservative, as a 15-16% rate of improvement is more like it. Its risk reward ratio is a favorable 2:1-translation: a buyer is essentially risking $1 to make $2 (the stock's upside potential is about $6 while its downside risk nears $3 at this juncture) and that type of opportunity does not show up too often.
Disclosure: Long FLO