Veolia Environnement (VE) was originally recommended on April 2/07 (IWB #2717) at $74.32. It closed Friday at $29.49 (all figures in U.S. dollars).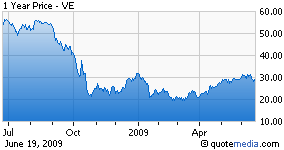 This company has a story similar to CEMEX. It's in exactly the right space for infrastructure spending and green initiatives. The company provides environmental management services focused on water and wastewater and they are involved with all kinds of environmental and energy services including the buying and selling of electricity.
VE is also active in the development of wind energy and has a broad global footprint. However, the stock not reacted well in this market is still well off its highs - although that can be said about many stocks. The fact that the company is based in Europe is not necessarily a plus going forward given that Europe is likely to be slower to emerge from this ongoing downturn than North American or the emerging markets.
In May, the company announced that its dividend for fiscal 2008 will be €1.21 per share (about US$1.68). Dividends are only declared annually and are based on the performance in the previous fiscal year.
Last month, the Paris-based company announced that first-quarter EBITDA fell 6.6% to €1.06 billion. However, it said it is on track to meet its objectives for the full year.
Again, as with CEMEX the technical indicators are very bullish. However, recent financial results have not been strong. J.P. Morgan recently upgraded the stock, though, and the yield at 5.7% is encouraging - but remember that can change significantly from year to year.
Action now: Hold.