Question 1: U.S. Treasuries are widely acknowledged to be in a bubble. Since TIPS are technically considered Treasuries, are TIPS caught up in the same bubble?
Question 2: How strongly correlated have TIPS been with ordinary (nominal) Treasuries?
From Wikipedia:
Treasury securities are the debt financing instruments of the United States Federal government, and they are often referred to simply as Treasuries. There are four types of marketable treasury securities: Treasury bills, Treasury notes, Treasury bonds, and Treasury Inflation Protected Securities (TIPS).
Technically TIPS are Treasuries. But two terms are commonly used:
Treasuries: Usually refers to nominal Treasury Notes & Bonds
TIPS: Only refers to Inflation-Protected Treasuries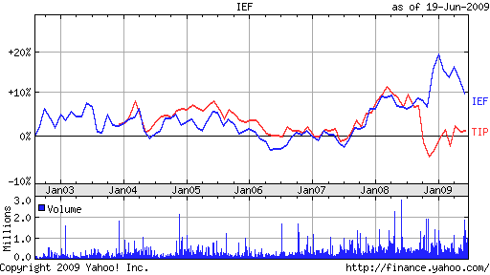 Comparing Nominal vs. Inflation-Protected Treasuries:

(NYSEARCA:IEF) Barclays 7-10 Yr Treas Bond-W

td

Avg

Maturity

8.51yr
(NYSEARCA:TIP) Barclays TIPS Bond Fund-W

td

Avg

Maturity

9.10yr
The two bond fund ETFs are nearly identical in all aspects: they have nearly identical weighted average maturities and both are treasury funds. The fundamental difference between the two is that TIP is inflation-protected and IEF consists of nominal treasuries. As you can see from the chart above, IEF and TIP have roughly moved in tandem since the inception of TIP five years ago. In the last year, TIP has diverged widely from IEF.
According to a November 2008 report by Brown Brothers Harriman:
Question: I don't have a strong view on inflation so is there any reason to add TIPS to a diversified portfolio?

Answer: Since inception, TIPS have been additive to portfolio returns while limiting volatility. Over the past 10 years ending September 30, 2008, the correlation between the Lehman U.S. TIPS Index and the Lehman U.S. Treasury Index was approximately 80%, so TIPS have brought beneficial diversification while enhancing return.
US Nominal Treasury Bond Funds:
| | |
| --- | --- |
| Symbol | Fund Name (Description) |
| BIL | SPDR Barclays Capital 1-3 Month T-Bill ETF |
| IEI | iShares Barclays 3-7 Year Treasury Bond Fund |
| IEF | iShares Barclays 7-10Yr Treasury Bond Fund |
| PLW | PowerShares 1-30 Laddered Treasury Portfolio |
| ITE | SPDR Barclays Capital Intermediate Term Treasury ETF |
| SHV | iShares Barclays Short Treasury Bond Fund |
| SHY | iShares Barclays 1-3Yr Treasury Bond Fund |
| TLH | iShares Barclays 10-20 Year Treasury Bond Fund |
| TUZ | PIMCO 1-3 Year U.S. Treasury Index Fund ETF(NEW) |
US Inflation-Protected Treasury Bond Funds:
| | |
| --- | --- |
| Symbol | Fund Name (Description) |
| IPE | SPDR Barclays Capital TIPS ETF (Inflation Protected) |
| TIP | iShares Barclays TIPS Bond Fund (Inflation Protected) |
Conclusion:
TIPS have unique features which put them in an asset class of their own. As the chart above shows, TIPs do not always move in tandem with nominal Treasuries. If inflation picks up, as I suspect it will, you will begin to see a wide divergence in the performance of IEF vs. TIP.
Question: Are TIPS in a bubble?
Answer: NO.
FULL DISCLOSURE: Author is long individual US TIPS and WIP. You should perform your own due diligence and consult with an investment advisor before investing.