On April 28, I presented an article about why Document Security Systems (NYSEMKT:DSS) is my favorite speculative play for 2013. I have been adding on all dips and DSS continues to set up nicely for higher prices. DSS has risen from $2.50 to the current price of $2.93 and I have used the recent consolidation to add to my position.
Recent Earnings
Earnings were reported on May 15, 2013 as can be seen here.
Some key points included:
Printing sales increased 34%, licensing and digital sales increased 23% and plastics sales increased 22%.
Printing sales were positively impacted by a strong quarter of security sales, especially secure coupons, licensing sales.
In addition the plastics group received a high volume order from a new customer, which also contributed to that division's sales increase and every indication is that this will be a recurring quarterly order for the plastic group.
Total gross profit for the first quarter of 2013 was 1.5 million, a 16% increase over the first quarter of 2012, resulting in a total gross profit margin of 38.6%.
A significant contributing factor to the approximately 600 basis points year-over-year increase in our gross profit margins was the improvement in the printing division's gross profit margins of 40.6%, up from 24.3% in the first quarter of 2012. One disappointing bit of news was the fact that the packaging division experienced a $726,000 decline of revenue from a large prime packaging customer. This very large customer was responsible for $846,000 increases in revenue for this division during the fourth quarter of 2012. In my mind the reason to invest in DSS is not because of its current business, though.
Looking at this chart shows how revenues have been ramping up yearly:

Adapted from Nasdaq.com
Short interest
Short interest continues to rise, increasing the potential for a short squeeze. Here are the numbers over the last few months:

Adapted from Nasdaq.com
Update of the merger with Lexington Technology group (LTG)
The potential of DSS and LTG together is still the golden carrot for the future of DSS from my point of view. This merger will enable DSS to substantially increase its intellectual property. Significant talent from both teams will be joined and I believe that revenue generated through the monetization of the companies' intellectual properties can be huge.
On March 15, 2013, DSS CEO Robert Bzdick stated: "We remain confident that the SEC will complete its review process of our Registration Statement on Form S-4 in connection with our proposed merger with Lexington Technology Group. Upon shareholder approval, we look forward to leveraging the strengths and expertise of DSS and LTG to improve execution, drive synergies, and grow the new business with a focus on increasing overall shareholder value."
On May 13, 2013, DSS announced a special meeting of its stockholders that is scheduled on June 20, 2013. A vote on proposals relating to the proposed business combination of DSS and LTG will be taking place. This is another step in the right direction and one that will enable the final piece of the puzzle for the merger to take place.
Thus, I believe that LTG will successfully merge with DSS in the coming months after successful shareholder approval.
Jeff Ronaldi, who will serve as CEO of the newly merged company, stated that he is happy with the progress with regards to the merger.
He discussed how wholly owned subsidiary Bascom Research has already reached one settlement in its ongoing litigation in the Northern District of California, and as a result, LTG will start realizing revenues in the second quarter of 2013. This settlement will include a royalty rate of 4% for the Bascom patents. Reaching this first settlement provides a great precedent for the Bascom portfolio moving forward in its cases against the other defendants, including Facebook (NASDAQ:FB) and LinkedIn (LNKD).
Technical analysis
The daily chart remains solid. The 8-day, 13-day and 50-day moving averages are now all trending upwards. Recently, the price has found support at the 21-day moving average and looks strong for higher prices. Stochastics are quite oversold and I believe we will see new highs as the merger gets closer.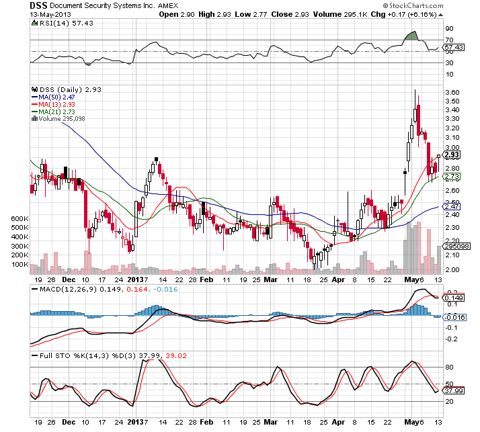 Conclusion
The upcoming merger with LTG is quite exciting for shareholders of DSS as the IP monetization potential in the newly merged company will be huge. Smart money investors such as Hudson Bay and Dr. Phillip Frost are backing LTG/DSS for a reason, and leading me to believe that there are new highs around the corner for DSS.
I encourage readings looking for a thorough analysis including some important points regarding the post-merger agreement to take a look here [pdf]:
Disclosure: I am long DSS. I wrote this article myself, and it expresses my own opinions. I am not receiving compensation for it (other than from Seeking Alpha). I have no business relationship with any company whose stock is mentioned in this article.