One of the biggest long-term risks for specialty retailers is that they tend to age with their consumers. Your local mall is littered with stores that were once industry leaders only to find themselves today increasingly less relevant. Specialty retailers tend to lose cultural relevance by trying to maintain their core customer and by doing this they fall victim to the aging phenomenon mentioned above. Urban Outfitters (NASDAQ:URBN) has stood the test of time so far, 40 years, by consistently adapting to change and evolving its styles and business models to fit the new desires of its new customers within the age-range they target.
Now a new challenge enters the retail arena and the consumption arena in general, mobile shopping. How brick and mortar companies adapt to this shift from the consumer can greatly effect their chances at survival. As it has done many times before, Urban Outfitters is not only making the necessary adaptations but is completely evolving its company to maximize the opportunity the online and mobile customer presents.
Not With A Fizzle But With A BANG!
Urban Outfitters finished one of the most impressive fiscal years it has had in recent memory capped with one of the best quarters (FQ4/2013). Total company sales increased 17%, gross profit increased 43% (Wow!), gross profit rate increased 6.5%, primarily due to the a reduction in merchandise markdowns (one of the most important figures to watch for specialty retail), to 36.6%, operating income increased 104%, and operating profit margin increased 15.4%. The company increased gross profit margin 2% over the last 12 months and this is before implementing, further developing, and executing programs that will help this expansion. More to come on this later. The last four quarters have each seen sequential improvement in the rate of sales growth. The quarterly sales growth has been driven by opening new stores, maintaining and improving productivity of comp stores, expanding wholesale divisions, and growing the direct-to-consumer channel.
DTC: Online And Mobile Shopping - The Margin Expansion Catalysts
One thing has become apparent to the retail community over the last several years and that is that mobile and online shopping are here to stay. They have been recognized as the two most important opportunities for future growth and the companies that capture these opportunities will be the companies that survive and thrive.
Urban Outfitters increased direct-to-consumer (online and mobile shopping) sales 44% in the last fiscal year and no - that is not a typo. DTC sales as a percent of total retail sales spiked to 30% over the last 12 months and are showing no signs of slowing down. The company saw a 100% increase in mobile sales transactions year over year. What does all this mean? It means increased margins and typically when margins increase revenues and profits do as well, all good for the share price of a company.
The company is also making changes and implementing new strategies to its retail locations to make sure that the online sales continue to grow and continue to increase in convenience. One of the most important strategies implemented that should continue to expand margins is the Pick, Pack and Ship Initiative. When a customer places an order online if the projected delivery time of that order is longer than two days the company runs a check to see if there is a more convenient retail location near the customer that would be able to fill the order in two days or less. If there is, the management at the retail location picks the item from its shelf, packs the item and ships the item to the customer, filling the order in a timely fashion and providing the customer with a positive experience that has shown the customer will return for more future sales. As a matter of fact, two-day ground shipments increased from 13% of total shipments to 43% year over year. I cannot understate what a massive margin and revenue catalyst that is. Orders that would have normally been cancelled due to out-of-stock positions in fulfillment centers would have cost the company 12 million in lost sales. What Pick, Pack and Ship also does is it allows the inventory in the stores to have a second and more constant chance at sales, creating more inventory productivity, lowering markdown exposure and in turn leading to higher margins for the stores and company.
Lastly, the company is currently in the middle of experimenting with a new strategy that places iPad terminals in stores that allow a customer to shop its entire inventory of footwear, an important space within the sales of the company, as another way to drive eCommerce revenue. It is not currently running the promo but did for several months and saw positive reception from in-store customers.
FQ1/2014 Earnings 5/20/2013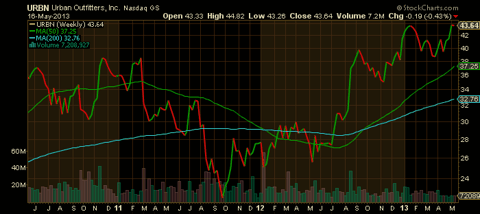 There is immediate risk and long-term risk in owning Urban Outfitters. The short-term risk is that it reports earnings on 5/20/13, and that it will have seen some contraction in overall sales due to much cooler-than-expected weather in some of its retail dense areas. The company has, to this point, been able to correlate cooler weather during this time period to lackluster quarterly performance, so the threat is legitimate. The long-term risk lies more in the general risk for companies in the specialty retailer space as listed in the introduction. The company does need to successfully adapt season after season, year after year to the changing trends and desires of its target customer. It does have to continue to take advantage of the online market. Both are constant threats that involve risk. So consider these when considering buying or shorting the stock.
As note, Urban Outfitters reports FQ1/2014 earnings on 5/20/2013. I think the stock is a buy ahead of the earnings and especially if you have a long-term time horizon and need to fill a growth stock sleeve in your portfolio. In the short term, I think the fears of weather affecting sales, while real, are over blown. I think the company's expected increase in online sales will offset any real retail sales deceleration. I'm also encouraged that the company's retail shops in Europe performed in line with their North American stores last quarter and that the company is looking to introduce beauty products and active wear to the umbrella of products later this year. The company also plans to open 37 new stores in the full fiscal 2014 year, which will be good for the long-term growth of the company. The stock is up 60% over the last 12 months and 11% year to date.
Disclosure: I have no positions in any stocks mentioned, but may initiate a long position in URBN over the next 72 hours. I wrote this article myself, and it expresses my own opinions. I am not receiving compensation for it (other than from Seeking Alpha). I have no business relationship with any company whose stock is mentioned in this article.