Jeff Gundlach appeared on CNBC on May 9th and made the following interesting statement:
So many people are moving away from bond investments for obvious reasons but are going into things that are like going from the frying pan into the fire. Look at [Master Limited Partnerships] MLPs. If interest rates rise you are going to get killed on a lot of these vehicles because they have a lot of leverage and a lot of interest-rate risk…. Similarly housing - if rates rise… the affordability of homes is going to go extraordinarily to the downside. It's not just bondholders who are picking up nickels in front of steamrollers, but a lot of other assets that are priced off of bonds.
I am an investor in the MLP space so naturally being told that I am going to "get killed" in a rising interest rate environment gets my attention. I have also been around the space since the mid-90s and have heard the "rising interest rates kill MLPs" concern the entire time. I do believe that rising interest rates are a headwind for any company that has a large amount of debt on its balance sheet, which many MLPs do have since they distribute the majority of their cash flows. However "interest rate risk" seems more applicable to a fixed rate bond portfolio and MLPs are not exactly "priced off of bonds."
If interest rates are high enough then the "safety of bonds" as an alternative to the "riskiness of equities" becomes a compelling choice for investors. If you could loan money to the U.S. government for ten years and earn a "default risk-free" interest rate of 15.8% would you? I would, and in September of 1981 people did (now that's what I call a high interest rate environment).
So let's look at some data, for interest rates we will use the 10 year U.S. Treasury and we will use the Alerian MLP Index (AMZ), which is comprised of 50 MLPs, to represent MLPs in a broad market sense. The Alerian MLP Index is weighted towards the larger names; the following ten tickers represent roughly 61% of the index's current weighting (percentage weightings as of the May 1, 2013 rebalancing):
1. Enterprise Products Partners LP (NYSE:EPD) - 14.6%
2. Kinder Morgan Energy Partners LP (NYSE:KMP) - 10.1%
3. Plains All American Pipeline LP (NYSE:PAA) - 7.5%
4. Energy Transfer Equity LP (NYSE:ETE) - 5.3%
5. Energy Transfer Partners LP (NYSE:ETP) - 5.3%
6. Magellan Midstream Partners LP (NYSE:MMP) - 5.1%
7. Kinder Morgan Management LLC (NYSE:KMR) - 3.8%
8. MarkWest Energy Partners LP (NYSE:MWE) - 3.4%
9. Linn Energy LLC (LINE) - 3.2%
10. ONEOK Partners LP (OKS) - 2.7%
The chart below shows the U.S. Ten Year Treasury rates and the Alerian MLP Index since the beginning of 2000, remember we are looking for interest rates (blue line) to be increasing and MLPs (green line) to be "getting killed" or conversely for interest rates to be decreasing and MLPs to be rocketing upwards: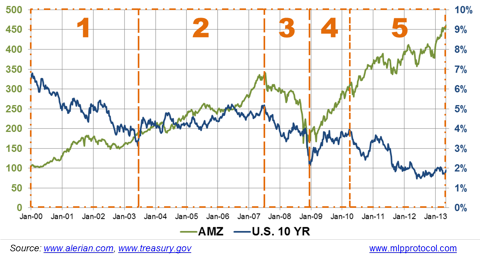 Let's break the data down into 5 shorter periods:
1. Jan 7, 2000 through June 13, 2003: Interest rates declining steadily - "Hey what were we thinking with that whole Internet bubble thing (Pets.com, cough, cough.)?"
2. June 13, 2003 through July 6, 2007: Interest rates rising slowly - "This whole housing thing is really helping the U.S. economy, we are all brilliant!"
3. July 6, 2007 through December 19, 2008: Interest rates declining rapidly - "Wait a minute, housing prices can actually go down, well err, that crashes my Collateralized Mortgage Backed Securities model that rated all that subprime paper AAA. Triple A!! Oops here comes the end of the world as we know it!"
4. December 19, 2008 through April 1, 2010: Interest rates rising rapidly - "Money printing madness, gold is going to $10,000, start making reality TV shows about people building bunkers for the end of the world, they have to be right this time."
5. April 1, 2010 through May 10, 2013: Interest rates generally declining - "Hey did you notice that the switch is broken on this printing press and it's stuck on Maximum Print mode, should we call tech support…"
Here's what actually happened to MLPs during those 5 periods compared to the "rising interest rates lower MLPs" theory:

So after looking through some actual data, what do you believe?
MLPs are entities that happen to pay a large distribution but that does not mean that they are "assets priced off of bonds." MLPs are actively managed companies that intend to grow over time and this ability to grow can clearly be a greater force than the headwind of rising interest rates. Just something to keep in mind when someone tells you they sold all their MLPs because they are certain interest rates have bottomed and are going to go up. Ask them where they are going to reinvest their money, not bonds, not equities, Gold perhaps or shorting bonds, or maybe they are building a fun bunker in their backyard…
Disclosure: I am long PAA, KMR, LINE. I wrote this article myself, and it expresses my own opinions. I am not receiving compensation for it (other than from Seeking Alpha). I have no business relationship with any company whose stock is mentioned in this article.