"Abenomics" helped kick start Japan's economy, boosting the country's gross domestic product above expectations. However, Japan exchange traded funds cooled on Thursday.
The WisdomTree Japan Hedged Equity Fund (NYSEARCA:DXJ) and db X-trackers MSCI Japan Hedged Equity Fund (NYSEARCA:DBJP) were both 1.1% lower Thursday.
Japan's economy expanded at an annual rate of 3.5% in the first quarter of the year, outpacing the 2.7% analyst projections, on greater consumer spending and exports, Bloomberg reports.
The positive data reveals that the reform efforts spearheaded by Prime Minister Shinzo Abe are working.
"'Abenomics' first report card did not disappoint," Izumi Devalier, an economist at HSBC, said in a CNNMoney article. "The Japanese economy is beginning to fire on all cylinders."
"This is undoubtedly very strong growth, and very positive for Japan's economy," Yoshiki Shinke, senior economist, Dai-Ichi Life Research Institute, said in a Reuters article. "It's no longer just about brightening sentiment and rises in equities prices. There's now proof that Abenomics is working and that the economy is on a solid footing."
Looking ahead, Abe plans to unveil structural reforms in his so-called third arrow from his quiver of tricks after the first two arrows in the form of monetary and fiscal policies.
"The key from here is whether Abe can unveil a strong growth strategy," Naoki Iizuka, an economist at Citigroup Inc., said in the Bloomberg article. "If he succeeds, that will boost business investment to support growth."
The Bank of Japan's money printing spree has helped devalue the Japanese yen, which has depreciated 16% against the dollar and 14% against the euro so far this year. The CurrencyShares Japanese Yen Trust (NYSEARCA:FXY) is down 15.3% year-to-date.
Meanwhile, the Nikkei 225 Stock Average has jumped 45% year-to-date and recently topped 15,000.
"Some say Japanese stocks may be too high but the GDP shows the strength of economy may justify the uptick trend in stocks," Shinke added. "I see a chance that Japan will have even better growth this quarter."
The non-yen hedged ETF, iShares MSCI Japan (NYSEARCA:EWJ), is up 24.1% so far this year. The yen-hedged DXJ has increased 40.3% year-to-date and DBJP gained 43.6%.
WisdomTree Japan Hedged Equity Fund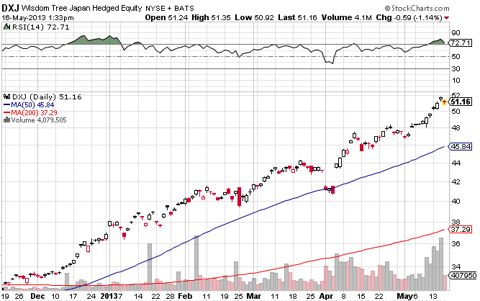 Max Chen contributed to this article.
Disclosure: I have no positions in any stocks mentioned, and no plans to initiate any positions within the next 72 hours. I wrote this article myself, and it expresses my own opinions. I am not receiving compensation for it. I have no business relationship with any company whose stock is mentioned in this article.
Additional disclosure: Mr. Lydon serves as an independent trustee of certain mutual funds and ETFs that are managed by Guggenheim Investments; however, any opinions or forecasts expressed herein are solely those of Mr. Lydon and not those of Guggenheim Funds, Guggenheim Investments, Guggenheim Specialized Products, LLC or any of their affiliates.