On Thursday, May 16th, Applied Materials, Inc. (NASDAQ:AMAT) reported the results of what I believe to be a very strong second quarter. The company's Q2 EPS of $0.16/share beat Street estimates by $0.03/share, and its revenue of $1.97 billion beat Street estimates by an impressive $0.06 billion. In the wake of the company's impressive second quarter, I wanted to examine several catalysts behind my decision to consider a long-term position in this moderately-yielding technology play.
According to Applied Materials Chairman and CEO, Mike Splinter, "For the second quarter in a row, Applied Materials demonstrated strong order-based performance of over $2 billion and we are seeing increasing pull from some of our largest strategic customers for our key enabling technologies. Given such behavior from our strategic customers, we remain committed to driving profitable growth."
Since the company's strategic partners played a key role in its quarterly performance, I'd continue to pay close attention to the company's order-based performance as any increase in orders could send shares higher.
Overview: Based in Santa Clara, California, Applied Materials, Inc. provides manufacturing equipment, services, and software to the semiconductor, flat panel display, solar photovoltaic (PV), and related industries worldwide. (Yahoo! Finance) On Thursday, shares of AMAT, which currently possess a market cap of $17.59 billion, a P/E ratio of 698.10, a forward P/E ratio of 13.83, and a forward yield of 2.73% ($0.40), settled at $14.66/share.
Trend Status: Based on Thursday's closing price, shares of AMAT are trading 2.58% above their 20-day simple moving average, 6.69% above their 50-day simple moving average, and 20.81% above their 200-day simple moving average. These numbers indicate a short-term, mid-term and long-term uptrend for the stock, which generally translates into a buying mode for traders.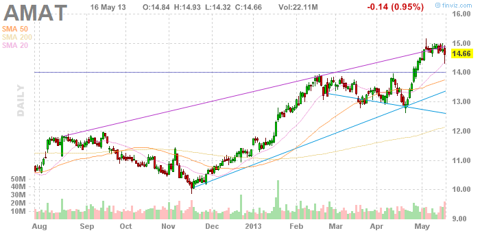 Strong Q2 Performance: In addition to announcing its Q2 EPS of $0.16/share which beat Street estimates by $0.03/share and its revenue of $1.97 billion which beat expectation by $0.06 billion, Applied Materials also announced that it had generated orders of $2.27 billion, which was up 7.0% from the prior quarter, with Silicon Systems Group orders up 14% from the first quarter and Display orders up 41 percent sequentially. It should be noted that the company's net sales of $1.97 billion, were also up 25% sequentially. If the company can continue to demonstrate strong earnings growth fueled by an increase in orders and net sales, I think Applied Materials could be a great growth play over at least the next 18-24 months.
Dividend Behavior: Since February 22, 2010, AMAT has increased its quarterly dividend a total of three times by an average of $0.01 each time. From an income perspective, the company's forward yield of 2.73% coupled with its continued annual increases could equate into a very viable income option for long-term investors in search of a moderate dividend play.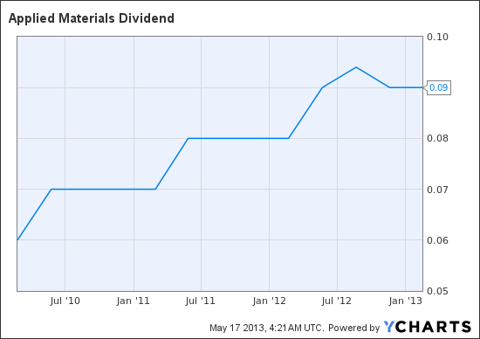 AMAT Dividend data by YCharts
Conclusion: When it comes to those who may be looking to establish a position in Applied Materials, I'd continue keep a watchful eye on not only the company's dividend behavior over the next 12 months, but any key developments that may help enhance the company's earnings growth over the next 12-24 months.
Disclosure: I am long AMAT. I wrote this article myself, and it expresses my own opinions. I am not receiving compensation for it (other than from Seeking Alpha). I have no business relationship with any company whose stock is mentioned in this article.