Unlike many of the companies in our recent articles, this week's profile stock is not a high dividend stock. However, we think it's a stock with good long-term and short-term prospects. Apparently, the "Oracle of Omaha" thinks so too - Warren Buffett's firm, Berkshire Hathaway (NYSE:BRK.A) BRK.B), bought 6.5 million shares of Chicago Bridge & Iron (NYSE:CBI) in the first quarter of 2013, its biggest new stock purchase. Chicago Bridge & Iron made up about .48% of Berkshire's total holdings as of 3/31/2013.
The U.S. is in an oil and natural gas boom, and has become a net exporter of petroleum products for the first time in many years, thanks to fracking technologies, which have enabled energy firms to harvest oil and gas from newly discovered shale deposits and also to revitalize old, moribund oil fields long left for dead.
Indeed, the U.S. has been called "the Saudi Arabia of natural gas" by some energy pundits. Energy firms are salivating over the prospect of shipping liquid natural gas, LNG, to highly lucrative markets overseas, where they'll fetch a high multiple vs. U.S. prices.
Several firms are awaiting government approval for LNG export terminals, while others are busy building new pipelines, and are also awaiting approval for additional pipeline projects.
That's where this week's "picks and shovels" stock comes in- Chicago Bridge & Iron is one of the biggest energy infrastructure focused companies in the world.
In addition to being a major construction contractor for pipelines and energy infrastructure, CBI just closed in March 2013 on its acquisition of Shaw Group, a major builder of nuclear projects, which greatly expanded CBI's energy capabilities. Its new business awards, revenue and its future earnings growth forecasts: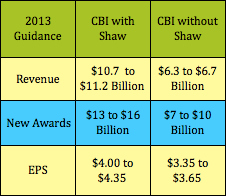 Analysts are also upbeat about CBI's growth prospects, and CBI now looks undervalued on a 2013 PEG basis. Although its 2014 PEG is right around the "fair value" PEG threshold of 1.00, the current 2014 growth outlook may be too conservative, given the ongoing demand for energy infrastructure in the U.S. and throughout the world:

CBI had a strong 1st quarter - after deducting the one-time acquisition charges for the Shaw deal, its adjusted EPS jumped 35%, and its revenue grew over 87%.

Dividends: CBI eliminated its quarterly dividend in 2009-2010, and then reinstated it in 2011, at $.05/share, which is where it remains:

A long-term way to profit now: Although CBI's dividend yield is low, its option-selling yields are attractive. If you believe in the future of the US energy boom, here's a long term cash secured put options trade that offers good income now, ( a 15% nominal yield), and has a lower break-even price. The January 2015 $60.00 put pays over 26 times what CBI's projected dividends pay.
In addition, even though you'll get paid the option income now, if this option is held until 2015, your tax on the income isn't due until 2016. You may be surprised to learn that Warren Buffett's firm has sold cash secured puts even further into the future - one report said into 2019. Why not? If he believes in a stock, he hedges his bet by selling puts, for which he collects millions now, and he gets paid to wait.
You can see more details on this and over 35 other high yield put option trades in our Cash Secured Puts Table.

A shorter term trade: You can also improve upon CBI's dividend yield by selling Covered Calls. We've listed below this October trade, from our Covered Call Table, which also dwarfs CBI's dividend payout. the $65.00 strike price leaves you $3.39 in potential price gain, (the $65 strike price, minus the $61.61 share price).
You can see more details on this and over 35 other high yield call option trades in our free Covered Calls Table.

Financials: CBI has much better management efficiency ratios than its industry's averages, and, although it carries more debt, it has an interest coverage ratio of 13.

Performance/Ownership: CBI has seen recent Insider buying, and has strong institutional support.

Disclaimer: This article was written for informational purposes only ad is not intended as investment advice.
Disclosure: The author was short CBI put options at the time of this writing.
Disclosure: I am long CBI. I wrote this article myself, and it expresses my own opinions. I am not receiving compensation for it (other than from Seeking Alpha). I have no business relationship with any company whose stock is mentioned in this article.
Additional disclosure: I'm long CBI, via being short CBI put options.