Unlike other Chinese Internet portals, SINA Corporation (NASDAQ:SINA) can demonstrate that its success is not only represented by excellent user engagement metrics, but also by its stock price performance. It's up 9.6% this month, quite below Nasdaq 100 but well above Baidu (NASDAQ:BIDU), Renren (NYSE:RENN), and Youku.com (NYSE:YOKU), whose performance in the past year was actually negative.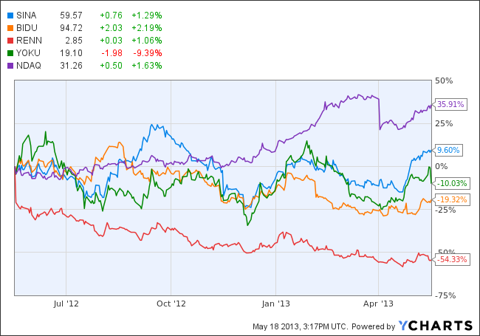 There is something special about SINA. Unlike Renren, its monthly average users database looks very attractive not only in the long run, but also in the short term as there are fewer students and more middle-class urban residents employed. But it also owns Weibo, China's version of Twitter, which is on its way to being used by almost everybody in China who has an Internet connection -- from students to housewives. Unlike Youku.com, it is not that into the business of online video platforms, which is already very competitive (Renren's 56.com and Baidu's iQiyi provide online video streaming; Sina has SINA Video inside its Sina.com portal, but it has not invested too much in it, unlike its rivals) and has unattractive margins due to content fees. And unlike Baidu, it does not have to deal with the blessing and curse of being the biggest in the market. With $4 billion in market capitalization, SINA represents only 10% of BAIDU's size.
That said, SINA also has some major challenges to deal with for the next two years, as the latest earnings call (on May 17) showed. This article sets out to determine the potential of SINA as a long-term investment in the context of the latest earnings call results. We provide an overview of the latest call and finish the article with our investment thesis and final remarks.
The Earnings Call: The Good
The results were positive overall, specially in terms of growth and user database metrics. Investors took the announcement very well at first, but the stock experienced a major price correction one trading day after the earnings call.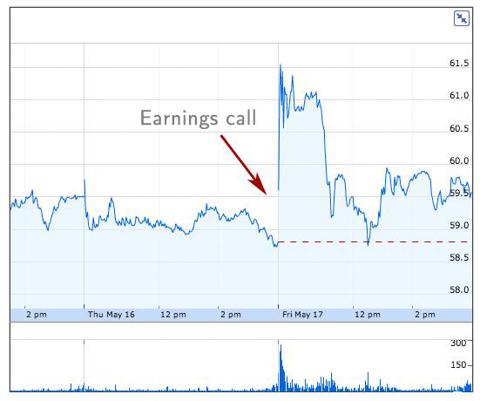 -- Total revenue grew by 19% and advertising revenue grew by 20% from the same period last year. These results show that, despite owning the third biggest portal in China (according to Alexa rankings), there is plenty of room for growth in the future -- especially if we take into consideration gaming fees associated with Weibo. Since 2009, revenue growth year-over-year figures are -2.98%, 12.29%, 19.92%, and 9.63%.
-- There was healthy growth in Weibo's user database, as the total (registered) number of accounts reached 536 million by the end of March, representing an increase of 6.6% from three months ago. The daily active user number for Weibo increased by 7.8% to reach 49.8 million from December last year to March this year. Weibo also experienced a rebound in average time spent per daily active user during the first quarter, but no further details about this point were provided.
-- Not too long ago the company developed and maintained its services from a "first PC, then mobile" perspective. Under the new "mobile first strategy," SINA will consider mobile experience first when developing new products. This could improve the metrics of the current services provided, as a better mobile experience will automatically lead to overall better engagement metrics. 76.5% of Weibo's daily active users used the mobile terminals to access Weibo in the past quarter.
-- There is an increasing interest in Weibo mobile advertising. Revenue for Weibo advertising on mobile increased sequentially in the first quarter and accounted for 34% of total Weibo advertising for the first quarter.
-- The Alibaba partnership is a potential big catalyst for the firm. Alibaba invested $586 million in Weibo for 18% preferred common shares and the option to increase its holdings up to 30%. In this scenario, SINA will keep control over Weibo even after the IPO (which is highly likely to happen), and at the same time it will benefit from the advantages of being backed up by this e-commerce giant. (Alibaba will subscribe to approximately $380 million in advertising services over the next three years on a graduated basis.)
In the short term it will help connect the millions of merchants on Alibaba platforms to the hundreds of millions of Weibo users, creating monetization opportunities for the Weibo ecosystem. Over the longer term it will create opportunities in social commerce and mobile commerce, which both companies believe are of great potential as internet will increasingly move toward mobile and social.
This announcement helps to reduce some worries about losing market share due to the increasingly ubiquitous Tencent's WeChat VoIP application.
The Earnings Call: The Bad
The company still does not have a clear idea about how to effectively monetize Weibo, and is currently experimenting with several monetization approaches. In the words of Charles Chao, chairman and CEO:
During the first quarter we've continued to experiment various means for mobile -- for Weibo monetization. In the middle of March we opened our promoted advertising system to certain selective SME advertising agencies and have begun tests in SME market in larger scale. Although the dollar amount for such advertising has been insignificant, we have seen continued improvement in effective CPM loads and daily spending since the open beta testing.
The Earnings Call: The Ugly
-- There are some signals of a possible revenue cannibalization trend between Weibo and Sina.com, the current cash cow and China's third biggest portal in terms of traffic. We know that net revenues grew 19% year over year, with a 20% increase in advertising revenue. Advertising revenue now represents 75% of sales, or about $ 94.5 million. Weibo contributed $19 million to this figure. If you take away the $19 million "Weibo effect" on sales, you will get $75.5 million in advertising revenue, which is actually 4% lower from a year ago. This could be a signal that SINA's advertisers are shifting from Sina.com to Weibo, which helps to increase Weibo's monetization at the expense of Sina.com's revenue figures.
-- Advertisement sales represent 75% of total revenue. Sina is therefore an advertising company, and this makes the company performance highly sensitive to the overall economy. We hope that Weibo and gaming fees add diversification.
-- There was a sudden increase in non-operating losses caused by a somewhat unexpected $10.2 million loss (or about 0.2% of its current market capitalization). But there is an explanation for that:
As a result of E-House issuing new shares to its management at $3.52 per share on March 25, 2013, SINA incurred a non-cash $10.2 million loss on the dilution of equity interest in E-House from 25% to 22%.
Thesis (Quick Take): Overall, I am quite satisfied with the latest results. As I mentioned before, there could be some cannibalism between Sina.com and Weibo, but since Alibaba will subscribe to about $380 million in advertising services over the next three years and since the concept of "social e-commerce" looks very promising in China (a country where gifts are extremely important), I expect such relationship between SINA's best two products to fade away as time goes by.
Also, by using a "mobile first" strategy, I believe that SINA will be able to keep its Sina.com users engaged, this time from mobile, which has better prospects than the web. Considering that it has two excellent products in its portfolio, I also believe that the current market capitalization isn't fair. There are also plenty of positive catalysts for the next three to nine months, including a possible Weibo IPO or better-than-expected results coming from game fees. That said, the Internet arena remains extremely competitive in China, and we should keep an eye on Tencent's attempts to establish WeChat as something more than a VoIP application. With already 300 million users, WeChat shows how fast a good application can become a star product in China.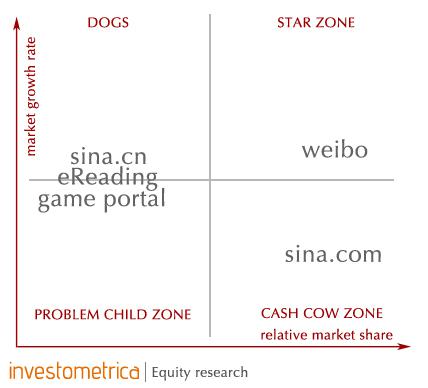 Final Remarks
Price target: $80.00 / from N.A.
Rating: Buy / from N.A.
Investment Strategy: Value, Event
Investment Horizon: 1 year
Uncertainty: Medium
Disclosure: I have no positions in any stocks mentioned, but may initiate a long position in SINA over the next 72 hours. I am long ZNGA, OTC:SSNLF, TM. I wrote this article myself, and it expresses my own opinions. I am not receiving compensation for it (other than from Seeking Alpha). I have no business relationship with any company whose stock is mentioned in this article.