The current bull market is apparent by the strong Bullish Percent Index values for both major U.S. indexes and sectors of the market. In the first screen-shot we have the Bullish Percent indicators (BPI) for seven major indexes and all are controlled by the offensive (X's or dark green background). The second slide shows BPI values and direction of ten sectors.
Indexes: While six of the seven indexes are ranging in the over-bought zone (above 70%), this does not mean that stocks will not go higher. However, it does signal caution is merited. Of the indexes tracked below, the primary one is the broad based NYSE. After a brief negative period it turned positive again two weeks ago. The NASDAQ turned positive this week, so we now have all indexes under the control of the offensive.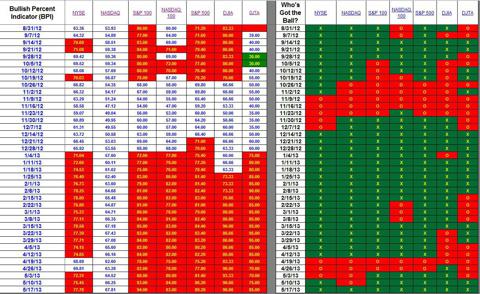 Sectors: Drilling down into sub-sections of the market, we see the same broad strength as all sectors have been in the hands of the offensive for the past two weeks. As with the indexes, most sectors are also in the over-bought zone. Overall, BPI data is showing market strength from top to bottom.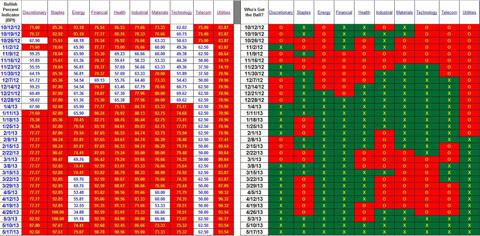 Efficient Frontier: The following graphs show the Return/Risk position for a sector portfolio where an equal percentage is allocated to each Vanguard sector ETF. As readers can see, this is not the most optimized portfolio possible as the diamond dot lies slightly southwest of the optimized (small red dot) portfolio. A later screenshot shows what to do about optimizing such a portfolio.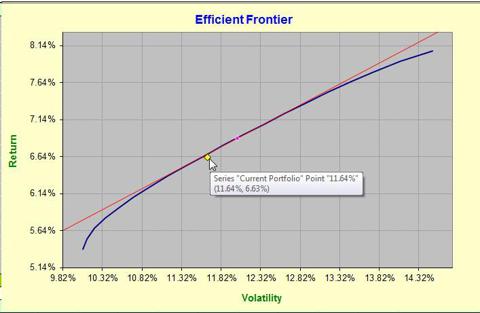 Sector Rankings: The following table shows the rankings of the sectors if a 50% weight is assigned to the most recent three-month performance, 30% weight allocated to the most recent six-months, and 20% to the security volatility. An exponential moving average is used to calculate performance percentages.
While VHT, VNQ, and VFH have been dominating the top positions, VCR moved to the number one spot this week.

Buy-Hold-Sell Recommendations: If one started with an equal percentage allocated to each of eleven Vanguard sector ETFs, the following table shows some buy, hold, and sell recommendations in order to optimize the Return/Risk ratio. VCR and VHT show up as buy opportunities while VAW and VPU are the two ETFs that could use some trimming from the portfolio.
Not readily apparent from these graphs are the constraints placed on both the asset classes and individual securities in order to build a strong portfolio. Of course this particular portfolio is limited as only sectors are included. ITA Portfolios include broad based ETFs as well as individual stocks.

Disclosure: I am long VFH, VHT. I wrote this article myself, and it expresses my own opinions. I am not receiving compensation for it (other than from Seeking Alpha). I have no business relationship with any company whose stock is mentioned in this article.