Dual cash flow, accruals and capital productivity analysis* of consumer electronic retailer Best Buy (NYSE:BBY) indicates its share price may be significantly overvalued at current levels.
Additionally, deteriorating returns on equity, assets and invested capital (as revealed in the chart below) suggest potential for increased cash-burn rates and possible risk to dividend safety. Highlights of our BBY financial statement analysis are presented below.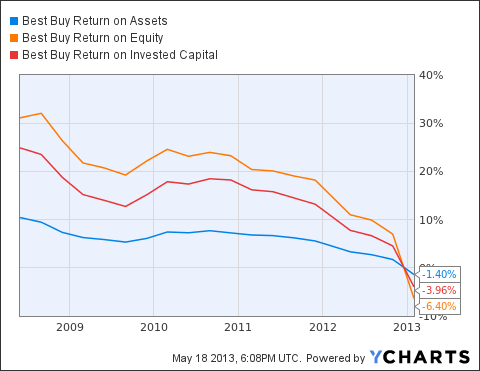 BBY Return on Assets data by YCharts
Cash flow
Dual cash flow analysis of BBY reveals several bearish observations (based on a rolling five quarter period study).
Operating

cash flow (OCF) as a percent of sales remains negative (bearish)

Balance sheet

cash flow (BSCF) as percentage of sales remains positive (bearish)
One advantage to dual cash flow analysis as a predictive tool is in how the numbers are viewed. Unlike traditional cash flow methods, "dual cash flow" compares changes in reported shareholder equity and retained earnings to changes in income producing assets, (net) of non-operating current assets and intangible assets such as goodwill.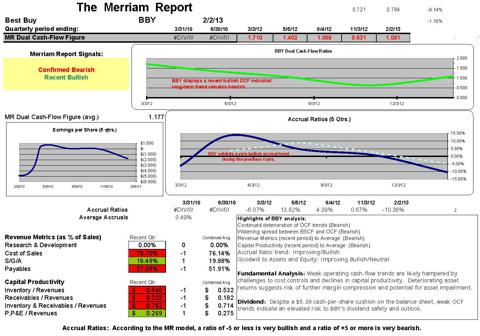 Dual cash flow analysis also considers the potential accounting flexibility with GAAP reporting. GAAP guidelines are reasonably clear in their definition of operating cash flow. However, managers have ample wiggle room when calculating these figures. Balance sheet maneuvering is practiced across many industry and sector groups. Balance sheet management can be legitimate and quite legal (in most cases).
Yet, it is the latitude of subjective valuation we try to identify. The benefit of dual cash flow is that it helps us determine the source(s) of cash flow supporting the earnings. More importantly, it provides clarity to the cash flow generated from actual operations and cash created by balance sheet manipulation.
Understanding the dual relationship between cash provided by paying customers and cash created via accounting conventions, we get a clearer picture of earnings constituents and the quality of earnings being presented.
As with any "mechanical" analysis tool, the evaluation process relies on "junk-in / junk-out" interpretation of the data. There is no crystal ball when analyzing financial statements. However, compared to traditional cash flow techniques and/or forward looking discount cash flow models, dual cash flow is quite effective at:
identifying potential directional price changes of an underlying security
detecting possible liquidity issues and/or changes in a company's financial health
As a cash flow analysis tool, the "dual" method can help provide an early warning signal to positive or negative changes to forward earnings; often months before being detected by conventional techniques.
Although BBY does show a recent bullish trend emerging in its dual-cash flow signal, the overall trend remains confirmed bearish. This is verified by a predominance of balance sheet cash flow and BSCF levels as a percentage of revenues. The overall trend of BBY earnings quality suggests that earnings may primarily be a result of balance sheet adjustments rather than supported from actual operations.
Accruals
One bright spot in BBY's financial statement analysis is that management appears to be less reliant on the use of accruals in recent quarters. Despite our observation that balance sheet maneuvering may be a key constituent to reported earnings, BBY management has been noticeably more conservative in their treatment of adjustments to cash used by/for operations and investment activity.
Thus, we view the bullish accrual ratio trend as an important step to improving the quality-of-earnings picture for BBY.
Capital Productivity and Revenue Metrics
The greater challenge we see in the BBY margin story near-term is in cost of sales and accounts payable as compared to sales (recent period compared to average of all five periods studied). Capital productivity (cost of asset utilization per each dollar of sales) also declined modestly in the recent period.
As such, we view the recent announcement of a venture with Samsung to maximize a branding experience within BBY brick and mortar stores as evolving to the margin story going forward. While Samsung's "shop-within-a-shop" concept might very well be constructive to improving BBY store efficiencies, capital allocation by BBY will likely be incremental.
Exactly how management intends to balance cost structures with investments that drive in-store and online revenue growth has yet to be fully rationalized. Best Buy CFO Sharon McCollum appears to be quite focused on cutting costs.
Tactical initiatives, including the return of (eligible) unsold inventory to vendors offer short-term solutions to enhance BBY's working capital environment. Yet, any inventory not sold places a company several steps away from its ability to convert an income producing asset into cash (i.e., cash flow generated by sales to customers).
Also rumored to be slashed is the company's venture capital unit Best Buy Capital. VC investment makes sense from an incubator-to-market proposition. Yet, rationalizing working capital commitments for projects where economic benefit(s) may not be realized for years could be a distraction to BBY's more immediate need; preserving cash.
Other efforts to bolster BBY's balance sheet include the announced plan to sell its 50% stake in Carphone Warehouse back to Carphone Warehouse for $775 million. Strategically, it appears to be a good move for BBY. However, BBY paid $2.15 billion for its CPW stake back in June 2008. The Best Buy Europe Accounting Flow Chart (below) details how operating results of Europe are shared with BBY.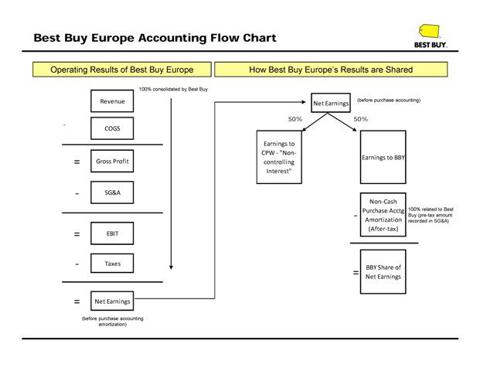 BBY is expected to take a $200 million non-cash charge related to the sale in Q1. What remains unclear is whether further potential write-downs may be looming. How might results be impacted by changes to consolidated net earnings and/or adjustments to purchase accounting amortization?
In the case of BBY, prudent capital allocation will likely focus on assets that generate high returns on capital. The key to enhanced ROC starts with throwing off substantial cash on very little capital investment. In theory, growth would be realized by reinvesting profits into the core business for expansion.
However, while we applaud current management's aggressive cost-cutting efforts, our concern is whether the restructuring initiatives are sufficient enough of a catalyst to return growth in ROA and ROI back to historical averages.
Dividend Risk
Despite improvement in BBY's non-cash accounting (accruals), the confirmed bearish trend in the company's dual cash flow spreads provide clues of a potentially weakening liquidity profile.
Absent any significant improvement to BBY's near-term revenue growth prospects, we believe risk of a dividend cut and/or potential suspension of future distributions is possible.
Our dividend risk thesis is further buoyed by the view that management is keenly focused on improving working capital and baseline execution. Such priorities to improve balance sheet strength would likely be contrary to returning capital to shareholders.
A more likely scenario to any potential future BBY dividend hike would be if and when the company is able to grow operating cash flows and asset returns organically. Thus, investors should not rely on restructuring initiatives as an indicator of dividend safety. It does not require an abacus to realize that capital returns before equity returns are equivalent to putting the cart before the horse. Current annual distribution for BBY is $0.68; 2.62% dividend yield.
Macro and Political Risks
Absent any positive shift in consumer spending habits, we view downside risks for BBY stock to be greater than upside potential near-term.
Also, internet sales tax legislation recently passed in the US Senate (The Marketplace Fairness Act) could potentially change the online shopping environment going forward.
However, the bill has yet to work through a Republican controlled House of Representatives.
To some market observers, the anecdotal observation that brinkmanship politics has now become normative may not be relevant to Best Buy's financial circumstances exclusively. However, the abstract in context of how the political establishment operates would be relevant to the BBY investment thesis going forward.
We see further delays in enacting legislation as one other small respite to provide BBY some time. Partisan gridlock and a trend of polarization could likely drag internet sales tax legislation through Congress for weeks if not months. Political side-shows such as the House's focus on the mushrooming IRS scandal will also draw attention away from attention to the internet tax.
Best Buy wants to maximize the in-store experience while building a robust online footprint. For any restructuring team focused on improving operational efficiencies, further delays enacting MFA might offer temporary relief from additional administrative distractions. Regardless, implementation of an internet sales tax (however beneficial to states) will add a new dynamic to what influences consumer spending habits in the future.
Fair Value Estimate $16.10: Based on a closing price of $26.90 (5-18-13), our model shows BBY to be overvalued by 63%.
Conclusion
We view the run-up in equity prices of BBY (from the Dec. 2012 lows) as primarily news-driven rather than any correlation to operating fundamentals.
BBY shares have no obvious near-term catalyst to rise further from current levels
Prospect of lowered analyst/consensus estimates likely as weak operating

cash flow scenarios become more obvious to traditional analysis methodologies

Price-match strategy may help on the top-line, but at a sacrifice to margins
Typically, when valuations extended 50% (or more) above our FV estimates, the underlying common equity will qualify as a legitimate short candidate. However, in a liquidity fueled rally where fundamentals take the backseat to momentum, BBY could continue marching higher.
Yet, the financial statements reveal numerous warning signs which suggest a better buy might be to avoid this name altogether. The stock is up +127% YTD and +60% in the past three months. With a deal to take Best Buy private essentially put to rest (for now), we say take profits and enjoy the bragging rights. Best Buy is set to report Q1 results on May 20.
*Complete analysis of BBY can be viewed here. Unless otherwise noted, this report includes rolling quarterly analysis of F4Q 2012 through F4Q 2013. Financial statement data provided by SEC EDGAR database and third party vendors. Additional material linked in this article was obtained from sources thought to be reputable and accurate. All opinions, comments, assumptions, analysis expressed herein are solely those of the author and intended for informational use only.
Disclosure: I have no positions in any stocks mentioned, and no plans to initiate any positions within the next 72 hours. I wrote this article myself, and it expresses my own opinions. I am not receiving compensation for it (other than from Seeking Alpha). I have no business relationship with any company whose stock is mentioned in this article.