Tobin's Q-Ratio Signals An Expensive Market
In a post earlier this month ("The Q Ratio And Market Valuation"), Doug Short of Advisor Perspectives calculated the current Q Ratio of the market -- the total value of the stock market divided by the replacement cost of all its companies. The measure, developed by Nobel Laureate James Tobin, is designed to estimate whether the market is currently under- or over-valued. Due to a lag in the availability of the data needed to calculate the ratio, Doug Short calculated the market's Q Ratio as of the end of the fourth quarter. Short got a value of 0.90, which he estimated was 56% above the market's historical geometric mean. According to Short, this Q Ratio indicates an overvalued market. Short went on to note that "the current level is close to the vicinity of market tops, with the [March 2000] Tech Bubble peak as an extreme outlier".
Searching For Risky Stocks In An Expensive Market
As the market has climbed higher, I've continued my search for stocks that might be at greater risk during the next significant correction. To avoid bias, I've used fundamental screens, such as stocks overvalued on a PEG (price/earnings/growth) basis, and stocks predicted to substantially underperform the market by forensic accounting research firm GMI Ratings. In this post, we'll look at several stocks rated "sell / most unfavorable" by Ativo Research. To appreciate its ratings, it's helpful to understand Ativo's approach to security analysis.
The Ativo Research Process
Ativo Research's predecessor firm, Callard Research, was founded in 1971, by the late Chuck Callard, a University of Chicago alumnus who applied theories developed by Merton Miller, Franco Modigliani, Q Ratio creator James Tobin, and other University of Chicago finance professors, to his investment practice. Callard's own theoretical work and empirical observation led him to conclude that stock prices ultimately reflect fair values. So, instead of trying to predict short-term stock price movements, Ativo Research focuses on valuing the underlying business and its risk, then determining if both the value and the risk are already priced into the stock.
Unlike some other independent research firms that use three different ratings (buy, hold, sell), Ativo uses the following five terms in its assessment of a stock's potential performance over the next twelve-month period:
Buy / Most Favorable
Expected to outperform the S&P 500 and be among the stocks with the highest returns
Buy / Favorable
Expected to outperform the S&P 500 index and have above-average returns
Hold / Neutral
Expected to perform in line with the S&P 500 and have similar returns
Sell / Unfavorable
Expected to underperform the S&P 500 and have below-average returns
Sell / Most Unfavorable
Expected to underperform the S&P 500 and be among the stocks with the lowest returns.
Ativo Research uses three main measures to assign these ratings:
Valuation Score. This includes Ativo's calculation of the firm's intrinsic value and its growth adjusted earnings multiple.
Price Momentum Score. This measure examines a stock's price movement in the context of its past volatility, so that a large movement would be considered more significant for a stock that historically had low volatility.
Fundamental Trends Score. This includes earnings surprises, sales growth, and return on investment.
Screening For Sell-Rated Ativo Research Stocks
Using Fidelity's screener, I scanned for stocks that were rated "sell / most unfavorable" by Ativo Research and had market capitalizations below $20 billion (in order to spotlight some stocks that may not be as widely covered as mega caps). Among the most widely-traded stocks in this range that were rated "most unfavorable" by Ativo Research on Thursday were:
Nokia (NYSE:NOK)
BlackBerry (BBRY)
J.C. Penney (NYSE:JCP)
Groupon (NASDAQ:GRPN)
Boston Scientific (NYSE:BSX)
Fusion-io (NYSE:FIO)
Both of the phone makers on this list, Nokia and BlackBerry, have faced challenges recently in a market that has come to be dominated by Apple (NASDAQ:AAPL) and by phones using the Android operating system from Google (NASDAQ:GOOG). Shares of Nokia have traded lower since the company released its new phone, the Lumia 925, on Tuesday. Seeking Alpha contributor Dividend Pros offered a mildly positive review of the phone, though, in this article, arguing that it was at least a step in the right direction for the company. BlackBerry announced this week that its BlackBerry Messenger system would be available on iOS and Android this summer. Venture capitalist Fred Wilson dismissed this move as "a day late and a dollar short", stating that the time for BlackBerry to do that was 4 or 5 years ago, before it lost so many of its users to Apple and Android phones.
J.C. Penney may be a familiar name to readers: it was rated "sell" by Ford Equity Research, as we noted in this article, Jefferson Research, as we noted in this article, and also by Verus Analytics, as we showed in a previous article. All four research firms appear to have gotten this one right so far, considering that J.C. Penney posted a bigger than expected quarterly loss on Thursday.
Shares of daily deal company Groupon are down more than 70% from the company's IPO two years ago, and the firm's co-founder, Andrew Mason, has moved on to a new venture, but activist hedge fund Jana Partners recently took a position in the company.
Boston Scientific shares are up about 50% year-to-date. Seeking Alpha contributor David Alton Clark considered the medical device maker a buy earlier this month; the stock is up about 15% since his recommendation.
Data storage device maker Fusion.io recently made a major management change, replacing its co-founders, who had served as the company's chief executive officer and chief marketing officer. As of Thursday's close, its shares were down nearly 18% since its co-founders left.
Drilling Down On The Ratings
To get a sense of why Ativo Research was bearish on these stocks, I reviewed its research reports for each of them. Ativo rated Nokia as "most unfavorable" on all three of its main scores: valuation, price momentum, and fundamental trends.
BlackBerry's valuation score was merely "unfavorable", and its price momentum score was "average", but its fundamental trends score was "most unfavorable".
Like Nokia, J.C. Penney received "most unfavorable" scores on valuation, price momentum, and fundamental trends.
Groupon got an "average" score for price momentum, but "most unfavorable" scores for its valuation and fundamental trends.
Boston Scientific was given a "most unfavorable" valuation score, an "average" price momentum score, and an "unfavorable" fundamental trend score.
Fusion-io received an "unfavorable" valuation score from Ativo, and "most unfavorable" scores for both price momentum and fundamental trends.
Ameliorating The Risk Of Owning These Stocks
For investors in these companies who are wary of the risks of holding them but would rather not sell their shares at this point, we'll look at a couple of different ways they can hedge against significant declines over the next several months. To illustrate, we'll use one of these companies, Fusion-io, as an example. Then we'll show the costs of hedging the other stocks we've discussed here in the same manner.
Two Ways Of Hedging Fusion-io
Below are two ways a Fusion-io shareholder could have hedged 1000 shares against a greater-than-20% drop over the next several months, as of Thursday's close.
1) The first way uses optimal puts*; this way allows uncapped upside, but was very expensive. These were the optimal puts, as of Thursday's close, for an investor looking to hedge 1000 shares of FIO against a greater-than-20% drop between then and December 20th.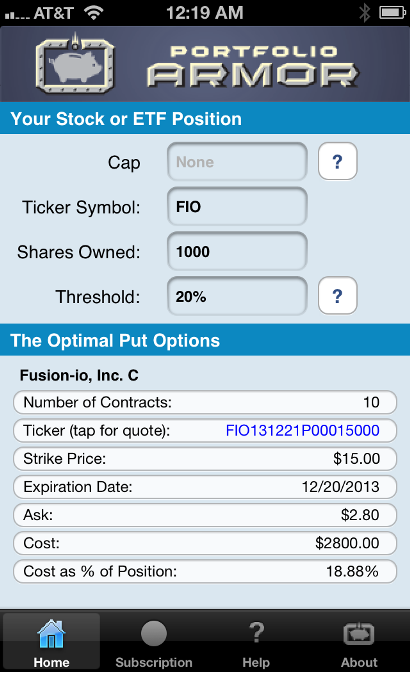 As you can see at the bottom of the screen capture above, the cost of this protection, as a percentage of position value, was extremely expensive, 18.88%.
2) An FIO investor interested in hedging against the same, greater-than-20% decline between Thursday's close and late December, but also willing to cap his potential upside at 20% over that time frame, could have used the optimal collar** below to hedge instead.

As you can see at the bottom of the screen capture above, the net cost of this collar was negative, meaning the investor would have gotten paid to hedge in this case.
Note that, to be conservative, the cost of both hedges was calculated using the ask price for the optimal puts and the put leg of the optimal collar, and the bid price of the call leg of the optimal collar. In practice, an investor can often buy puts for some price less than the ask price (i.e., some price between the bid and ask) and sell calls for some price higher than the bid price (i.e., some price between the bid and the ask).
Hedging Costs For All Of The Names Mentioned Above
The table below shows the costs, as of Thursday's close, of hedging all of the stocks mentioned above in a similar manner as FIO: first, with optimal puts against a >20% drop over the next several months; then, with optimal collars against the same percentage drop over the same time frame, while capping the potential upside at 20%. The SPDR S&P 500 ETF (NYSEARCA:SPY) was added to the table for comparison purposes, and also because investors who are well-diversified may decide to let that diversification ameliorate their stock-specific risk, and use optimal puts on SPY to hedge against market risk.
There were no optimal puts for BlackBerry given the above parameters on Thursday, because the costs of hedging it against a greater-than-20% drop was itself greater than 20% of position value. The costs of hedging Nokia and Fusion-io with optimal collars using the parameters above were negative, meaning investors would have gotten paid to hedge in both cases.
| | | | |
| --- | --- | --- | --- |
| Name | Symbol | Optimal Put Hedging Cost | Optimal Collar Hedging Cost |
| Nokia | NOK | 11.4% | -0.54% |
| BlackBerry | BBRY | NA | 0.88% |
| J.C. Penney | JCP | 14.0% | 1.92% |
| Groupon | GRPN | 18.2% | 2.59% |
| Boston Scient. | BSX | 4.20% | 3.10% |
| Fusion-io | FIO | 18.8% | -0.34% |
| SPDR S&P 500 | SPY | 0.86% | 0.76% |
*Optimal puts are the ones that will give you the level of protection you want at the lowest possible cost. Portfolio Armor uses an algorithm developed by a finance PhD to sort through and analyze all of the available puts for your stocks and ETFs, scanning for the optimal ones.
**Optimal collars are the ones that will give you the level of protection you want at the lowest net cost, while not limiting your potential upside by more than you specify. The algorithm to scan for optimal collars was developed in conjunction with a post-doctoral fellow in the financial engineering department at Princeton University. The screen captures of optimal hedges above come from the Portfolio Armor iOS app.
Disclosure: I have no positions in any stocks mentioned, and no plans to initiate any positions within the next 72 hours. I wrote this article myself, and it expresses my own opinions. I am not receiving compensation for it (other than from Seeking Alpha). I have no business relationship with any company whose stock is mentioned in this article.
Additional disclosure: I purchased optimal puts on SPY as a hedge against a significant market correction.