One of the best feelings you can experience as an investor is waking up and reading about the acquisition of one of your stocks. I enjoyed this recently with Met-Pro (NYSE:MPR), which I held in my Top 20 Model Portfolio and was one of my largest positions in my Conservative Growth/Balanced Model Portfolio at Invest By Model. Unfortunately, this type of windfall hasn't been that frequent of late, at least for me.
While I don't typically make potential acquisition my central thesis, it is a factor that I take into consideration. One part of the market that I think could see some M&A activity is the retailer industry. While retailers don't typically buy other retailers, though there are exceptions, retailers are often acquired by private equity firms. Most recently, True Religion (NASDAQ:TRLG) announced that it will be acquired by TowerBrook Capital (5/10 announcement). Earlier this year, Hot Topic (NASDAQ:HOTT) announced it would be acquired by Sycamore Partners (3/7 announcement). It wasn't that long ago (2011) when J. Crew Group was acquired by TPG Capital and Leonard Green & Partners.
With the S&P 500 at an all-time high and up almost 17% in price this year as PE multiples have expanded somewhat, it seems as though optimism is growing regarding the potential for more vigorous economic growth. While many stocks have performed well, much of the retail space seems to be lagging. There is somewhat of a disconnect, as restaurant stocks are flying and pressing 20 PE for most stocks. On the other hand, I find it easy to find retailers trading at below-market multiples despite having fortress balance sheets. With borrowing costs low, private equity appetite increasing and cheap valuations in the retailer universe, I decided to look for some potential LBO candidates. The following table consists of six companies that met my criteria: <6X EV/EBITDA and a market cap of $300mm to $2 billion:

All of the stocks are lagging the S&P 500 this year, but most are in positive territory. Over the past two years, with the S&P 500 up about 25%, the best of the group is up only 7%. I didn't include longer time-frames, but all of the stocks are up over the past decade. In fact, the very worst one, Cato (NYSE:CATO), has matched the S&P 500's 82% price return.
I will detail each of the company's near-term prospects as perceived by analysts, but it's worth noting that these companies are all relatively stable if not growing. Only Jos. A. Bank (NASDAQ:JOSB) has seen a material decline in earnings over the past year, though revenues are growing.
I included two valuation metrics beyond EV/EBITDA: Forward PE and Price/Tangible Book Value. EV/EBITDA is a better measure in my view, especially since each of these stocks has substantial cash (and domestic, so no repatriation liability). HOTT is currently trading at 8.4X EV/EBITDA and 3.4X P/TB, with a PE of 25.5, but it appears to be a margin-expansion story. TRLG, which has very high margins on the other hand, is trading at 6.9X EBITDA, 2.5X P/TB and 18.1 PE.
Finally, before I discuss the stocks, note that the last few columns include information about EBITDA and net income margins. To frame them, HOTT has an EBITDA margin of 8.6%, which is lower than all six, while TRLG's EBITDA margin is higher than all of them at 18.5%.
Ann (NYSE:ANN) started the year with some disappointment, pre-announcing a weak Q4 in early February due to weakness in its outlet stores. According to First Call, analysts project 6% sales growth this year and next, with EPS expected to grow 6% this year and 17% next year. Insiders own 5.3%, with CEO Kay Krill having beneficial ownership of 2% of the company. One area where an LBO firm might save some money is in compensation. Over the past three years, the CEO has earned over $16mm in bonuses on top of her $1.2mm salary.
The company expects to spend $165mm on CapEx this year, with $55mm targeted at construction of 65 new stores. D&A last year was $98mm. The company has about $3.50 per share in cash and no debt. I think that the chart is positive and actually just recommended a buy on my trading alert service at Marketfy, the Analytical Trader. The company reports Q1 results on June 6th.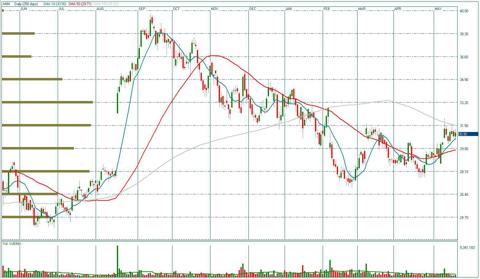 CATO has been a disappointment, with weak same-store sales results month after month. The company caters to a lower-income demographic that was hit hard by persistent unemployment and rising gas prices last year and then the reversion in payroll taxes and delayed refunds this year. According to First Call, the company is expected to have flat sales this year and achieve 4% growth next year. EPS, though, are expected to decline 14% this year and then recover partially next year. The stock is cheaper on an EV/EBITDA basis, but the near-term decline in fundamentals is impacting the valuation.
Insider ownership is a bit disappointing here. CEO John Cato beneficially owns about 312K shares, with the rest of the officers and directors owning only 156K shares, and he also holds 1.74mm "B" shares that give him 39.6% of the voting power. Royce owns 9.3% of the company (4.2mm shares). The company is guiding to 65 store openings and 15 closings (1310 stores at year-end), with CapEX at $44mm. The company has about $6.62 per share in cash and no debt. The stock looks like it may have found a bottom. The company paid a $2.25 combined special and accelerated dividend in December, which makes it look worse than it really is: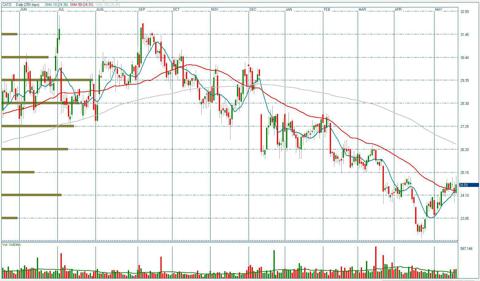 I am fascinated by the Finish Line (NASDAQ:FINL) story. They too started the year with some disappointment, part of which was due to a botched e-commerce installation. I have listened to a few of their calls and think that their deal with Macy's could be a game-changer. Unfortunately, the economics are such that it won't show up until next year. According to First Call, sales are supposed to rise 13% this year and 12% next year, but EPS are projected to increase only 5% this year before taking off next year (+17%). I expect that the market will start to better appreciate this story later this year.
Insider ownership isn't impressive here. What really stands out is their massive cash balance, which works out to about $4.50 per share (with no debt). CapEx spending ramped last year to $82mm from a total of $48mm over the prior two years, and the company is guiding to $80-90mm this year, so the FCF generation will be weak. My read is that this company could really benefit from new management. Look at how well FL did after it brought in a new CEO in 2009. I think this is a constructive chart (weekly, two years) as well, even if it has jumped from its previously oversold beginning-of-the-year levels: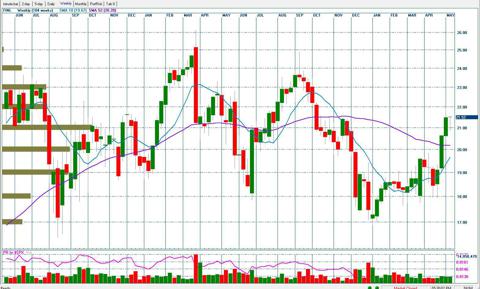 JOSB has had two straight big misses, the most recent of which was pre-announced last week. I don't know this one as well as the next one I will discuss, which is a competitor. One thing that stood out as I reviewed the 10-K is that direct marketing (Internet, catalog) represented 11% of sales last year and grew almost 23%. The First Call consensus indicates 6% sales growth this year and 8% next year, with earnings growth expected to be 10% this year but only 6% next year.
Insider ownership is unimpressive here too. Like ANN, JOSB pays no dividend. The company has no debt and about $13.50 per share in cash. CapEx has tracked D&A fairly closely, with the company spending just $36mm last year. This year, they will spend $42-46mm to open 40-45 stores and on other initiatives. I don't have a good feel for the chart, but it's impressive that the stock has shaken off a lot of bad news: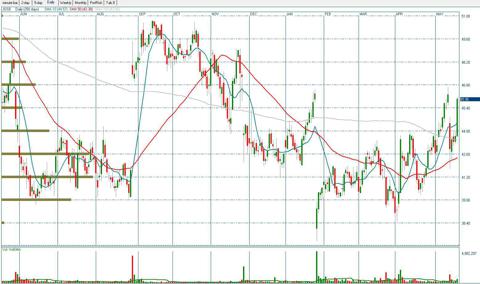 I like the Men's Wearhouse (MW) story. I discussed it as an example of how to value a company by sum-of-the-parts earlier this month. There is a link in that article as well to a "Pro" contribution I shared earlier this year when they announced that they were considering divesting their poorly performing K&G division. According to First Call, analysts estimate that sales will rise 3-4% in the next two years, with EPS growth in the 7-8% range. I would note that the growth will look better if they can divest K&G and use the proceeds to repurchase stock.
Insider ownership is pretty high here at 6% overall, including 3.5% for Executive Chairman George Zimmer. This probably helps explain the shareholder-friendly capital allocation that includes a dividend that yields 2.1% and share repurchases that have helped reduce the share-count modestly in recent years. The company has no debt and cash per share in excess of $3. CapEx was elevated last year, but the company is guiding for a decline from $121mm to $100-108mm this year. The company reports Q1 on June 13th. I think the chart is constructive: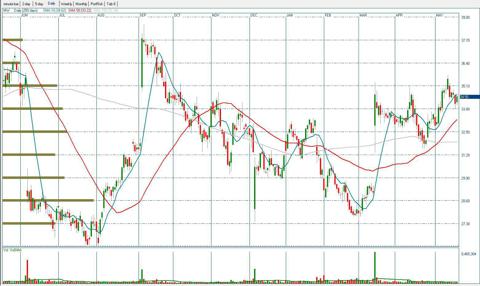 Children' Place (NASDAQ:PLCE) is another one I don't know too well, but it has been mentioned as a possible LBO for quite some time. The company had 12% of its sales via the internet, and it has a reasonable-sized business in Canada. My quick read of the 10-K leaves me a little concerned about their performance, as operating income has declined in each of the past two years. In November, the stock plunged on a pre-announcement. According to First Call, sales are expected to be flat this year and up 4% next year, but earnings are projected to decline 7% this year and then increase 16% next year.
Insider ownership is pretty low (327K shares in total), but this obscures a powerful incentive to get the company sold. The management team is pretty new, and CEO Jane Elfers has a lot of unvested stock, and its acceleration along with severance pay would be worth $27mm according to the proxy. PLCE pays no dividend. It has about $9 per share in cash, but 75% of it is in Canada and Hong Kong and subject to repatriation taxes. CapEx should be $90-95mm this year ($90mm last year and $77mm D&A) as the company opens 55 stores and remodels 91 (vs. 64 openings last year and 67 remodels). The chart shows sideways action for the past two years: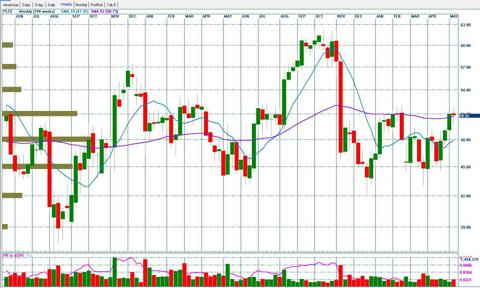 I think retailers are attractive, with investors not giving many of them any credit for the tough environment of the last couple of years. The private equity players have already become more active in 2013, and, with low-cost debt available, I expect to see some acquisitions of smaller retailers, like the ones I discussed.
Disclosure: I have no positions in any stocks mentioned, and no plans to initiate any positions within the next 72 hours. I wrote this article myself, and it expresses my own opinions. I am not receiving compensation for it (other than from Seeking Alpha). I have no business relationship with any company whose stock is mentioned in this article.
Additional disclosure: MW and CATO are held in one or more model portfolios managed by the author at Invest By Model. ANN is currently recommended as a Buy by the author at his trading alert service, the Analytical Trader at Marketfy.