This article will focus on stocks that were found using a stock screener on May 16, 2013. The stock screener had the following criteria:
Small cap stock
Listed on the NYSE or NASDAQ or AMEX
Earnings per share growth of at least 15% for the current year
Four consecutive quarters of non-negative earnings
A profit margin TTM of 40% or greater and/or above the industry average
A return on equity TTM of 30% or greater and/or above the industry average
This screen looked to identify small cap companies. The market cap of the five stocks found in this screen ranges from a low of $405 million to a high of $734 million. It also looked for companies with solid, positive earnings in the last four quarters that also were forecasted to grow earnings significantly in the coming year. The fundamentals of their profit margins and their return on equity were also looked at so that we can identify companies with high profit margins that are generating significant returns for shareholders.
The five companies this screen produced are: Central Pacific Financial Corp. (NYSE:CPF), 8x8, Inc. (NASDAQ:EGHT), Mid-Con Energy Partners LP (NASDAQ:MCEP), PDF Solutions Inc. (NASDAQ:PDFS), and Pzena Investment Management Inc. (NYSE:PZN). Over the past 52 weeks, these companies have produced great returns in share prices. The following is a chart of the companies' performance in this time period compared to the S&P 500.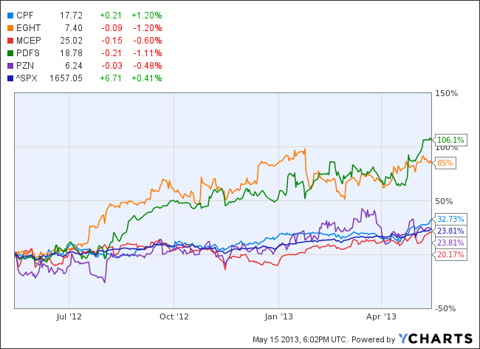 As the chart shows, all but one of these stocks has outperformed the S&P 500 index over the past year. This can be expected because of the strong fundamentals these stocks currently have. If the stocks can maintain their growth, these may be great companies to watch and potentially invest in with a good entry point.
Central Pacific Financial Corp. reached a new 52 week high of $17.72 today on May 15, 2013. Its most recent earnings came in at 41 cents per share, which was far ahead of the consensus analyst estimate calling for earnings of 20 cents per share. Earnings are expected to grow to $1.31 per share this year, but are expected to fall to .78 per share next year. Over the next five years; however, earnings are expected go grow 8% annually. It most recent quarter's cash flow statement saw positive operating cash flow, and it has over $1.9 billion in cash sitting on its balance sheet. With its strong results in the previous quarter reported, it is no surprise that the stock price is rising. In looking at the 10-Q for its recent earnings, the company realized a huge income tax benefit in the previous quarter. If the company can continue raising the bar for earnings, we could see this stock continue to rise in price.
Upon further examination of the 10-Q for Central Pacific, there are key items that I believe to be essential to the stock price's future success. The company has moved to reduce its nonperforming assets successfully, as they are down to $75 million as of March 2013 compared to $206 million as of March 2012. Its construction and development loan portfolio was reduced to 3.9% of its total loan portfolio as of March 2013, which is down from 7.1% of its loan portfolio in the same quarter of 2012. The allowance for loans and leases has also been reduced significantly over this time frame. The company has strengthened its balance sheet and return on assets and the return on equity has improved. Those results, however, were skewed with the one time tax benefit. If the company can continue to pick the right industries to lend to, while shoring up nonperforming assets and allowances on its balance sheet, look for those factors to lead the company to continued rises in price.
8x8 Inc. is trading near its 52 week high of $7.95 per share. It has an upcoming earnings release scheduled for May 21, 2013 and it has a five year growth rate projected to be 15% annually. The company markets telecommunication services. Specifically, it is in the cloud computing industry. In March, it was awarded a new patent. In this article published on Seeking Alpha in March, a case was made that the company could be acquired for a significant premium. Cloud computing is a growth market that is seen by many as having a strong future. The company has been receiving awards for its service and is on its way to becoming well known in the industry. With positive earnings per share, this stock provides a compelling investment opportunity as already, its earnings are expected to grow significantly over the next five years as it is.
8x8's 10-Q for the third quarter (it has a March 31st fiscal year end) shows various highlights and provides insight into how the company can improve results from here. Business customer churn was only 1.6% in the December 31, 2012 quarter, which is the lowest level it has been at out of the five most recent quarters reported. Total business customers are also at a record level for the company. The average number of services purchased by new business subscribers set a record and is currently at 17 as of December 31, 2012, besting the previous record of 14.7 as of September 30, 2012. Service revenue rose significantly and is comprised of "8x8 VoIP services and royalties earned under our VoIP technology licenses." Continued growth in this service income will depend on the success that the company has in selling these same services to new and existing customers.
Mid-Con Energy Partners reached a new 52 week high today of $25.20 per share. Although it is a small cap, it pays a distribution yield currently of 8.2%. This is common for partnerships in the energy industry, though its rise in share price over the past year certainly makes it an intriguing stock to look into. It is expected to earn $2.04 per share this year, up from $1.58 per share last year. Next year, it is expected to earn $2.31 per share. Its most recent earnings did miss expectations, but apparently investors still felt the stock was undervalued as it is rising in price steadily. With its high distribution yield and steady earnings growth, it is more of a valuation play in my opinion. The earnings are only expected to grow 4% per year in the next five years, which means analysts are expecting growth to slow after the next year. If earnings continue to grow; however, it may prove to still be undervalued.
Upon examining Mid-Con's most recent 10-Q for the quarter ending in March of 2013, the company experienced strong growth in oil sales and had a much better performance in its hedging activities related to derivatives. The company uses derivatives to hedge against the risk of large price movements in oil. The company increased its oil production volume by about 46% on average in the quarter ending in March of 2013 compared to March of 2012. General and administrative expenses nearly doubled in this most recent quarter, attributed largely to an increase in equity based compensation. Equity based compensation is a non-cash outlay, and its cash flow from operating activities increased modestly when comparing these two quarters. The cash flow statement is important for this company when analyzing it, especially if a lot of its expenses will continue to be non-cash outlays. Increasing the number of shares outstanding, however, weighs on earnings as it lowers earnings per share with all else being equal.
PDF Solutions Inc. also reached a new 52 week high today, clocking in at $19.03 per share. Its earnings are expected to grow this year from .82 per share to $1.05 per share. Next year, earnings are currently expected to come in at $1.45 per share. Over the next five years, the company is pegged for 20% annual growth. This is a fast growing company and it provides yield improvement technologies for the integrated circuit manufacturing process life cycle. When the company reported its fourth quarter 2012 results, it surpassed analyst estimates. Its first quarter 2013 earnings did miss by two cents, but that certainly has not slowed down the share price. With the company delivering high growth, as evidenced by fourth quarter 2012 earnings doubling to 24 cents per share from 12 cents per share in the same quarter of 2011, this company may be worth a look.
In looking at the 10-Q for the quarter ending in March of 2013 for PDF Solutions, various things become apparent. The company is relying on the prevalent trend in the industry as follows: "We believe that the largest logic foundries will continue to increase their investment in leading edge nodes and capacity in 2013, consistent with the trend since 2010. Leading foundries are also investing in new technologies such as double-patterned lithography and 3-D transistor architecture. These trends resulted in an increase in our business, and improved results in operations in 2011, 2012 and to date in 2013." If this trend continues, the company appears well positioned to be able to continue its growth on the back of it. The company's net income, revenues, and cash position all enjoyed nice increases in the quarter ending in March of 2013 compared to the quarter ending in March of 2012. With 62% of its revenue being made up of design-to-silicon-yield solutions, the company is dependent on companies looking to improve their processes for maximizing yield. In my opinion, it is important that the company maintains a wide variety of customers in different industries, to minimize the effect of any customer no longer purchasing services.
Pzena Investment Management is currently trading at $6.17 per share, and is off from its 52 week high of $7.19 per share. It also currently has a dividend yield of 1.9%. It is predicted by analysts that the company will grow 12% annually over the next five years. Earnings are expected to come in this year at .37 per share and at .43 per share next year. The company is a publicly owned investment management firm. Thestreet.com recently upgraded the stock to a buy rating. If the company can deliver on its earnings estimates, it may be a great company to buy for growth in the small cap sector.
Upon examining the 10-Q for Pzena, the company experienced strong growth in its net income for the quarter ending in March of 2013 compared to March of 2012. Growth in this area came in at around 15%. The company holds a non-controlling interest in Pzena Investment Management, LLC, and net income from this interest weighed down the company's overall earnings as that company's earnings fell slightly. EPS fell in March of 2013 to .08 per share compared to .09 per share in March of 2012 due to the increase in the weighted average of shares outstanding as overall income rose slightly. With $19.5 billion of assets currently under management, increasing that number would certainly help the company increase overall earnings. Improving margins in its non-controlling interest is also key for the company to improve its overall results going forward.
Small cap stocks can offer investors a great entry point for different industries as the possible gains can far exceed those are mature, large cap companies. The key with small cap stocks is picking the right ones, as many can go down in value much faster than well established large cap companies can. In this instance, if I were to buy any of these stocks, I would allocate a small portion of my portfolio to buy all of these stocks. I like the mix that these five stocks provide, and if I were to invest in them I would probably buy about $300 each worth of their stock.
Thank you for reading this article. Please conduct your own research and due diligence before deciding to invest in any of these companies.
Disclosure: I have no positions in any stocks mentioned, and no plans to initiate any positions within the next 72 hours. I wrote this article myself, and it expresses my own opinions. I am not receiving compensation for it (other than from Seeking Alpha). I have no business relationship with any company whose stock is mentioned in this article.