Procter and Gamble (PG) was a favorite stock pitched by hedge fund manager Bill Ackman at The Ira Sohn Conference. His $12B hedge fund holds over 27.9 million shares of PG, making up almost 19% of his portfolio. Ackman believes PG, currently trading at $79.77 with a market cap of $219B, is undervalued- investors have not priced in improvements to PG's currently underperforming revenue and EBIT growth, and gross margins, compared to its competitors. Should we agree with Ackman? Short answer, yes. But only if you believe management can expand growth and continue their success with their cost-cutting program. Even if management's earnings growth strategies are not effective, PG still has benefits to value investors.
Value Play
Even without efficiency or growth improvements, PG is a great company for value investors, paying a 3% dividend yield (and has, historically, increased its nominal payout annually) with consistent cash flows. Alongside, PG plans to repurchase $6B of stock this year. As of December 31, 2012, total current assets were $25,601 million, just under its total current liabilities of $26,230 million. Although working capital is negative, current assets consistently increased from 71% of current liabilities in 2010 to 98% at the end of 2012. Its free cash flow for 2012, excluding tax payments from the sale of its snacks business to Kellogg, was $9839 million, well above its interest expense of $769 million. With P&G's positive, albeit slow, growth, the company is a safe, high paying dividend stock.
Growth Play
Although its brands are defensive, everyday items, there is still high growth potential for PG in emerging markets, which make up 38% of sales. PG has taken some steps to increase its presence in these higher-growth markets, including building 20 new factories by 2015 and focusing on developing products catering to people in developing countries. Along with their $10B cost reduction plan in February 2012 which is gaining traction, I believe earnings growth will continue to increase.
From April 2012 to January 2013, several months after the cost reduction plan was announced, operating margin increased to 18.2% from 15.9% during the same period in the previous year. This was led by a drop in selling, general & administrative expense and an increase in gross margin from 49.5% to 50% from the previous year. The cost reduction plan has, so far, been effective. However, PG's sales fell slightly. Sales may pick up eventually as PG continues to expand their product pipeline in emerging markets.
Valuation
Adjusting for non-operating assets and debt, the market expects long-term growth to be 1.11% per year. More details of this discounted cash flow analysis can be found at the end of the article. The low expected growth rates are justified, as operating income fell 1.14% compounded annually since 2007, despite a 2.78% annual increase of net sales. Furthermore, since 2009, basic earnings per share have fallen 4% annually. The DCF analysis includes one assumption that does not match what occurs in reality: a dividend payout has the same effect as an equal appreciation in share price. Investors typically perceive the payout of dividends as a sign of company stability, attracting value investors and increasing the stock price. Thus, the market's intrinsic growth expectation of PG is likely lower than the 1.11% estimate.
Using the WACC as the discount rate in DCF analysis for multi-segment companies like PG tends to underestimate the intrinsic discount rate. If WACC is used, PG would overinvest in higher beta divisions and underinvest in lower beta ones (the WACC fallacy). For a more conservative estimate, a discount rate of 6.98% was used.
Ackman believes organic revenue growth will increase from 3% to 5% annually by 2016. EBIT margin will increase from 19% to 24%, and EPS from $4.00 to $6.00. This implies EBIT growth will increase to approximately 5.25%. Using Ackman's low-end estimate of a 4.2% increase in EBIT by 2016 and a discount rate of 6.98%, PG should be conservatively valued at $98.47 per share. Ackman's upper-end 5.25% EBIT growth values each share at $158.20. This coincides with Ackman's price target of $125 by 2016.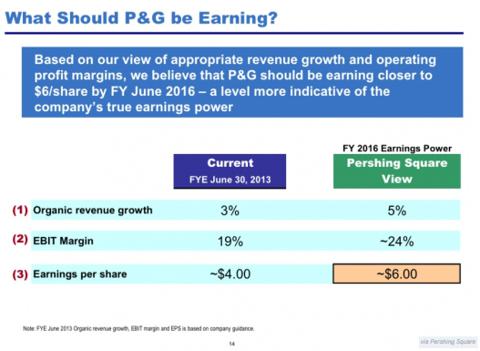 Conclusion
The appreciation in PG's stock price could be attributed to the overall stock market rally, investors' high appetite for dividend yields, and share buybacks. Although PG's cost reduction has gained ground, I wonder what took Bob McDonald, CEO, so long to take action. It was clear that, since 2008, PG was having difficulties controlling costs. Net sales were increasing year-over-year, yet net earnings, with the exception of 2009, decreased significantly. Maybe the cost cutting and revenue growing policy is a case of too little too late.
However, the asymmetric risk PG's stock has, with its high dividend yield and relatively low P/E, makes this stock look attractive. The low expectation of a 1.1% growth rate that is priced into the stock is also not a high target, making the gains from a positive upside significantly larger than the downside. Even if PG's EBIT growth only reaches the low end of Ackman's expectations, the stock is undervalued by 23%. The main issue is: Will Bob McDonald's cost-cutting and revenue growing strategies actually increase EBIT growth to at least 4.2% per year? Investors, so far, are pessimistic, but they will likely turn bullish after their annual earnings release in August. I say, take advantage of this pessimism and buy into PG. I believe there is much to gain, with relatively little risk. Although I like PG and I believe it is undervalued, I, unlike Ackman, would not make this stock my favorite and biggest holding in my portfolio. In the short-term, there is support at the 50-day moving average: $78.25. The ten day relative strength index is approaching 31.46, indicating the stock may be oversold for now.
Discounted Cash Flow Analysis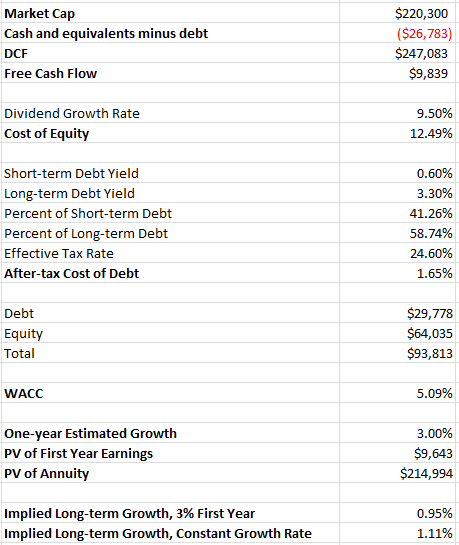 Valuations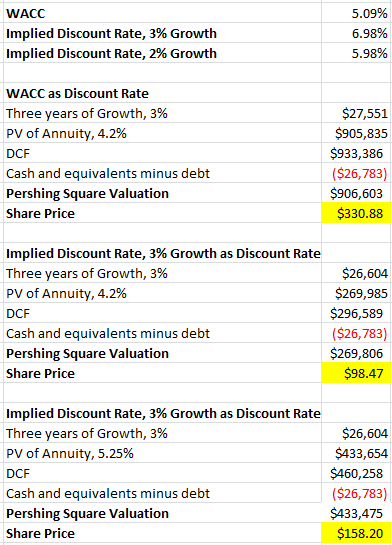 If you have any questions about my calculations, feel free to leave a comment or send me a message on SA.
Disclosure: I have no positions in any stocks mentioned, and no plans to initiate any positions within the next 72 hours. I wrote this article myself, and it expresses my own opinions. I am not receiving compensation for it (other than from Seeking Alpha). I have no business relationship with any company whose stock is mentioned in this article.