This article analyzes the most recent quarterly and the trailing twelve months ("TTM") results of Williams Partners, L.P. (NYSE:WPZ) and looks "under the hood" to properly ascertain sustainability of Distributable Cash Flow ("DCF"). The task is not easy because the definitions of DCF and "Adjusted EBITDA", the primary measures typically used by master limited partnerships ("MLPs") to evaluate their operating results, are complex. In addition, each MLP may define these terms differently, making comparison across MLPs very difficult. Nevertheless, this is an exercise that must be undertaken to ascertain what portions of the distributions being received are really sustainable.
Effective January 1, 2013, management reorganized the businesses into geographically based operational areas. WPZ's reorganized reportable segments are as follows:
Northeast G&P: this midstream gathering and processing segment is in the early stages of developing large-scale energy infrastructure solutions for the Marcellus and Utica shale regions. It also includes a 51% equity investment in Laurel Mountain Midstream, LLC ("Laurel Mountain") and a 47.5% equity investment in Caiman Energy II, LLC ("Caiman");
Atlantic-Gulf: this segment includes the Transcontinental Gas Pipe Line Company, LLC, WPZ's major interstate natural gas pipeline ("Transco"). It also includes natural gas gathering and processing and crude production handling and transportation in the Gulf Coast region, a 50% equity investment in Gulfstream Natural Gas System L.L.C. ("Gulfstream"), a 60% equity investment in Discovery Producer Services LLC ("Discovery"), and a 51% consolidated interest in Constitution Pipeline Company, LLC ("Constitution").
West: this segment includes gathering, processing and treating operations in New Mexico, Colorado, and Wyoming and WPZ's interstate natural gas pipeline, Northwest Pipeline GP ("Northwest Pipeline").
NGL & Petchem Services: this segment includes WPZ's NGL and natural gas marketing business, an NGL fractionator and storage facilities near Conway, Kansas, a 50% equity investment in Overland Pass Pipeline ("OPPL"), and a ~83.3% interest in an olefins production facility in Geismar, Louisiana, along with a refinery grade propylene splitter and pipelines in the Gulf Coast region.
TTM segment operating income numbers based on the new reporting segments are not available. Table 1 below compares segment performance in 1Q13 vs. 1Q12: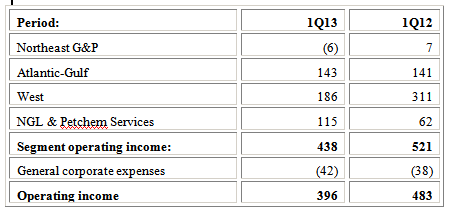 Table 1: Figures in $ Millions
Reduced processing margins for natural gas liquids ("NGL") negatively impacted results of the Atlantic Gulf and West segments. Atlantic Gulf benefited from an offset in the form of lower operating costs. West's segment profit was additionally hurt by declines in fee-based revenue in 1Q13 due to severe winter weather, including production freeze-offs. Also, West's future segment profit will be hurt because, due to a reduction in drilling in the Piceance basin during 2012 and early 2013, WPZ decided to delay until mid-2016 the in-service date of its 350 MMcf/d cryogenic natural gas processing plant in Parachute that was planned for service in 2014.
Operating income for the NGL & Petchem Services segment was up sharply in1Q13 vs. 1Q12 due to an increase in olefin product margins (primarily ethylene) that was driven by lower average per-unit ethane and propane feedstock prices and higher per-unit ethylene prices.
WPZ's revenues, operating income, net income and earnings before interest, depreciation & amortization and income tax expenses (EBITDA) for periods including the TTM ending 3/31/13 and 3/31/12 are presented in Table 1 below. Given quarterly fluctuations in revenues, working capital needs and other items, a review of TTM numbers tends to be more meaningful than quarterly numbers for the purpose of analyzing changes in reported and sustainable distributable cash flows. However, I present both:

Table 2: Figures in $ Millions, except net income per unit and units outstanding
Ethane exposure contributed significantly to the poor results in 1Q13 and the TTM ending 3/31/13 seen in Tables 1 and 2 above compared to the prior year periods. Sharp decline in NGL prices pushed down processing margins. NGL margins were ~23% percent lower in 2012 than in 2011, and ~21% lower in 1Q13 vs. 4Q12. Reduced processing margins led to ethane rejection and thus generated lower equity volumes under keep-whole agreements and percent-of-liquids arrangements. WPZ provides natural gas gathering and processing services under fee contracts (volumetric-based), keep-whole agreements and percent-of-liquids arrangements. A glossary of terms provides further explanations of these terms and of ethane rejection. Under keep-whole and percent-of-liquid processing contracts, WPZ retains the rights to all or a portion of the NGLs extracted from the producers' natural gas stream (these are the equity volumes referred to above). It recognizes revenues when the extracted NGLs are sold and delivered. Lower NGL prices coupled with lower volumes produce lower revenues, as well as sharply lower operating income and net income, as seen in Table 2 above.
The generic reasons why DCF as reported by an MLP may differ from what I call sustainable DCF are reviewed in an article titled "Estimating sustainable DCF-why and how". WPZ's definition of DCF and a comparison to definitions used by other MLPs are described in an article titled "Distributable Cash Flow". Using WPZ's definition, DCF for the TTM ended 3/31/13 was $1,511 million ($4.11 per unit), down from $1,684 million ($5.76 per unit) in the prior year period.
Table 3 below shows sustainable DCF also decreased substantially. It also provides a comparison between reported and sustainable DCF and indicates that, for the periods under review, such differences were not material:

Table 3: Figures in $ Millions
The gap between reported DCF and sustainable DCF shown under "other" includes acquisition-related and reorganization-related costs, certain reimbursements from WMB and the excess cash flow over earnings from WPZ's equity investments. The differences would have been somewhat greater had I excluded from sustainable DCF pre-acquisition cash flows allocated to Williams Companies, Inc. (NYSE:WMB), the general partner of WPZ. These totaled $62 million in 1Q12, $130 million in the TTM ending 3/31/13 and $163 million in the TTM ending 3/31/12. But overall, even then, the differences between reported and sustainable DCF would not have been great.
Despite the deterioration in key performance parameters, WPZ increased 1Q13 distributions to $0.8475 (up 2.4% from 4Q12 and up 9% from 1Q12). Drops in DCF coupled with an increase in both distributions per unit and in the number of outstanding units result in steep drops in coverage ratios. I calculate the ratios in Table 4 below in two ways: first based on the actual distributions made (e.g., the distribution announced for 4Q12 was actually made in 1Q13); second, based on declared distributions (e.g., assuming the distribution declared for 1Q13 had been made in 1Q13). TTM numbers tends to be more meaningful than quarterly numbers for the purpose of coverage ratios. However, I present both:

Table 4: $ millions, except coverage ratios
Coverage based on sustainable DCF is not provided in Table 3 because the differences between reported and sustainable DCF levels are minor.
The sharply lower coverage ratios reflect the decline in NGL prices and, to a lesser extent, higher G&A expenses. They also reflect the rapid growth in the number of units outstanding as a result of issuing equity to partially finance large drop-down acquisitions. The number of units outstanding has increased 34% from 1Q12 to 1Q13.
It is helpful to look at a simplified cash flow statement by netting certain items (e.g., acquisitions against dispositions) and by separating cash generation from cash consumption. Here is what I see for WPZ:
Simplified Sources and Uses of Funds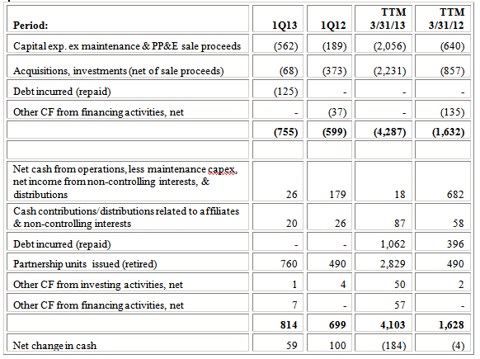 Table 5: Figures in $ Millions
Net cash from operations, less maintenance capital expenditures, less cash related to net income attributable to non-partners exceeded distributions by $18 million in the TTM ending 3/31/13 and by $682 million in the prior year period. In 1Q13 the excess was $26 million, but this does not yet reflect the $31 million increase in 1Q13 distributions (which are paid out in May). So there really is no excess, but at least distributions, for now, are not being funded through the issuance of additional equity.
Table 4 also shows WPZ incurred significant amounts of additional debt to fund its acquisitions. WPZ ended 2012 with long term debt at ~3.6x EBITDA and a little lower than that if we annualize 1Q13 EBITDA.
I am not comfortable with the practice of increasing distributions in the face of declining coverage and repeated instances of management lowering its DCF and DCF coverage guidance. The latter can be seen in Table 6 below: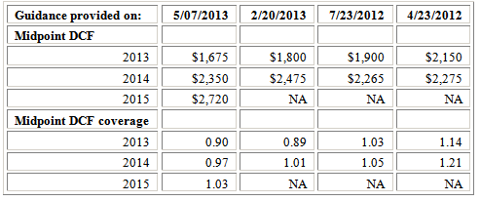 Table 6 ($ millions except coverage ratios)
I believe unitholders would be better off seeing distributions held steady and fewer shares being issued. The cash flow situation is too tight, in my view, to warrant distribution increases. All the more so when one considers WPZ's capital structure. Increasing distributions is very costly from a cash flow standpoint because of the general partner's incentive distribution rights ("IDR"). WMB, WPZ's general partner, owns a ~66% limited partner interest, a 2% general partner interest and the incentive distribution rights. The IDRs entitle WMB to 48% of amounts distributed in excess of $0.525 per unit per quarter. Given the ~400 million units outstanding, if the quarterly distribution rate increases by 8% this will require generating ~$52 million of additional DCF in the quarter. This is equivalent to a ~11% increase in sustainable DCF using 1Q13 numbers- not something easy to achieve. To address that concern, WMB has agreed to forgo receiving IDRs amounting in the aggregate to $200 million for the next four quarters to boost WPZ's expected cash distribution coverage ratio to the 0.90x guidance level provided for 2013.
A comparison of WPZ's yield to that of the other MLPs I follow is presented in Table 7 below:
| | | | |
| --- | --- | --- | --- |
| As of 05/17/13: | Price | Quarterly Distribution | Yield |
| Magellan Midstream Partners (NYSE:MMP) | $51.95 | $0.50750 | 3.91% |
| Plains All American Pipeline (NYSE:PAA) | $57.98 | $0.57500 | 3.97% |
| Enterprise Products Partners (NYSE:EPD) | $61.57 | $0.67000 | 4.35% |
| Inergy (NRGY) | $24.49 | $0.29000 | 4.74% |
| El Paso Pipeline Partners (NYSE:EPB) | $43.18 | $0.62000 | 5.74% |
| Targa Resources Partners (NYSE:NGLS) | $48.46 | $0.69750 | 5.76% |
| Kinder Morgan Energy Partners (NYSE:KMP) | $88.38 | $1.30000 | 5.88% |
| Buckeye Partners (NYSE:BPL) | $66.05 | $1.05000 | 6.36% |
| Williams Partners | $52.06 | $0.84750 | 6.51% |
| Boardwalk Pipeline Partners (NYSE:BWP) | $31.20 | $0.53250 | 6.83% |
| Energy Transfer Partners (NYSE:ETP) | $50.36 | $0.89375 | 7.10% |
| Regency Energy Partners (NYSE:RGP) | $25.86 | $0.46000 | 7.12% |
| Suburban Propane Partners (NYSE:SPH) | $48.38 | $0.87500 | 7.23% |
Table 7
Given that poor operational performance has been coupled with an unrelenting pace of equity issuances ($490 million in 1Q12, $1,581 million in 2Q12, $488 million in 3Q12 and ~$760 million in 1Q13), it is not surprising that the price per unit has languished relative to many other MLPs. WPZ unit price is up only ~7% year-to-date, vs. ~17% for ETP, ~22% for RGP and ~24% for BWP. For additional metrics comparing the MLPs in Table 6 see Performance Comparison of Selected MLPs.
Management's decision to significantly dilute unitholders in executing two transformative transactions, in conjunction with an adverse NGL pricing environment and its decisions, despite all that, to increase distributions has brought about significant shortfalls in DCF coverage. Unit price has not kept up with increases exhibited by many other MLPs and this presents a buying opportunity for investors whose faith in management is intact and who are willing to wait until 2015 when results will show whether such faith was justified. WPZ is making huge growth capital investments. The amount planned for 2013-2014 ranges from $5.2-$5.8 billion (of which $3.4 billion in 2013). Including projects under negotiation the total for 2013-2017 is ~$11 billion. The bulk of these amounts will be devoted to the Northeast G&P and the Atlantic-Gulf segments and, given no excess DCF, virtually all will need to be funded through debt and equity issuances. There could therefore be additional pressure on unit prices which could create buying opportunities for investors who believe in the enormous production and transportation volume growth expected from the Marcellus and Utica shale formations, and in the new and expansion infrastructure opportunities in the Atlantic-Gulf segment. Perhaps more information will be provide in WPZ's Analyst Day coming up on May 21st.
Disclosure: I am long EPB, EPD, ETP, PAA, SPH, WMB, WPZ. I wrote this article myself, and it expresses my own opinions. I am not receiving compensation for it (other than from Seeking Alpha). I have no business relationship with any company whose stock is mentioned in this article.